The 2022 Toyota Tundra is the first new version of the full-size pickup truck since 2007 and it certainly looks as though this all-new third-generation of the Tundra is going to be a big hit in North America. But while a lot of attention will inevitably be focused on the lower trim levels that will sell in pretty respectable numbers, it's the range-topping 2022 Toyota Tundra TRD Pro trim level that perhaps deserves the most attention. Why? Because the Tundra TRD Pro could well be a more affordable alternative to a model that has had things pretty much to itself for too long now; the Ford F-150 Raptor.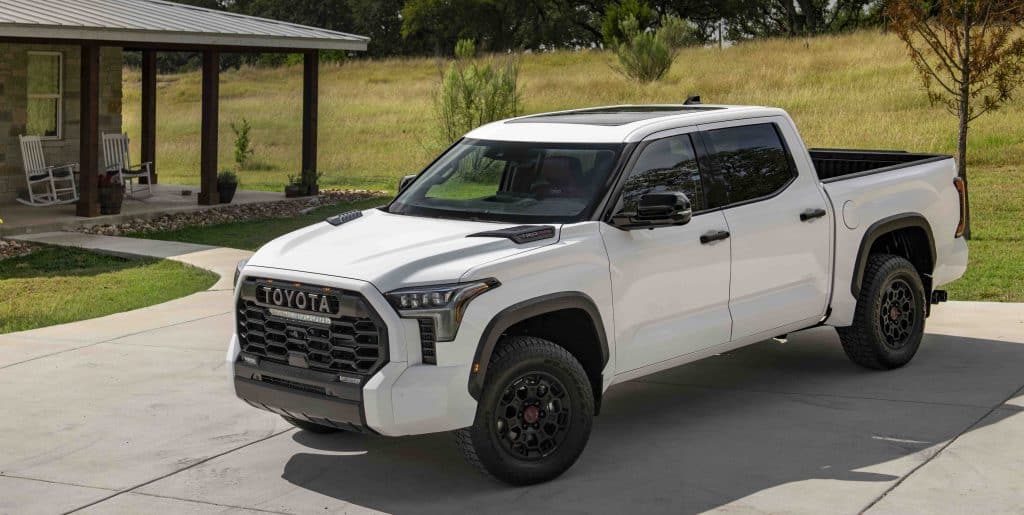 What you need to know first about the 2022 Tundra TRD Pro
Before we get into directly comparing the 2022 Toyota Tundra TRD Pro against the 2022 Ford F-150 Raptor, let's take a look at some of the headline-grabbing details of the Toyota that should make you consider buying one before comparing it to anything else.
First of all, the engine under the hood of the TRD Pro is an i-FORCE MAX 3.5-liter twin-turbo V-6 hybrid that develops 437 horsepower and 583 lb.-ft. of torque, which then gets sent exclusively to all four wheels through a 10-speed automatic transmission.
The fact there's no such thing as a rear-drive TRD Pro is important to note right away as it tells you what this truck is all about and why it should be compared to you-know-what.
The drivetrain used by Toyota for the Tundra TRD Pro is a 4WDemand part-time 4-Wheel Drive system that features an electronically controlled two-speed transfer case with high and low range settings, an automatic limited-slip differential, and an electronically controlled locking rear differential. The driver has three drive modes to choose between that are Eco, Normal and Sport, and towing duties are aided with specialist TOW/HAUL driving modes.
Now before we get too excited about the off-road capability of the 2022 Tundra TRD Pro, don't confuse the model you can buy from your local Toyota dealer with the one seen at the SEMA show in Las Vegas in November 2021. That was a factory-tuned model specially produced by Toyota Racing Development (TRD) for the show as a Desert Chase Tundra that showed what could be done with the new truck with a little imagination and a lot of money.
Other notable features of the factory standard 2022 Toyota Tundra TRD Pro include:
5.5-foot short bed
18-in. TRD Pro matte-black BBS alloy wheels
Premium LED headlights
TRD Pro LED light bar
TRD Pro LED marker lights
TRD Pro dual black exhaust tips
Black "TOYOTA" heritage grille with integrated light bar, amber marker lights
TRD aluminum front skid plate
288V Sealed Nickel-Metal Hydride (Ni-MH) battery with 1.87 kWh capacity
TRD Pro off-road suspension with 1.1-inch front lift, 2.5-in. FOX Internal Bypass coil-overs and rear remote-reservoir shocks, and TRD Pro front stabilizer bar
Multi-Terrain Select (MTS), Crawl Control (CRAWL) and Downhill Assist Control
Multi-Terrain Monitor (MTM) with selectable front, side and rear views
Xply Armor high-strength engine, fuel tank and transfer case undercovers
285/65R18 Falken WILDPEAK all-terrain tires
TRD Pro SofTex-trimmed seats with contrast stitching
Heated and ventilated front seats
Dual-zone automatic climate control
Panoramic View Monitor (PVM) with cameras
Power tilt/slide panoramic roof with power sunshade
14-inch Toyota Audio Multimedia touchscreen infotainment with 12 JBL speakers and wireless Android Auto & Apple CarPlay
And please keep in mind that the above list is just features that are unique to the TRD Pro trim level and a few other highlights. You get an awful lot more than that for your money with this new Tundra range-topper.
It's also worth noting that the Tundra TRD Pro is only available as a crew cab, but you have to ask why anyone would want any other type of body style when buying a pickup truck at this kind of level anyway.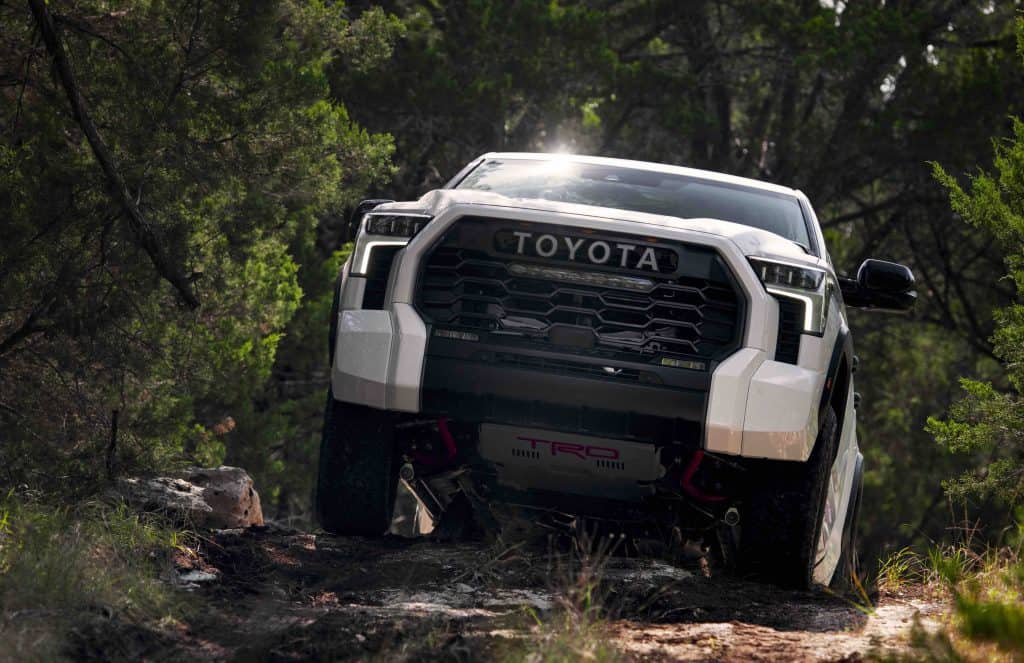 Although there's no denying the fact the TRD Pro certainly looks the part as a hard-core off-road performance truck, the day-to-day capability illustrates that this is also a truck you can live with as a daily driver in just about any circumstances.
The Tundra TRD Pro is rated to tow up to a maximum of 11,175 pounds, it can handle a maximum payload of up to 1,600 pounds, and it has a Gross Vehicle Weight Rating (GVWR) of 7,615 pounds.
2022 Tundra TRD Pro: Built for speed as well as capability
There are plenty of trucks that are good off-road, plenty that are good a towing and hauling, plenty that are packed with features and creature comforts, plenty that look great, and a few that manage to check all those boxes. The Toyota is designed to do all that too, but it's also designed to do it all while going much faster than almost anything else in its class. This isn't just a capable truck that looks fantastic with serious off-road ambitions, it's also a performance-focused version of the Tundra and that narrows down the trucks you can compare it with quite considerably.
The Tundra TRD Pro is built on the Toyota New Global Architecture full-frame chassis, and the frame being a fully-boxed construction means a lot of time and thought has been put in to saving weight here. Another weight-saving design feature is the use of aluminum for the door panels and the hood, but a composite bed has been used that is claimed to be stronger than steel as well as being corrosion resistant.
You can look at the above list to see what specifically off-road features the TRD Pro employs, but one flaw in the Toyota's armor could be the lack of a "smart" transfer case with an automatic 2WD/4WD option that some competitors have chosen to offer.

2022 Tundra TRD Pro vs 2021 Ford F-150 Raptor
At the time of writing this article, we don't have fully confirmed details of the 2022 Ford F-150 Raptor, which is why I'm going to compare the Tundra with the 2021 Raptor that we do have full details of. Anyway, even when details of the new 2022 Ford F-150 Raptor are released you are probably going to struggle to get your hands on one this side of 2023.
The supply issues in the auto industry are well documented and many new vehicles remain in demand but also in short supply. Something as hotly anticipated as a new F-150 Raptor is going to be in massive demand, so who knows how long it will be before you'll be able to walk into a Ford dealership and drive away in one without having to go on a lengthy waiting list first?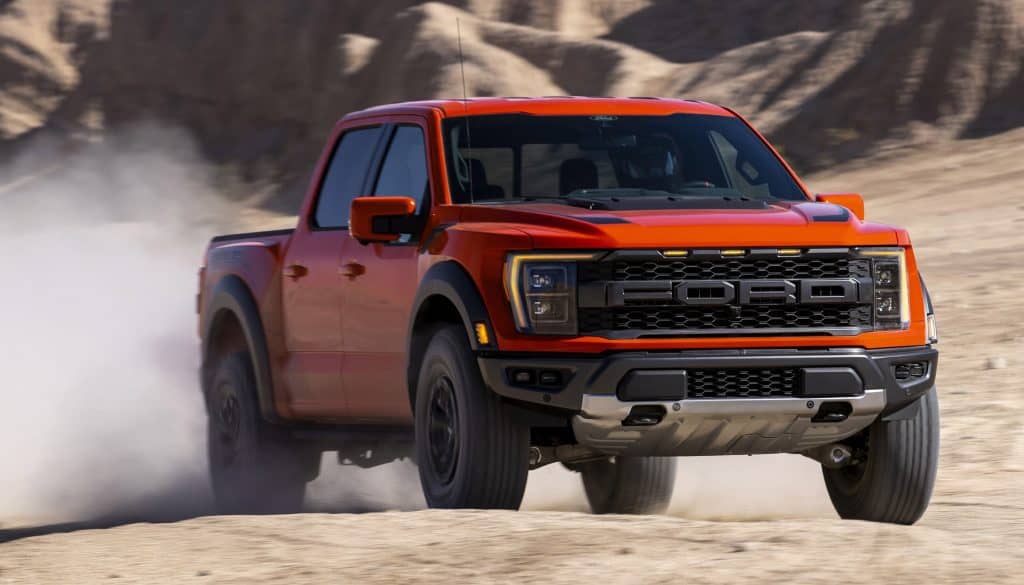 You'll find a table below that sets out a comparison between the 2022 Toyota Tundra TRD Pro and the 2021 Ford F-150 Raptor that covers some of the more important elements of the two competing pickup trucks.
| | | |
| --- | --- | --- |
| | 2022 Toyota Tundra TRD Pro | 2021 Ford F-150 Raptor |
| Engine | 3.5-Liter twin-turbo V-6 | 3.5-Liter twin-turbo V-6 |
| Horsepower | 437 | 450 |
| Torque | 583 | 510 |
| Transmission | 10-speed automatic | 10-speed automatic |
| 4X4 | YES | YES |
| Towing capacity (pounds) | 11,175 | 14,575 |
| Maximum payload (pounds) | 1,600 | 1,410 |
| Body style | Crew cab | Crew cab |
| Base curb weight (pounds) | 6,015 | 5,740 |
| Top speed (mph) | 106 (governed) | 118 |
| 0 to 60 mph time (seconds) | 6.5 | 6.1 |
| Bed size (feet) | 5.5 | 5.5 |
| Number of seats | 5 | 6 |
| Heated front seats | YES | YES |
| Ventilated front seats | YES | YES |
| Infotainment touchscreen (inches) | 14 | 12 |
Okay, so in the tale-of-the-tape, there are a lot of similarities between the two trucks, but there's no denying that the Raptor comes out on top in a number of key areas. That's it then, isn't it? It's all over because the Raptor is the faster, more powerful and more capable truck. Well, if that's all you're interested in then yes, one paper the Ford raptor certainly looks like the one to go for. On the other hand, that would be ignoring one very important element I've purposely left out of the above table, which is the price.

The whole point of this article is to ask the question of whether or not the 2022 Toyota Tundra TRD Pro is an affordable alternative to the Ford F-150 Raptor, and not which is the better or more desirable truck.
The starting MSRP for the 2021 Ford F-150 Raptor is $64,145, but the starting MSRP for the 2022 Toyota Tundra TRD Pro is being predicted by Car and Driver to have a starting MSRP of around $51,000. If true, that represents a massive $13,000 saving over the most basic version of the Ford F-150 Raptor. Is the Raptor worth the extra $13,000?
The way I see it, most people who are going to be paying more than $64k for an F-150 Raptor are ready, willing and able to pay it and they're unlikely to seriously consider buying the Toyota instead. But that's not the point I'm trying to make here. The point is whether the TRD Pro is a model for people who have a budget that will run to that level but who would struggle to go as far as $64k for a Raptor.
If you look at what other full-size, light-duty pickup trucks you can currently get for around the same (estimated) price of the 2022 Tundra TRD Pro, I think an awful lot of people would go for the Toyota as it starts to look like an absolute bargain when you look at what that money will buy you elsewhere.
Should you buy a 2022 Toyota Tundra TRD Pro?
If the 2022 Toyota Tundra TRD Pro does get confirmed to have a starting MSRP in the ballpark of $51,000 and you can't run to a Raptor then I think the Toyota looks like a bit of a no-brainer. However, if that MSRP turns out to be considerably higher then I think Toyota is going to have a tough time with the TRD Pro unless it is easily available and you don't have to wait months to get your hands on one.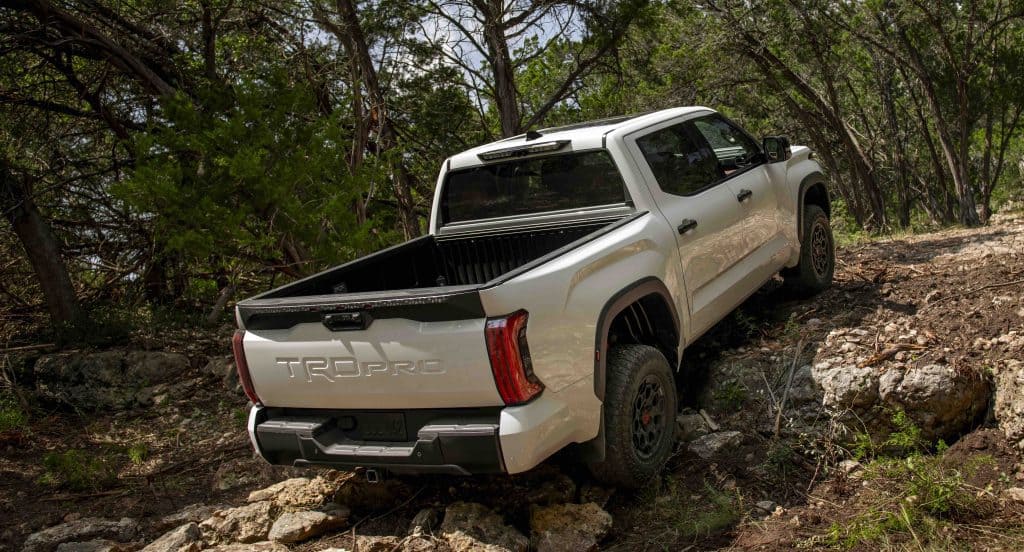 On a broader note, it looks like Toyota has done a fantastic job with the redesigned, third-generation Tundra range as a whole and I particularly like the new muscular, aggressive look the designers have come up with.
I'm still not sure anyone who had the opportunity would choose the 2022 Toyota Tundra TRD Pro over a 2021 Ford F-150 Raptor if price or availability weren't issues for them, and certainly not if you were going to put the Toyota up against the upcoming, all-new 2022 Ford F-150 Raptor.
Even so, if you're in the market for a new pickup truck and performance, style and off-road capability are big factors in your eventual buying decision, it's hard to think of a better buy than the 2022 Tundra TRD Pro. As long as the price turns out to be right that is, and if it isn't, you could always look at a used Ford F-150 Raptor instead and you can check out my article on that particular subject.