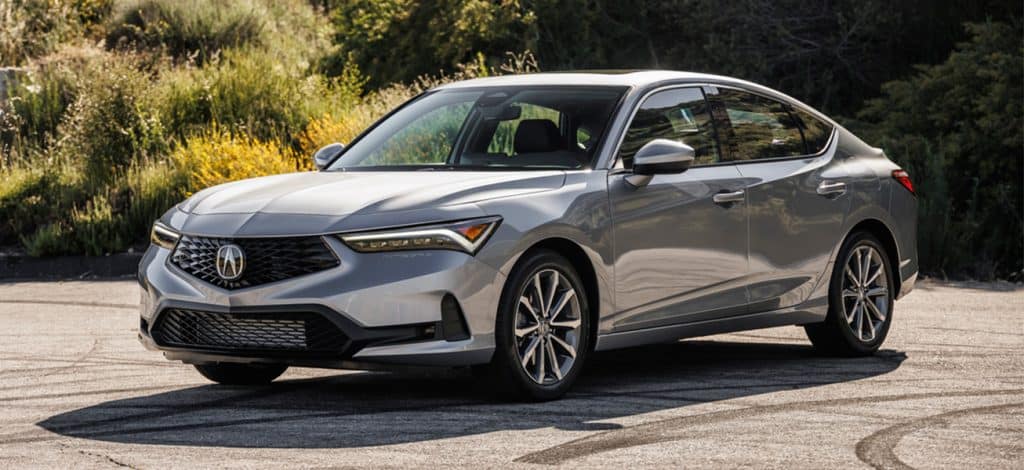 If you're in the market for a sporty hatchback, you'd be crazy to not consider the 2023 Acura Integra. Like the original Integra, this model is a 5-door with sports suspension, and is available in manual transmission, making it a convincing return to the popularity of its predecessor. While you won't be able to find a 2-door coupe version of the Integra this time around, the 5-door does a great job of bringing you high performance for a bargain price tag. But which of the 2023 Acura Integra trim levels is the right one for you?
What's more, the Integra stands up brilliantly to its competitors. In the luxury market, Audi and BMW don't offer a manual transmission option in their small performance models, which means buyers have to turn to the non-luxury offerings like the Volkswagen GTI or Mazda3 for this option, and they leave much to be desired for buyers who want more from their new car.
While the Integra doesn't come in a huge number of trim levels, the three options available cover all the bases. In this guide, we'll be discussing each of the 2023 Acura Integra Trim Levels, to help you make your mind up on which is the best for you.  
2023 Acura Integra
Despite being its base level trim, the standard Acura Integra is a steal at a starting price of $30,800. This trim comes with a 1.5-liter turbocharged engine that delivers 200 horsepower and 192 lb.-ft. of torque, combined with a sport-tuned continuously variable automatic transmission (CVT) for powerful performance.
You'll receive Step Shift simulated gear changes and paddle shifters on the steering wheel, as well as a sports exhaust that will enhance both the real power and sound output from the car.
Acura has added their Integrated Dynamic System (IDS) to the Integra, allowing you to choose from Normal, Comfort, or Sport mode for the optimal driving experience – this allows you to vary the steering feel, transmission shift points, and more. With sport-tuned electric power-assisted steering, the Integra is a fun model to drive that can be adjusted to your unique preferences.

Not only does the car perform well, but it also looks good too. The exterior styling of the liftback design themes include the Integra name embossed on the front and rear bumpers, as well as Acura's Jewel Eye LED headlights and Chicane-styled LED daytime running and taillights as standard. The power side mirrors and tilt/slide moonroof make the car aesthetically pleasing as well as functional, and on 17-inch alloy wheels, you can be sure that your new car will turn heads.
Inside, you'll find an 8-way power driver's seat and a 60/40 split-folding rear seat wrapped in synthetic leather available in a range of colors – Orchid, Red, or Ebony. The front seats come heated and are complemented by a tilt/telescoping steering wheel for a luxurious feel.
For a clear display, the trim comes with a 10.2-inch configurable digital instrument cluster that is equipped with a number of display modes based on the car's driving mode.
What's more, if you're looking for a car that's high-tech, the Integra is the answer. With a 7-inch touchscreen monitor that carries Apple CarPlay and Android Auto, as well as an 8-speaker premium audio system, you won't be stuck for infotainment.
The base trim also comes with one USB port and a 12-volt outlet as standard. These technical features place the Integra in a great position compared to its competitors, and when you consider that you get more features as you go up the trim levels, this is a lot of spec packed into the base level.
The Integra isn't just built for technology and performance, though. Acura includes a host of features that make this hatchback a great pick if you're safety-conscious, such as AcuraWatch, a suite of additions that keep you safe, including:
Forward-Collision Warning
Emergency Braking with Pedestrian and Bicycle Detection
Lane-Departure Warning
Lane-Keeping Assist
Traffic Jam Assist (available in CVT only)
Blind Spot Monitoring
By introducing these safety features alongside the performance aspects of the car, Acura has ensured that even at the entry-level trim you are getting a vehicle that gives you more for your money. You will also find new generation front airbags that help to reduce the risk of serious brain injuries, and a rear-view monitor for added security.
Ultimately, at its price point, even the base level Integra delivers exceptional value for money. There is a $1095 destination charge that will be added to the starting price of $30,800, but even so, you'll be receiving a high-quality vehicle that works traditional Integra elements into new features and functionality.
2023 Acura Integra vs. A-Spec Trim Levels
From additional performance functionality to visual features that offer that little extra, the 2023 Acura Integra A-Spec affords drivers more choice. At a starting price of $32,00, there's the option of a close-ratio 6-speed manual transmission with rev-matching, so you won't ever need to heel-toe the throttle.
You can also go for a limited-slip differential, which helps to keep you safe in all weather conditions by improving traction in the wet and reducing understeer while cornering. Safety plays a big part in each of the Integra trim levels, so this isn't surprising, but the A-Spec is the first trim to introduce these options.
You'll see a big difference to the look of the exterior on the A-Spec, thanks to the gloss black front and rear fascia trim and window surrounds. LED fog lights give the trim a modern appearance, coupled with a front lip spoiler and all-season wider performance tires that wrap the Shark Gray 18-inch alloys.
These exterior features make the A-Spec look significantly different from the base-level Integra, and for such a small price increase, it's a great option for those who want to elevate the look of their new vehicle.
For drivers interested in an Integra that looks as well as drives the part, the A-Spec is a solid middle ground considering its price point.
Remember to factor the destination charge into the cost of your A-Spec. Like with any 2023 Integra, this charge is around $1095.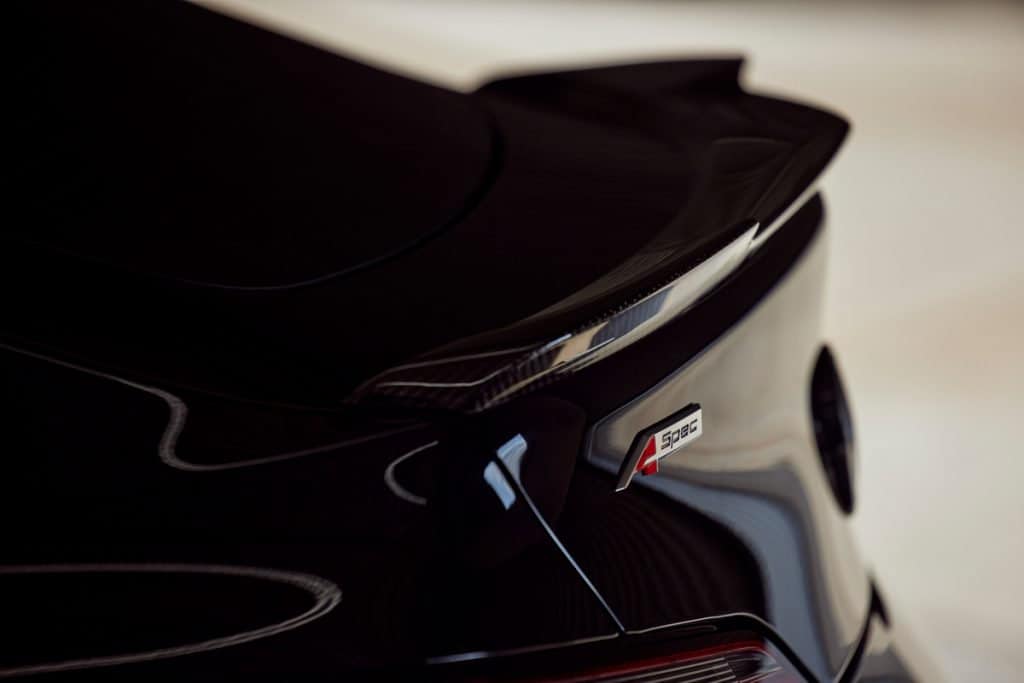 2023 Acura A-Spec with Technology Package
Because of the quality in both style and performance that can be found in the base level and A-Spec trims, you might be questioning whether you need to upgrade any further. However, for a starting price of $35,800, the 2023 Acura Integra A-Spec Technology Package provides the ultimate driving experience.
By upgrading to the Technology Package, you'll receive a 12-way power driver's seat and a 4-way power passenger seat finished in trim-specific synthetic leather upholstery, on which you'll find microsuede inserts for extra comfort. LED exterior puddle lights come with the Technology Package as standard, to illuminate the ground when entering the vehicle, a fantastic addition for nighttime driving.
Performance-wise, the A-Spec Technology Package is best in class, with an adaptive damper suspension introducing a new Individual mode for the IDS, alongside front and rear proximity sensors that come with low-speed automatic braking, just in case.

That's not all. The Technology Package also equips your A-Spec with a 9-inch touchscreen infotainment system that comes with Apple CarPlay and Android Auto as standard, as well as three USB charge ports and a wireless charging pad.
You'll benefit from the Integra's audio system, which on this trim level is upgraded to a 16-speaker ELS Studio 3D premium system. With this, you'll find two high-line speakers in the front of the cabin, above the seats, giving a phenomenal surround-sound-like experience. Acura has really gone all out with the interior of this trim level, and you'll get LED ambient lighting choices for a personalized interior.
As with the standard A-Spec, you'll have the option to choose a manual transmission, although going for the CVT will offer keyless remote engine start. No matter which gearbox you choose, the Technology Package start price remains the same – you just need to account for the destination charge, typically around $1095.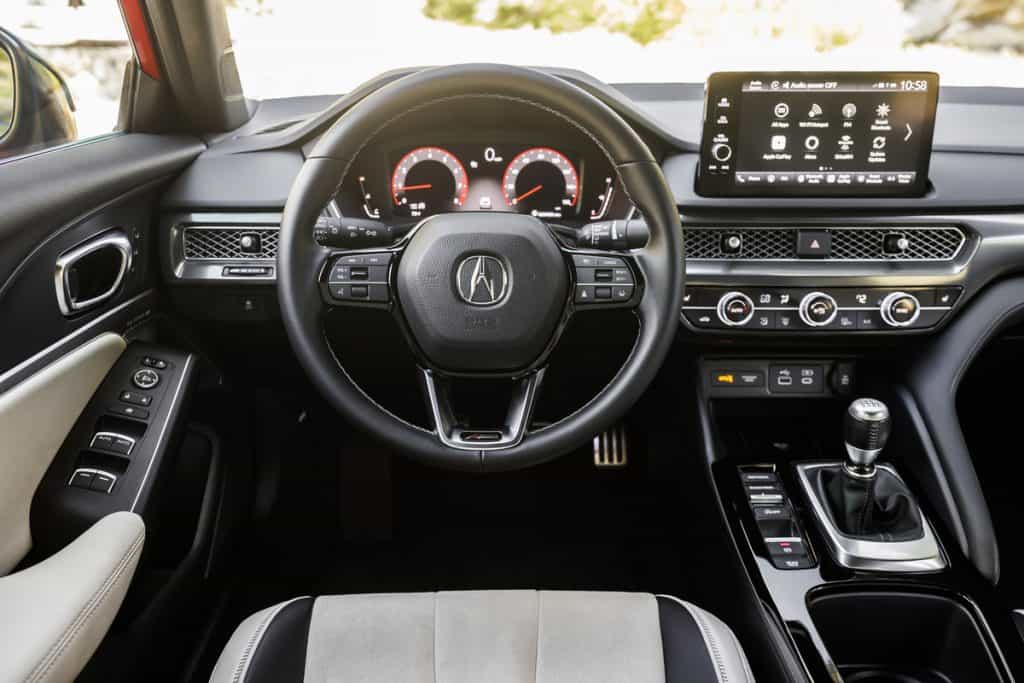 Which 2023 Acura Integra Trim should you buy?
Each of the three 2023 Acura Integra Trim Levels pack a punch, and their price points aren't too dissimilar. If you're simply looking for a sporty style hatchback that can get you from A to B in comfort, then you'd be fine to opt for the base level Integra, provided you're not fussy about having a manual transmission or going for top of the range features.
However, considering the negligible price difference, it makes little sense to not consider at least one of the trim upgrade options. The extra traction control on the A-Spec, as well as the stylish exterior, make this a great choice for most drivers.
For those looking to go all-out, the Integra A-Spec Technology Package is a no-brainer – you'll not only get all of the benefits of the standard A-Spec, which builds on the base Integra well, but you'll receive some priceless features by way of safety and performance.
This trim level is particularly suitable for those who like listening to music while driving, as the 16-speaker ELS Studio 3D Premium Sound System quality is a world away from the audio of the base level trim.
Whichever trim level you choose, make sure to confirm the start price, costs of additional features, and destination charges with your garage of choice.