When automakers are falling over themselves to be increasingly green, eco-friendly, sustainable, and all that guff, let's take a moment to thank the Blue Oval for injecting a healthy dose of insanity into the auto market. What am I talking about? Well, if the keyword for this article is automotive insanity, what could be more insane than the 2023 Ford F-150 Raptor R that Ford has recently opened up the order book for early adopters?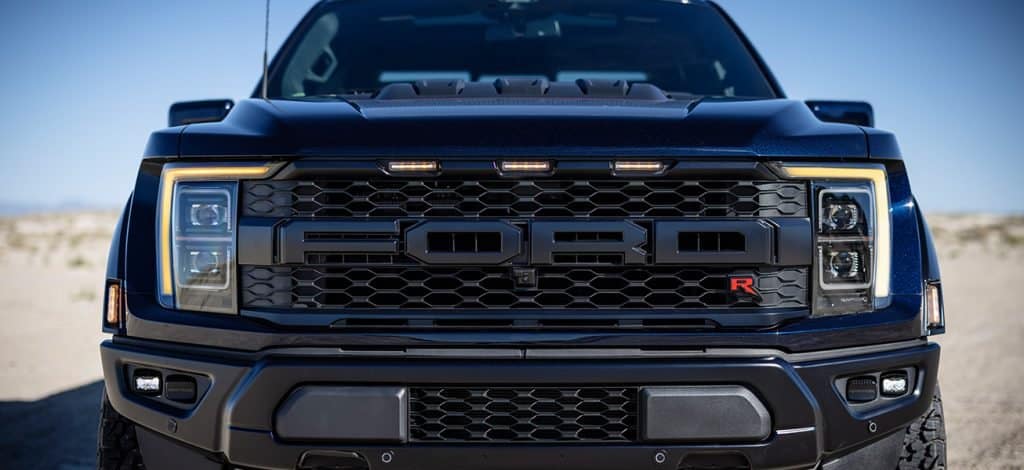 The Ford F-150 Raptor has always been a bit daft but also more than a little fantastic at the same time. Nobody actually needs an F-150 Raptor, but most people would probably like one, even if they might not always be prepared to admit it.
The 2023 Ford F-150 Raptor can't tow or haul as much as some other trucks, it's not as good off-road as something like a Jeep Wrangler or Land Rover Defender, and it's not as fast as many sports cars and muscle cars you can buy for similar money.
The 2023 Ford F-150 Raptor R will take this legendary truck to new levels of power, performance, and pricing, so is it a "must-have" or just a ridiculous toy for big boys with a lot of cash to spare?
What is the 2023 Ford F-150 Raptor R?
If you're a politically correct type who's convinced the world is "on fire" and we're all doomed unless we revert to a Stone Age existence immediately (apart from China, of course), then the 2023 Ford F-150 Raptor R definitely isn't going to be your next ride.
While the all-new 2023 Ford F-150 Raptor is a sensational pickup truck with exceptional performance, excellent off-road capability, and an incredibly smooth ride, the Raptor R turns the volume up to eleven.
The regular 2023 Raptor features a twin-turbo V-6 engine producing 450 horsepower and 510 lb.-ft. of torque, but it's the way the Raptor uses that power that makes it such a phenomenon. There have been, and there still are, plenty of trucks that offer more power than that.
But while they concentrate on towing and hauling, the Raptor puts straight-line speed, handling, and off-road capability at the top of its agenda.

The 2023 Ford F-150 Raptor R swaps the "ordinary" Raptor's twin-turbo V-6 for the supercharged 5.2-liter V-8 from the Shelby GT500, which means the Raptor R has a ludicrous 700 horsepower and 640 lb.-ft. of torque to play with.
Although that kind of power might lead you to imagine the Raptor R would be in its element scaring muscle cars on the race track, Ford has tuned the 700-horsepower V-8 engine for optimal performance in the type of conditions the Raptor R is actually likely to be driven in.
It still comes mated to Ford's excellent 10-speed automatic transmission and all-wheel drive system. However, in this incarnation, the transmission has a new calibration and an upgraded torque converter, and the drivetrain now features a new, stronger front axle and a thicker driveshaft.
Basically, the Raptor R is intended for outrageously exhilarating off-road performance pounding the desert, navigating rugged trails, or crawling through rocky river beds.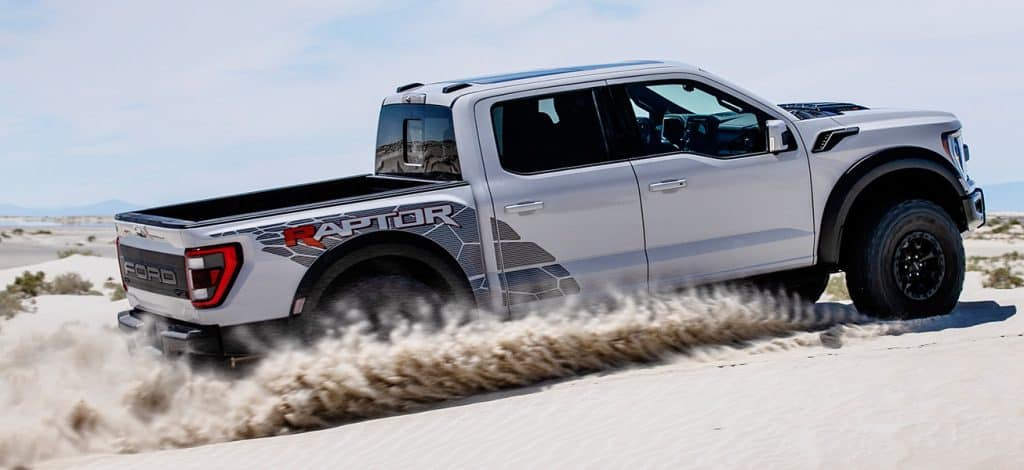 How much will the 2023 Ford F-150 Raptor R cost?
The 2023 Ford F-150 Raptor starts at around $72,000, which is pretty steep for a pickup truck by anyone's measure. But if the 2023 Ford F-150 Raptor R is the truck you feel you simply have to have, the lowest price you can hope to get one of those for is an astronomical $109,145.
And if you think you have much chance of getting a brand-new Raptor R this side of 2024 for the MSRP, can you get in touch with me because I have some swampland and a bridge in London I'd like to sell you?
I've just done a national search on Autotrader for a used 2022 Ford F-150 Raptor, and the lowest price I could find one offered for is $86,369. If you go to the Ford USA website and try to configure a 2022 F-150 Raptor with all the possible options and accessories, you'll still struggle to get the MSRP much higher than the "cheapest" used 2022 Raptor I could find on Autotrader.
Many used vehicles are going for more than the new price thanks to the shortage of new inventory due to the chip shortage and other supply chain issues, and the Raptor is one of them.
A new, desirable, unique, and highly sought-after model as the 2023 Ford F-150 Raptor R would have a lengthy waiting list at the best of times. And speculators would inevitably take advantage of the clamor by selling theirs for a premium.
Add in the ongoing production issues we have at the moment, and it's anyone's guess how much these babies will be going for when they finally start rolling off the production line.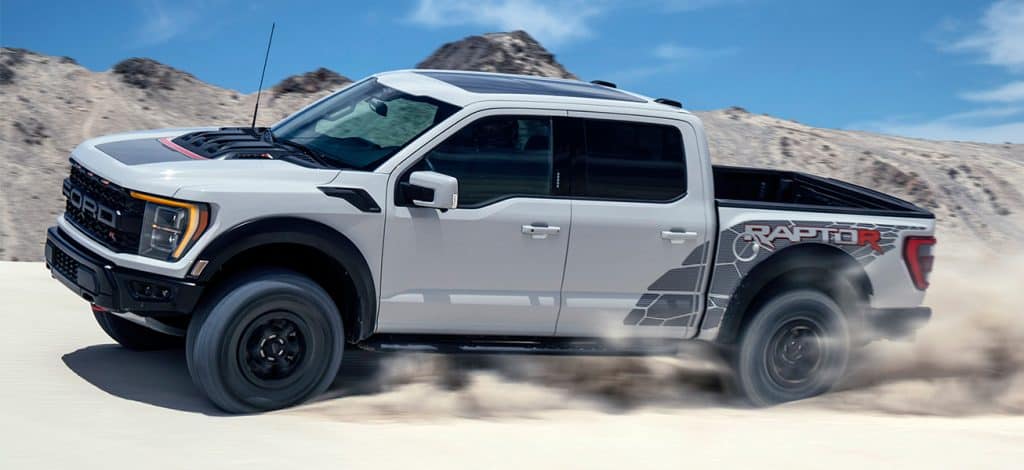 Can you order the Raptor R yet?
The 2023 Ford F-150 Raptor R order book opened on July 18, 2022, so you can now contact your local Ford dealer to place an order. Production gets underway in late 2022 at Dearborn Truck Plant, so deliveries should arrive at dealerships just before the end of the year or in early 2023.
How much can the Raptor R tow and haul?
If you've become consumed by the Raptor R's incredible engine, power, and performance, you might have forgotten the whole point of owning a pickup truck for most people: towing and hauling.
If you read the write-ups online from most of the big players in the auto industry, you could struggle to find out if the 2023 F-150 Raptor R has any towing and hauling capability to speak of.
However, here at carbuyingandselling.com, we like to give you the facts that matter. The 2023 Ford F-150 Raptor R has a maximum conventional towing capacity of 8,700 pounds, and the maximum payload rating is 1,400 pounds. The payload is identical to the standard F-150 Raptor, but the towing capacity increases by 500 pounds.
Compare that to a non-Raptor version of the 2022 Ford F-150 with its 14,000-pound maximum conventional towing capacity and 2,238-pound maximum payload. Do you see what I mean about the Raptor R not being much of an actual pickup truck now?
Should you order a 2023 Ford F-150 Raptor R?
Nobody needs a truck with the performance of the 2023 Ford F-150 Raptor R, and we know that it's nothing to write home about when it comes to regular pickup duties of towing and hauling. Should you bother ordering one then?
Yes! If you can possibly raise the money for a 2023 Ford F-150 Raptor R without having to sell a selection of your internal organs for transplant or one or more of your children, then you should definitely get your name on the waiting list for a Raptor R.
Even if you have no particular desire to own or to be seen driving one of these outrageously ridiculous trucks, it's likely to be a sound investment. If a used 2022 V-6 Raptor is going for $10k or more above the new price, how much profit do you think you'll be able to grab if you manage to take delivery of one of these beasts before the novelty wears off?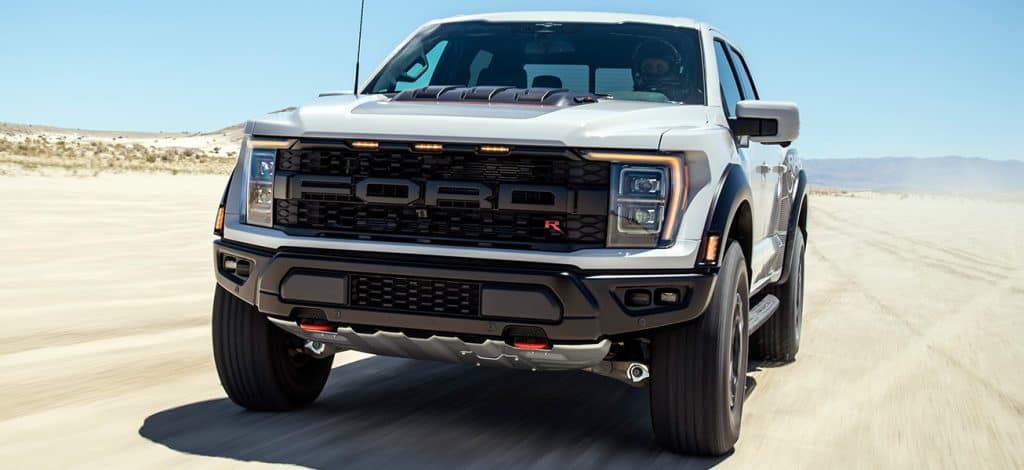 Of course, if you can afford the $109,145 minimum price for a 2023 Raptor R, you probably don't need to sell it for a profit. In that case, think of the fun you could have with one before you get bored, and then you can sell it on for at least what you paid for it and move on to the next fashionable thing.
Instead, you could do the responsible thing and do your bit for saving the planet by opting for an F-150 Lightning or wait for the Silverado EV to arrive. But where would the fun be in that?