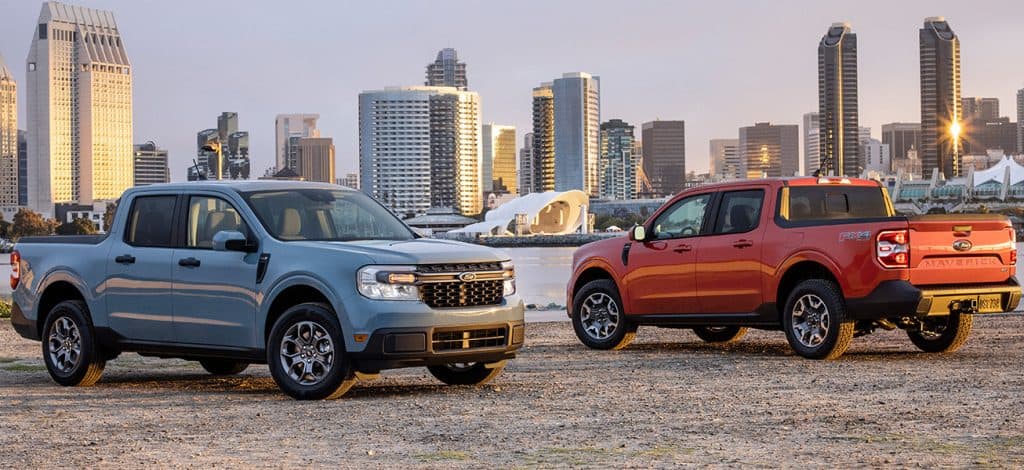 Trucks are Ford's primary specialty as they have manufactured some amazing ones in 2022; the automaker debuted its first new truck in years, which was an exciting prospect to truck lovers. The Maverick is smaller and less expensive than the Ranger or F-150 and has the most fuel-efficient hybrid powertrain on the market, and everyone likes a fuel-efficient truck. Let's take a look at the 2023 Ford Maverick trim levels.
Front-wheel drive is standard, but a turbocharged 2.0-liter four-cylinder engine and all-wheel drive are available options.
In 2023, Ford added a new Tremor Off-Road model to the Maverick lineup. It has a more solidly built exterior design and is focused primarily on the XLT or Lariat trim. The Maverick Tremor has a one-inch lift over the standard truck, thanks to a revised suspension. Ford has upgraded the transmission cooler and half shafts to handle more challenging terrain, which is excellent news for those who fancy off-road driving.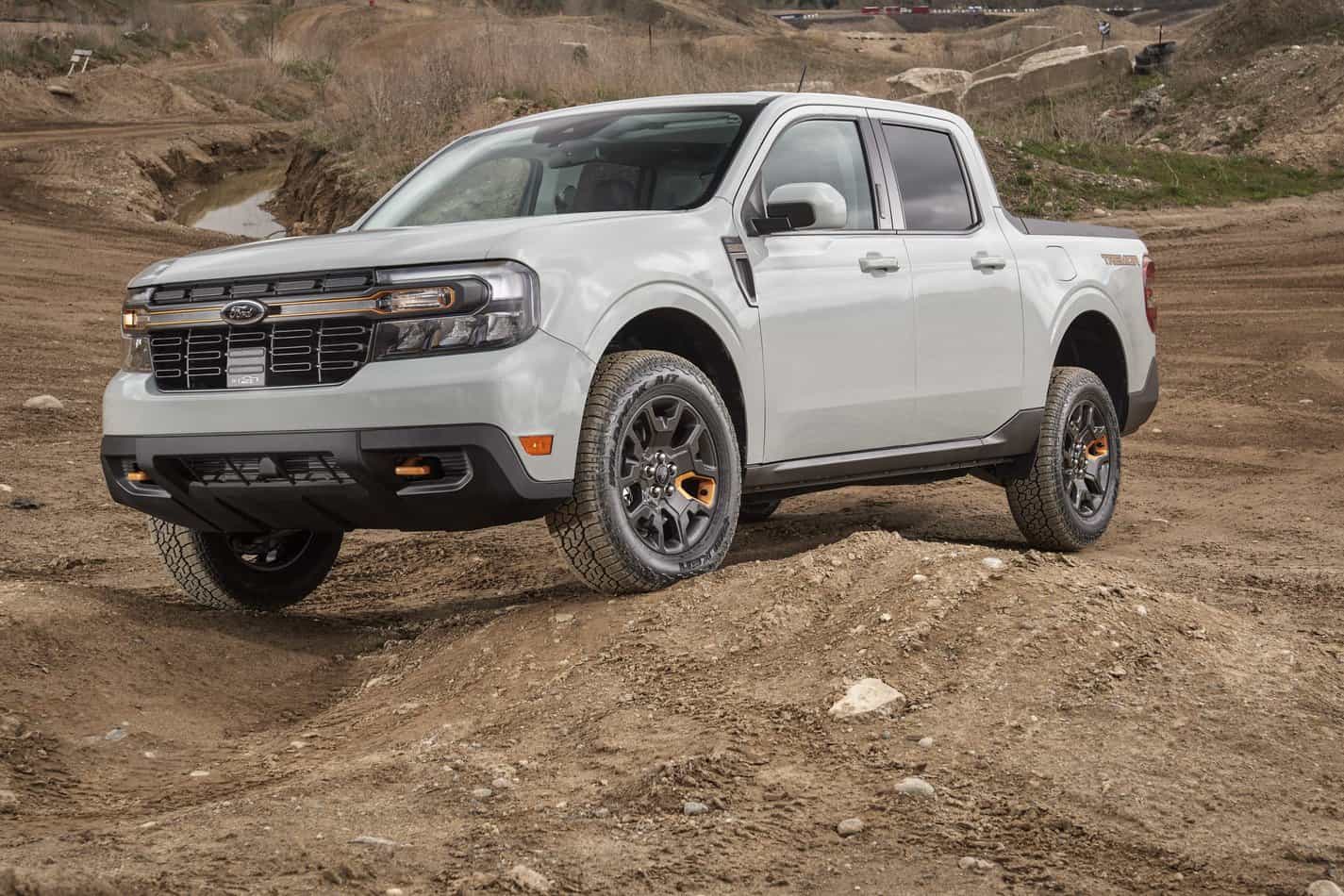 The Maverick's payload capacity is sufficient for a weekend's supply of home renovation materials or to help convey loads for long distant journeys, and it can pull up to 4000 pounds. Unlike the larger trucks, the Maverick shares its platform with the Escape and Bronco Sport, which are compact Ford SUVs. It has four doors, a reasonably expansive interior, and intelligent storage options. Cool, right?
2023 Ford Maverick XL vs. XLT trim levels
The XL is Maverick's entry-level model and is still a fantastic choice for the compact pickup truck category. It offers the best of both worlds: it is small on the exterior yet sufficiently large on the inside to conveniently seat five people and pack all your belongings easily. One thing you don't need to worry about when deciding which trim of Mavericks to get is the cab, as Crew cabs are standard for all Mavericks.
They come with a 4.5-foot bed, a multi-position tailgate, and intelligent storage solutions to help you with your large projects, such as moving to another city or a new home. It is a must-have multi-tasking truck.
Standard Maverick XL features include a tilt-and-telescoping steering wheel with audio controls, movable lumbar assistance for the rear seats, which provides maximum comfort, forward collision preventive measures, automatic emergency braking, a unique 8-inch center screen, six-speaker stereo, two USB ports, Apple CarPlay and Android Auto connectivity, and a 4G LTE Wi-Fi hotspot.
The definitive Wi-Fi hotspot on the Maverick can support up to ten devices which means family and friends can also connect to it. This truck is a home away from home.
Other standard features include stamped 17-inch steel wheels, LED headlights, and six tie-down points in the bed. Stamped bed slots allow you to customize the truck bed by using 4 X 2s to make storage bins, homestyle shelving, or other cool DIY features.
Front-wheel drive is standard, as is a 2.0-liter four-cylinder engine paired with an electric motor and a continuously variable automatic transmission (CVT), producing 191 hp and 155 lb.-ft. of torque. It gets 42 mpg in the city and 33 mpg on the highway and can reach 60 mph in 7.6 seconds, which is pretty fast for a truck.
The XLT trim, on the other hand, will provide significantly more premium functionalities, engineering, and elegance, including ambient interior lighting, power front seats, heated steering wheel, heated seats, and dual-zone automatic climate control. It has 17-inch colored aluminum rims, a power tailgate lock, power mirrors, and a perimeter alarm with the SecuriCode keyless entry keypad.
The engine and powertrain options stay unchanged, but an FX4 Off-Road Package with all-wheel drive and the 2.0-liter gas engine will be available. The turbo-four produces 250 horsepower and 277 lb.-ft. of torque. With the added power, the 2.0-liter Maverick accelerates to 60 mph in 7.0 seconds, but efficiency drops to 22 mpg in the city and 29 mpg on the highway with AWD for non-hybrid versions, compared to 23/30 mpg for front-drive models.

It has all-terrain tires that allow you to drive in any weather or terrain, skid plates to protect elements of the truck, 17-inch aluminum wheels, and hill descent control. This Exquisite trim adds a leather-wrapped, heated steering wheel, an 8-way power driver's seat, a spray-in bed liner, rear-seat USB ports, and bed tie-down locking rails with two locking brackets that help secure loads and is convenient.
The XL trim has more than enough quality features to keep you happy, but the XLT trim goes a little further in terms of comfort and luxury. A one-inch lift and a modified front bumper that enhances approach angle are also included, as are steel skid plates. The Maverick is a beautifully executed little truck that is a stark reaffirmation that you don't need a towering, 6,000-pound beast to get the job done.
2023 Ford Maverick XLT vs. Lariat trim levels
Ford provides a few clever cargo management options, the best of which are Ford Integrated Tether System (FITS) slots. The company designed them for various detachable accessories like cup holders, grocery bag hooks, and other accessories for limitless customization.
Your trips will be more enjoyable with the 2023 Ford Maverick Lariat. The Lariat trim features a slotted door armrest to separate the window buttons from the elbow rest. The slot creates a vertical space above the door pocket for a 1-liter beverage container and allows the back seat to carry a mountain bike, with the back tire fitting holding the bike straight.
The climate and audio can be adjusted using well-placed function keys and dials on the dash. It has just one issue: the low resolution, which makes it challenging to use in direct sunlight and might not be so convenient for users with bad eyesight. Unlike the XL and XLT, the Lariat has rubbery faux leather seats. Adaptive cruise control, lane centering, and a rear parking sensor are options for the Lariat because of the optional Co-Pilot360 assist.
The 2023 Ford Maverick Lariat also gets a 6.5-inch productivity screen rather than the 4.2-inch display on the XL and XLT trims. Push-button start, power-adjustable front seats, dual-zone automatic climate control, ambient interior lighting, two extra USB ports, which imply more charging and connection spaces for the family, and a set of 18-inch wheels that is larger than the 17-inch in the XL and XLT are essential features for the Lariat.
2023 Ford Maverick Lariat vs. Lariat Hybrid trim levels
The Hybrid version of the 2023 Ford Maverick is unique not just because it has the best fuel economy but a powerful 2.5-liter inline-four hybrid engine and a Continuously Variable Automatic (CVT) transmission. It produces an impressive 191 horsepower at 5600 revolutions per minute(rpm) and 155 lb.-ft. of torque at 4000 rpm. It can pull up to 2000 pounds and has a combined mpg of 37, which is much better than the 25 mpg of the gas-only 2023 Ford Maverick Lariat.
Another good feature of the hybrid is that it has significantly low carbon emissions, making it environmentally friendly with its 1.1-kWh battery playing its part. It also carries steel wheels, unlike the regular 2023 Ford Maverick Lariat, which gets aluminum wheels.
2023 Ford Maverick XLT vs. XLT Hybrid trim levels
The 2023 Ford Maverick XLT hybrid produces less power than the 2023 Ford Maverick XLT, with a horsepower of 191 as opposed to the staggering 250 horsepower of the gas-only Ford Maverick XLT. However, the hybrid delivers that combined 37 mpg, which is a big deal compared to the 25 mpg of the gas-powered 2023 Maverick XLT, which means it's more economical to run.
It's a standard front-wheel drive truck with a usable 155 lb.-ft. of torque at 4000 rpm. Overall, the 2023 Ford Maverick XLT produces more power, but the 2023 Ford Maverick XLT Hybrid is the one for those with a keen eye on the fuel gauge.
2023 Ford Maverick XL vs. XL Hybrid trim levels
A lesser mass of 3,636 pounds and a larger 2.5-liter inline-four hybrid powerplant, compared to the lesser 2.0-liter turbo-four and 3,693 pounds of the gas-only Ford Maverick XL, means the hybrid is the faster of the two XL options with 0 to 60 mph taking about 7.0 seconds. The hybrid only needs a 13.8-gallon gas tank, while the regular Ford Maverick gets a more significant 16.5-liter tank.
Which 2023 Ford Maverick trim should you buy?
When it comes to the 2023 Ford Maverick trim levels, you can't go wrong by purchasing any of the then really, as they're all economical, reliable, durable, and pretty affordable. The safety features and services are fantastic. Automatic emergency braking and automatic high beams are standard in the different versions.
Although the 2023 Ford Maverick XLT is more expensive than the XL, it does offer excellent value. But if it boils down to picking one, the mid-level XLT appears to be the best choice. However, it doesn't have many more essential features than the base XL, but it does offer more options if you want them.
The Maverick's best bargain is making sure you stick with the core Hybrid powertrain. Not only is it cheaper to buy and run than the gas-only version, but it's also likely to be the most sought-after version of the Maverick when you come to sell and will inevitably retain more of its initial purchase price.