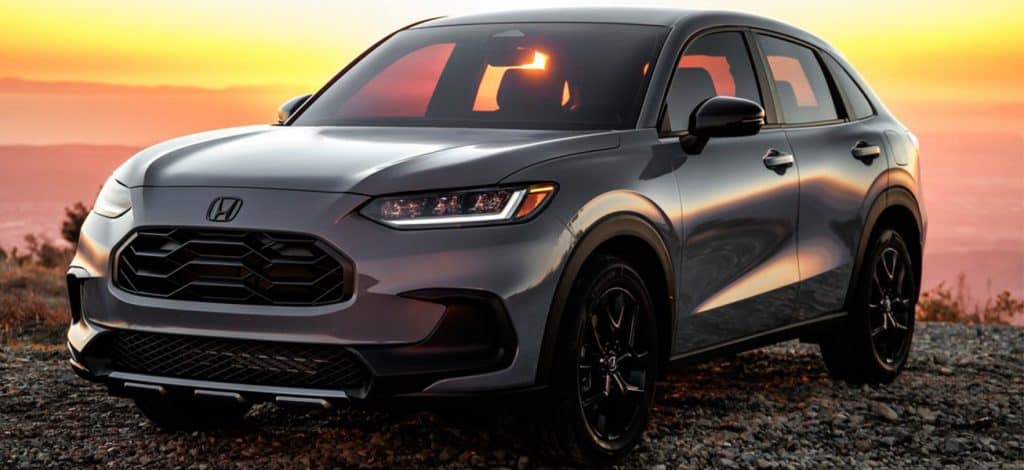 If you're in the market for a crossover-style SUV, you may want to take a look at the fully redesigned 2023 Honda HR-V. Much like many other 2023 Honda offerings, the HR-V bases its completely new design on the newest generation of the Honda Civic. The new HR-V is a significant improvement on its predecessor, but which of the 2023 Honda HR-V trim levels is the one you should go for?
The 2023 Honda HR-V is Honda's smallest available SUV, which gives drivers the best of both a compact size, great fuel economy, and added capability for rugged conditions.
All 2023 HR-V trim levels come equipped with a 2.0-liter 158 horsepower inline 4-cylinder engine. Although this engine is not turbocharged, it's actually to its benefit because non-turbocharged engines tend to be more reliable.
This engine is known as Honda's K-series engine, which has been used by Honda for many years, so the long-lasting quality we've come to expect from Honda is not lost on this year's HR-V. Much like past K-series Honda engines, the 2023 HR-V uses a CVT, or continuously variable transmission for ultimate efficiency, which is also standard on all trim levels.
Depending on your preference, the 2023 HR-V is available in 2WD or AWD for all trim levels. Approximate miles per gallon fuel economy for 2WD is 26 mpg in the city and 32 mpg on the highway, and 25 mpg city/30 mpg highway for AWD models.
Driving modes available for all 2023 HR-V trim levels are normal and econ. A snow driving mode is available for AWD models. Although there is a Sport trim level available for the 2023 Honda HR-V, there is no sport driving mode option for the 2023 models.
Next, also standard on all 2023 HR-V trim levels are several of Honda's safety features. This includes hill descent control, LED front and rear lights, collision mitigation braking system, road departure mitigation, multi-angle rearview camera, adaptive cruise control, and lane keeping assistance.
Also available for the 2023 Honda HR-V are a variety of technology and comfort features depending on the trim level. These include a touch screen display, wireless device capabilities, heated power side mirrors, climate control, heated seats, and a multi-speaker audio system.
The 2023 Honda HR-V is available in a variety of colors, but some colors are only available for certain trim levels. These include crystal black pear, lunar silver metallic, modern steel metallic, Nordic Forest pearl, platinum white pearl, urban grey pearl, and Milano red.
In addition, several package options are available for different fascia, fenders, and interior features, but these do not come standard. Prospective HR-V owners can also choose from a variety of optional accessories such as luggage racks, car top carriers, and bicycle or kayak carriers among other options.
Now that we've covered some general features of the exciting new 2023 Honda HR-V, lets take a deeper look into the different trim levels.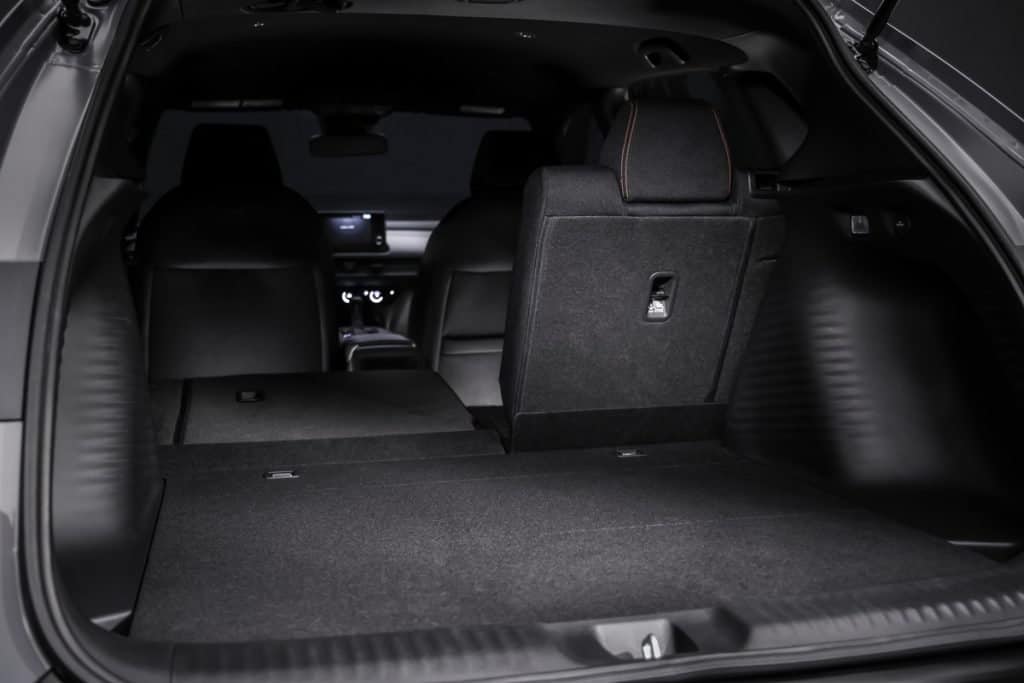 2023 Honda HR-V LX vs. Sport trim levels
Starting with the most basic and budget-friendly trim level, the 2023 Honda HR-V LX offers all of the basic features of the newly designed HR-V. The LX is a practical vehicle that will get you where you need to be without too much attention, and that's just perfect for most drivers.
Available in 2WD or AWD, the HR-V LX comes equipped with 17-inch alloy wheels, cloth seats, a 4-speaker audio system, a 7.0-inch digital touch screen display, and a push-button start.
Moving on to the 2023 HR-V Sport, this upgraded trim level will give you some of that added style and features you may be looking for.

Sporting (no pun intended) 18-inch black alloy wheels, chrome exhaust finisher, a 6-speaker audio system, smart entry, remote start, and heated seats, the sport trim level adds a little bit more style compared to the LX trim.
Although rather disappointingly, the 2023 HR-V sport doesn't have a sport mode, it certainly looks the part.
2023 Honda HR-V Sport vs. EX-L trim levels
Although very similar to the sport trim, the 2023 HR-V EX-L adds even more features that may get your attention.
Along with all the features standard with the 2023 HR-V, the EX-L adds a moonroof, 9-inch color touch screen display, 8-speaker audio system, and leather-trimmed seats. The EXL is also equipped with dual-zone climate control, which is not available on the LX or Sport trim levels.
If you still want to stay at that great-value price point of the HR-V but you long for some more luxury features, the 2023 HR-V EX-L may be the perfect fit for you.
Which 2023 Honda HR-V trim level should you buy?
The 2023 Honda HR-V is a welcome improvement to the previous generation of the HR-V. Not only does this new design have some added style, but it delicately balances modern technology, simple and intuitive controls and features, and does so at an affordable price.
Aside from a few design and comfort features, the 2023 Honda HR-V trim levels are strikingly similar. Considering the different trims have the same exact engine, safety features, and are available in either 2WD or AWD, they're all a great choice for a dependable small-sized SUV.
However, if we're forced to choose just one, the 2023 Honda HR-V Sport trim in AWD provides consumers with that happy medium. With the Sport trim level, you'll be able to get practical and reliable performance out of your HR-V with a little bit of extra style and tech features.

Everyone has their opinions, but it seems that the EX-L with the addition of a moonroof and 2 more inches of screen size for the display, doesn't really justify the extra cost. Sure, you'll get dual-zone climate control, and a couple of extra speakers among a few other small things, but it just doesn't seem different enough.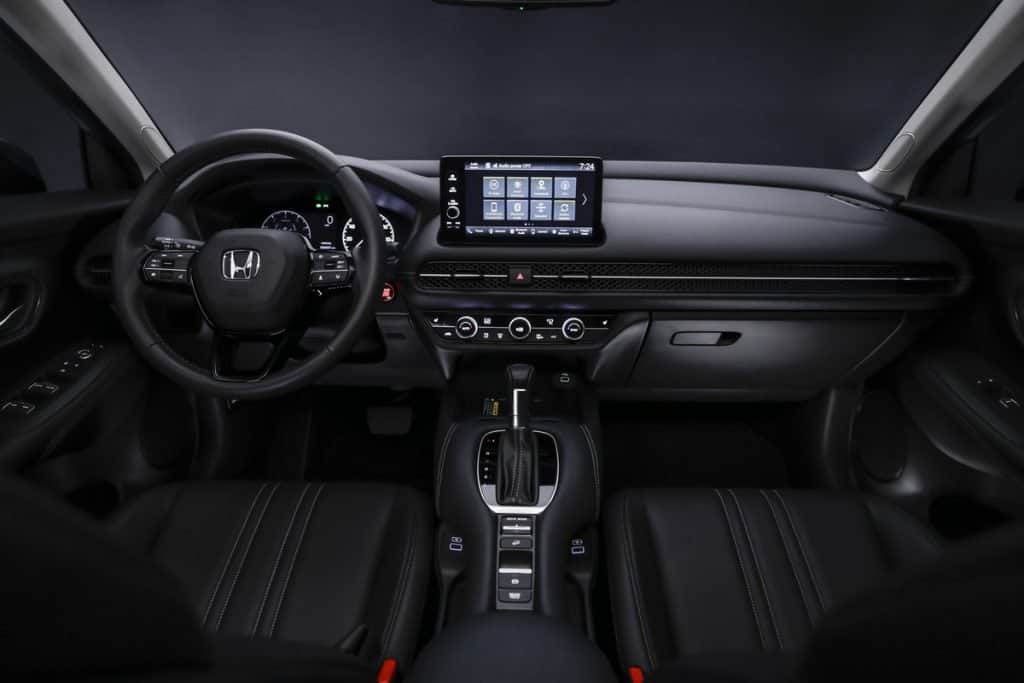 If the EX-L had a more powerful engine, it would stand out more on its own among the other options. At the same time, I can see why it would be appealing to some people.
The new 2023 Honda HR-V certainly has some potential, and I'm sure we'll soon be seeing a lot of them on the road. It seems like the new HR-V has the potential to fulfill a variety of roles from a daily commuter to a vehicle to get you to your next adventure in the outdoors.