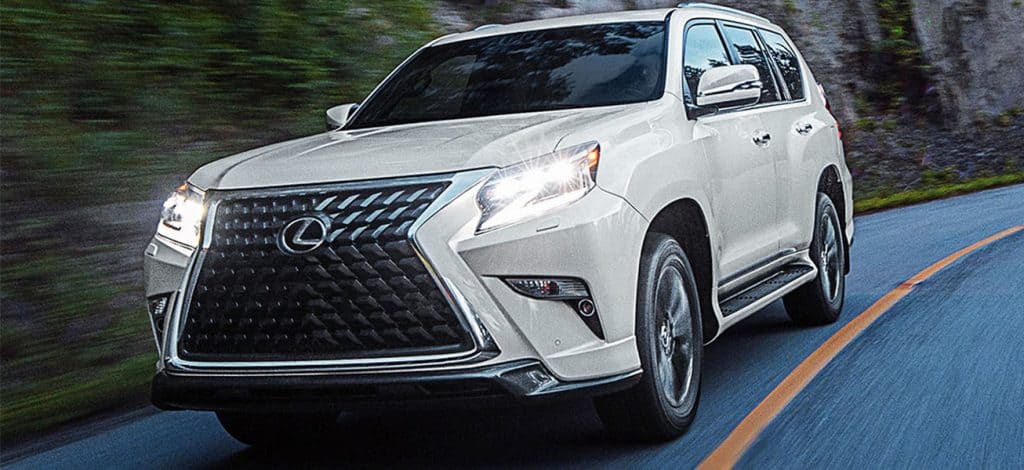 For families and others looking for the cargo space, reliability, and adventure aspect of a full-size luxury SUV, the Lexus GX has proved itself as a strong contender in the market for more than ten years. It's luxurious enough to turn heads yet rugged enough to handle unpaved roads and other challenging terrains, but which of the 2023 Lexus GX trim levels is the one you should choose? 
Recently, the chatter around the automotive world has been suggestive that the 2023 GX will be the last production year of this model's generation, as the 2024 model will undergo a re-design and significant changes. With the anticipation of that upcoming model in mind, the 2023 GX has no real major changes from the previous year's production.
Instead, it looks like the only changes we're seeing this year are very minor, including replacing the "Starfire Pearl" exterior color with "Eminent White Pearl." Additionally, they will no longer offer the "Claret Mica" color option for 2023 models. The final change we see this year affects the GX 460 Luxury model, which will come standard with a premium surround sound audio system.
Lexus has also brought back the GX 460 Black Line Special Edition, which they first introduced in the 2022 model year. They will limit this exclusive edition to 3,000 vehicles and adjust just a couple of its luxury features.
For 2023, you can choose between four trim levels—the GX 460, GX 460 Premium, GX 460 Luxury, and the GX 460 Black Line Special Edition. They all offer the only "body-on-frame" construction in their class and have the specialized features that allow them to tackle multiple types of challenging terrain, from snow-covered roads to rock.
Of course, they also boast the well-known Lexus safety features and have comfortable cabins, which shows why this model has lasted for the long haul. Expect all trim levels to ride more like a truck than a car, as the "body-on-frame" chassis is also used for most full-sized pickup trucks. 

It may be a little unrefined for some tastes, but this traditional SUV platform delivers towing and off-road capability that unibody crossovers can usually only dream about offering.
2023 Lexus GX 460 vs. GX 460 Premium
Like all trim levels, the Lexus GX 460 and GX 460 Premium include full-time 4WD with Active Traction Control, which uses sensors on all four wheels to optimize the vehicle's traction in all conditions. This feature gives drivers peace of mind that no matter what weather conditions or road hazards they face, the vehicle will adjust accordingly.
They also all have the Kinetic Dynamic Suspension System (KDSS), which optimally adjusts the front and rear stabilizers as needed and proves significantly helpful in off-road conditions.
From a technology standpoint, all models have the upgraded features we saw with the 2022 release. These upgrades include a 10.3- inch touchscreen, WiFi hotspot, HD radio, USB ports, smartphone connectivity, and the ability to display your device's interface on the screen. Various other cutting-edge features support productivity, improved safety, and ease of use while the vehicle is in operation.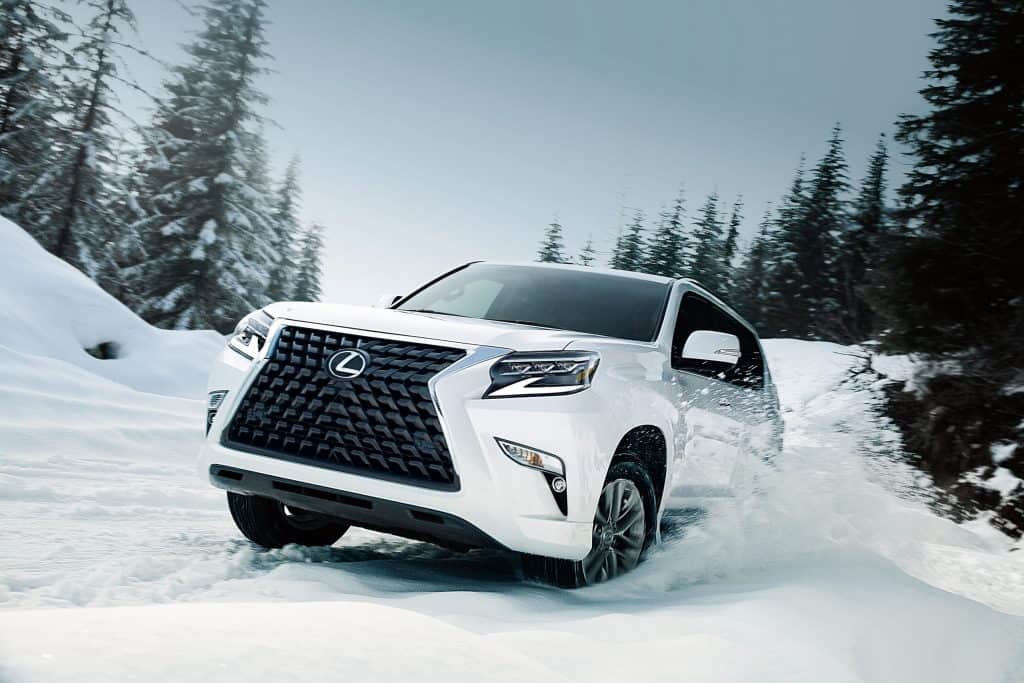 The exterior and interior of these two models are where you will find the most differences in the options.
The interior of both models offers standard NuLuxe interior trim, 10-way power adjustable seats (with seat memory), 40/20/40 configurations for the rear seats, and a fold-flat third row. However, suppose you're looking for features like climate-controlled seats, zone-controlled air, or upgraded Grey Sapele wood.
In that case, you'll need to add the Premium Package or consider purchasing the GX460 Premium model, as only the climate-controlled front seats come as an added option on the base model. 
The GX 460 Premium model allows you to choose a wood and leather-trimmed heated steering wheel and a tonneau cover for the cargo area. Those options are not available for the basic model, even if you add the Premium Package. If you add the Premium Plus package to the Premium model, you'll also get power reclining/folding third-row seats and heated second-row captain's chairs (must select captain's chair package).
Both trim levels include the basics on the exterior, such as triple-beam LED headlights, power moonroof, privacy glass, roof rails, and illuminated running boards. You can add headlamp washers as an option.
If you upgrade the GX460 base model to the premium package, it gets you added weather safety features, such as LED foglamps, rain-sensing windshield wipers, and a windshield wiper de-icer. These things come standard on the GX 460 Premium.
Chose the Sport Design Package with Premium Plus and Captain's Chairs for your GX 460 Premium if you like a sportier look to the vehicle. Among other design enhancements, these features include chrome finishes on the mirrors and the grille, a gunmetal metallic exhaust tip, and upgraded 19-inch split-six alloy wheels with a unique Dark Grey finish.
Some of the added packages for the Lexus GX 460 Premium will also give you the Mark Levinson 17-speaker Premium Surround Sound Audio System. Still, this upgraded sound system does not come as an option, or in any packages, for the GX 460 base model.
2023 Lexus GX 460 Premium vs. GX 460 Luxury
If you're interested in many of the extra interior and exterior features that you need to add to the GX 460 Premium model, you may want to consider upgrading to the 2023 Lexus GX 460 Luxury model instead. The GX 460 Luxury comes standard with many of these interior and exterior features.
For the interior, the only things you'll need to add a package to the GX 460 Luxury for are the heated second-row captain's chairs, which you'll find in the Sport Design package.
On the GX 460 Luxury exterior, you'll get the headlamp washers, and 19-inch slit-six spoke alloy wheels standard (although if you want the Dark Grey finish, you'll have to upgrade). Aside from those two things, you'll need to select the Sport Design package to get the "sporty" exterior features that were also an add-on to the GX 460 Premium.
From a technology perspective, if you're really interested in the Mark Levinson 17-speaker Premium Surround Sound Audio System, it comes standard in the GX 460 Luxury model, which is a nice feature.
The performance category is where you'll find most of the differences between these two models. The GX 460 Luxury model includes an Adaptive Variable Suspension and Auto-Leveling Rear Air Suspension to make an exceptionally smooth ride regardless of the terrain.

You also can add the Off-Road Package, with the Multi-Terrain Select and CrawlControl, and a Panoramic View Monitor, which gives the driver ultimate control over all types of challenging terrain. This package also includes a fuel-tank protector and transmission oil cooler. People who do a lot of off-roading will enjoy these features the most, as it gives valuable information about the conditions and immediate surroundings of the vehicle.
2023 Lexus GX 460 Luxury vs. GX 460 Black Line Special Edition
For ultimate exclusivity and the look of luxury, those who can get their hands on the GX 460 Black Line Special Edition will have some unique touches that showcase its premium status. The inside of this model includes a Boulder NuLuxe interior and Open-Pore Black Ash wood trim.
On the outside, you'll find 18-inch gloss black split-six spoke alloy wheels, a dark chrome finish grille, black window trim, body-colored door handles, and a rugged roof rack with available cross bars. It's also available in the exclusive Nori Green Pearl color.
However, it lacks some standard features in the GX 460 Luxury edition, so buyers will want to consider if the sleek style outweighs missing these options. For example, you can't get captain's chairs as an option or the larger 19-inch wheels. It's also missing the Mark Levinson® 17-speaker Premium Surround Sound Audio System and does not have the option to add it.
Finally, you won't be able to upgrade to the extra off-roading features like you can with the GX 460 Luxury, as the Off-Road package does not exist as an option for this model.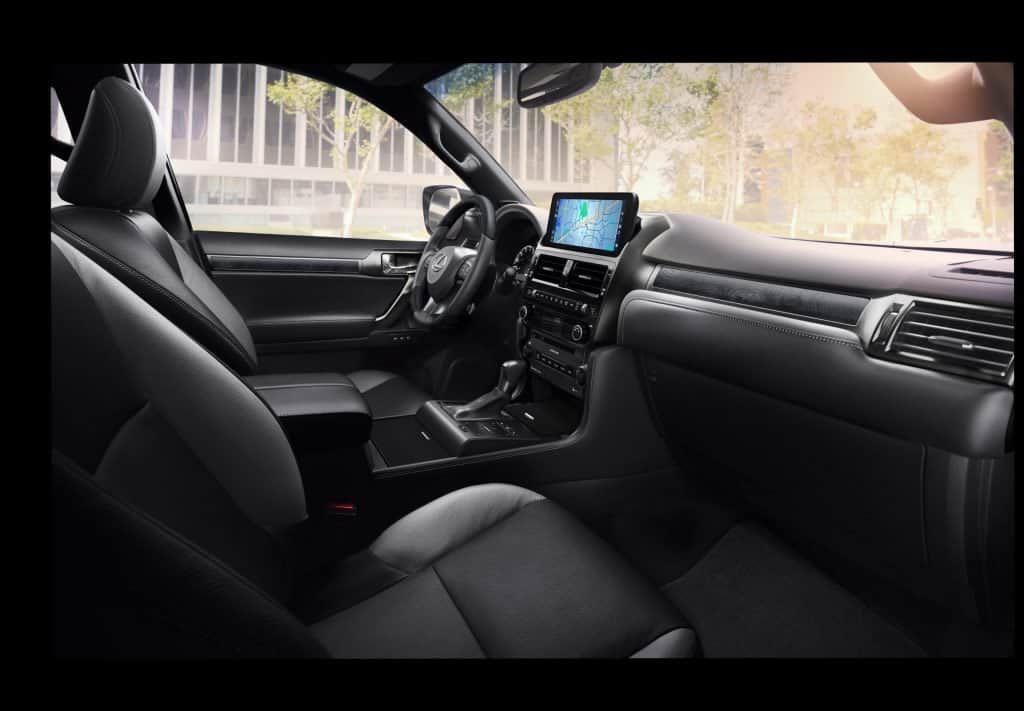 Which 2023 Lexus GX Trim Should You Buy?
All models of the 2023 Lexus GX offer safety and performance features that make it an excellent option for anyone looking to purchase a luxury SUV. In fact, its off-roading capabilities can hold up just as well in challenging terrain conditions as the Land Rover or Mercedes G-Class.
Since all of the models offer standard 4WD, ample space for passengers in a comfortable cabin, and loads of technology and safety features, the only real deciding factor is the amount of luxury you want your vehicle to have.
If you live in an area that needs climate control features, such as heated seats or a de-icer, you will probably want to look at the GX 460 Premium model or above. If you're into a more "sporty" looking exterior, both the GX 460 Premium and GX 460 Luxury models offer that option.
If sound and upgraded off-roading features make your list, you'll definitely want to go for the GX 460 Luxury model and upgrade to the Off-Road Package.
The GX 460 Black Line Special Edition best suits those who like black exterior finishes and black-on-black wheels. This trim-level option tends to have the "most-expensive looking" exterior. It also appeals to customers who like exclusivity, as this model has a limited run production.
Since the Lexus GX has been on the market forever and consistently makes the list of the best luxury SUVs for off-roading, any option you choose will give you the space and execution you need. It will be interesting to see what Lexus does for the GX going forward, and I'm excited to see the changes the 2024 model will bring.