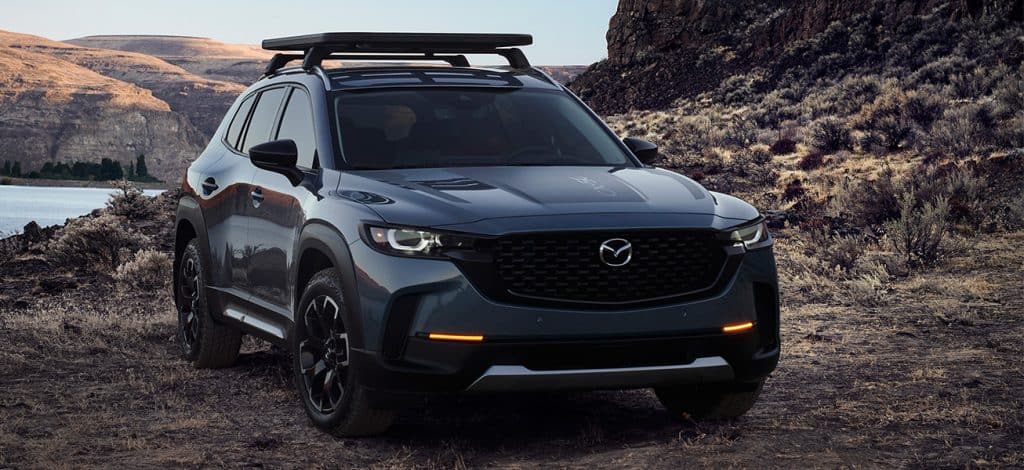 The all-new 2023 Mazda CX-50 is Mazda's solution to the post-pandemic desire to go outside. There are multiple options for trim levels or packages, as Mazda refers to them, and navigating through the various options could be a bit difficult. We've put together this impressive comparison of the 2023 Mazda CX-50 trim levels to assist you in determining the most appropriate model for your lifestyle.
The first step is to look at what is included on CX-50 in all trim levels.
I-Activ All Wheel Drive
The all-new compact SUV is equipped with some amazing standard features. The CX-50 and CX models available from 2022 forward are equipped with Mazda's I-Activ All Wheel Drive (AWD). This modern all-wheel drive system is prescriptive and doesn't spin all four wheels simultaneously. Instead, the group of sensors analyzes the road conditions, drivers inputs, and environmental indicators, including the temperature of the air and humidity levels, to deliver power in the required areas.
The complete process takes milliseconds, which results in a seamless and steady ride, regardless of the weather conditions. Moreover, Mazda has done all of this without sacrificing its fuel consumption efficiency. The difference between FWD and AWD platforms is just 1 mpg.
SkyActiv-G 2.5 L 4-Cylinder
Each package comes with Mazda's fun and effective 2.5L four-cylinder inline. The motor has been an integral part of the Mazda lineup for a long time and has earned its popularity because of its reliability and sporty driving performance.
To get the power on it, the team has utilized the same reliable 6-speed automatic transmission that is used in other CX models.

Variable Drive Modes
It also comes with Mazda's Intelligent Drive Select technology (Mi-Drive). This feature enables you to toggle between different modes that match the terrain. These Modes are:
Sport Mode: To render an improved responsive and lively driving experience.
Off-Road Mode: Controls engine and brake torque to prioritize the traction.
Normal Mode: A combination of performance and efficiency during the daily commute.
Further, a towing option is also available in the turbocharged options. Towing mode lets you harness the power of low-end torque that can tow loads as high as 3,500 pounds.
Mazda Connected Services
Mazda Connected Services is another standard feature of the CX-50.
The app-based service lets you access:
Doors that lock and unlock
Start and stop your engine (great for cool mornings and hot afternoons)
Make sure to turn on the lighting and flashers (no more losing your car on the lot)
Verify the fuel level, oil life, and tire pressure (plan your stops before leaving home or work)
Find your car on a map via GPS
You'll receive notifications when doors are left unlocked or not locked.
 
Additionally, you can make an appointment for your services, call roadside assistance, look up recalls, and access the owner's manual via your mobile.
Apple CarPlay and Android Auto
In this world where people depend on their phones to do everything, it makes sense to design interaction between your smartphone and your car. This is what these tools do! Plug into your phone (or connect via Bluetooth or wireless Apple Carplay), and compatible applications will be available on your infotainment device and optimized to minimize distraction when driving.
I-ActivSense Safety Technology
As smartphones become a more important part of our daily lives, driving distractions are becoming more common. Luckily, Mazda's Iactivesense safety technology was created to limit the risk of distracted driving and protect your passengers from distracted drivers.
The safety tech suite includes:
Lane-Departure Warning and Lane-Keep Assist
The system utilizes a windshield-mounted camera that can detect the lane markings. If you initiate to drift away from your specific lane, the system will warn you by chiming and steering wheel vibration. If you continue to drift out of the lane, the Lane-Keep Assistant will provide gentle steering assistance to bring the vehicle back to the middle of the lanes.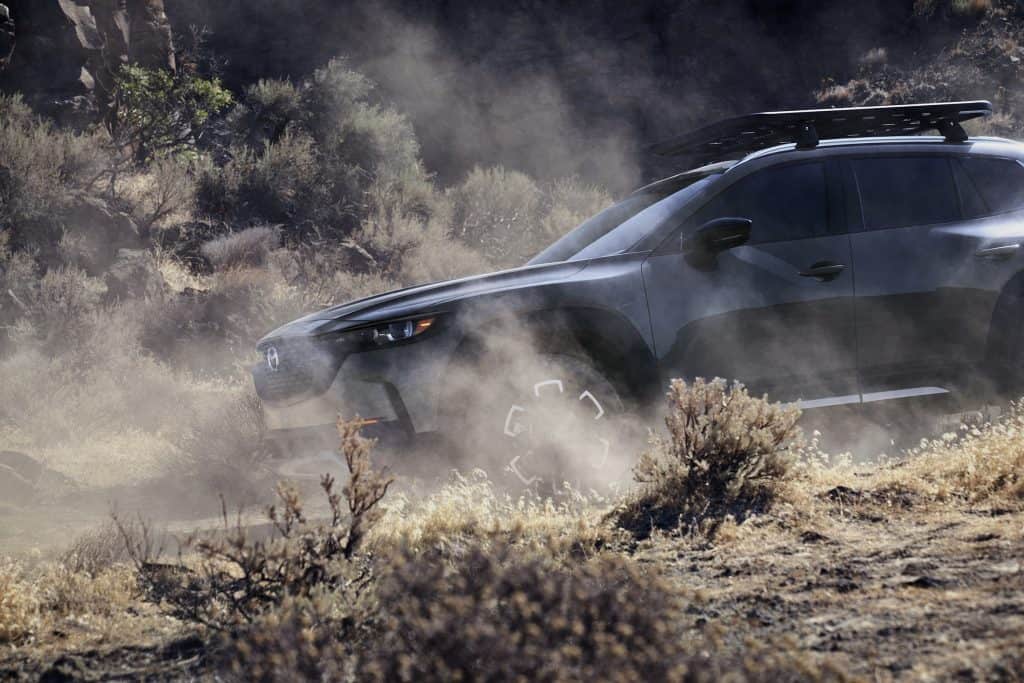 Acceleration Control
The Acceleration Control helps in accidental rapid acceleration by sounding the alarm and curbing engine power when the pedal is pressed unintentionally when any object is just ahead of you.
Mazda Radar Cruise Control with Stop-and-Go
The adaptive cruise control enables you to set a fixed speed for driving just like conventional cruise control, but it takes things a step further by using millimeter-wave radar to keep a distance from the vehicle in the front.
The stop-and-go feature means that the same technology could be utilized for bringing your car to the point of a complete stop during traffic. The system will hold the vehicle in place until traffic flow is restored and you tap the gas pedal or press the resume button on the steering wheel.
High Beam Control System
The High Beam Control System will automatically turn your high beams on and off while driving at night.
Monitoring Blind Spot Rear Cross Traffic Alert
Radars visible in the rear and sides of the vehicle give audio and visual signals to alert you to cars within your blindspot.
Smart Brake Support
Put this way, the emergency braking system detects the possibility of collision with the vehicle in front of you and prepares the brakes for quick deceleration. If you don't brake or take an evasive step, it engages the brakes and shuts off the power supply for the motor.

Smart City Brake Support
SCBS gives the same emergency brake assistance as Smart Brake Support, although it is available at speeds between 2 to 19 miles per hour.
Forwarding Obstruction Warning
FOW emits an alarm and provides visual alerts when it detects the risk of collision with objects ahead of you.
2023 Mazda CX-50 Trim Levels 
2.5 S Package
In addition to the features mentioned above, 2.5 S includes:
Daytime running lights
P225/65 all-season tires
Tilt and telescopic steering wheels
Power side mirrors
17" alloy wheels
LED Headlights that auto-on/off
Two USB audio ports on the front
8-speaker audio system
Seats made of cloth
Push button start
A 10.25" full-color display that has a touchscreen
Starts at $26,800
As you can analyze, even at its basic level, the CX-50 comes with premium features, making it an excellent everyday driver and a monster on the backroads.
2.5 S Select Package
This new model features all of the previously mentioned features but includes certain essential amenities for the driver. Remember, the powertrain driveshaft, engine axles, and differentials, (engine transmission) don't change for either of these first two 2023 Mazda CX-50 trim levels.
HD Radio (TM)
Dual rear USB charging ports
Leather-wrapped steering wheel
Rear seat armrest center with tray and storage bin
Two-zone climate controlled automatic with pollen filter
Rear privacy glass
Other exterior colors choices
Half leatherette-trimmed seats
Start at $28,200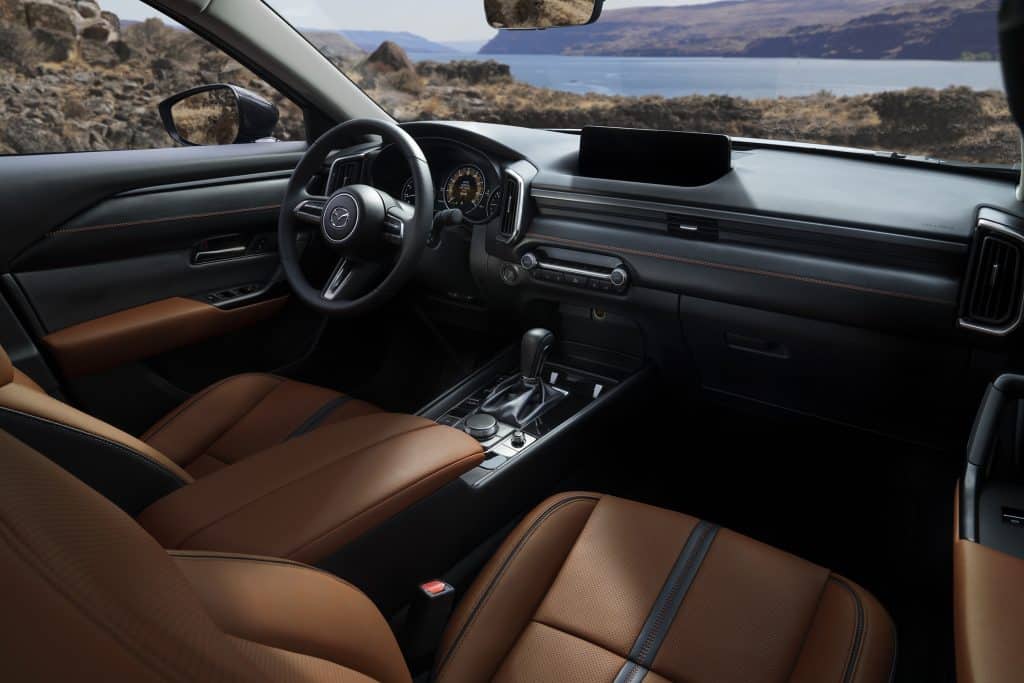 2.5 S Preferred Package
The premium package adds amenities and comforts to make your journey more enjoyable!
Mirrors on both sides are heated
Rear Power Lift-gate that can be programmable for height adjustment
Front seats with heated heating
Windshield wiper de-icer
Starts at $29,500
2.5 S Preferred Plus Package
The course of the Mazda first model, the 2.5 Preferred Plus trims and above, are equipped with the panoramic sunroof. The features extend nearly the entire car length and offer plenty of sunlight and a stunning perspective of the outside world!
Panoramic moonroof with power sliding glass.
Starts at $31,940
2.5 S Premium Package
Black leather seating with Brown accents
SiriusXM  Satellite Radio with 3 months trial subscription
Bose  Surround Sound System with 12 Speakers that contains AudioPilor  2
Support for lumber power and memory with two positions
Auto-dimming rearview mirrors with HomeLink
Shark fin antenna mounted on the roof
2 Position memory and Power lumber support
Starts at $34,400
2.5 S Premium Plus Package
P245/45 R20 all-season tires
Side mirrors that fold automatically
20" Aluminum alloy wheels
The front seats are ventilated and have three levels of adjustment
Windshield-projected Active Driving Display
Starts at $36,400
This concludes naturally aspirated trim level. Let's examine the turbocharged options available to you.
2.5 Turbo Package
The most noticeable addition to this model is the twin-scroll turbo. The turbocharger increases the engine's power from 187 hp to 227 hp and 311 pounds of torque utilizing regular fuel and 256 hp and 320 lb-feet of torque when using the 91 octanes or higher.
The increase in torque boosts the CX-50's capacity to tow from 2,000 lbs to 3,500 lbs, so you'll have more gear to take to the open spaces.
Additionally, you also get:
Optional Terracotta Leather
Steering wheel wrapped in leather with red stitching
LED combination tail lights with distinctive lighting
Paddle shifters
Options for Zicron Sand Metallic  (a brand new color)
The Turbo badge and the AWD badges
Adaptive front-lighting system
The gear selector is wrapped in leather and has red stitching
Important note: The package is slightly different from the standard because it doesn't include certain features in Premium and Premium Plus packages. The features that are excluded include:
Sirius XM with a 3-month trial
Power-folding side mirrors on the sides
Seats that are ventilated
Bose audio system
Windshield-projected Active Driving Display
Shark fin antenna mounted on the roof
Starts at $36,400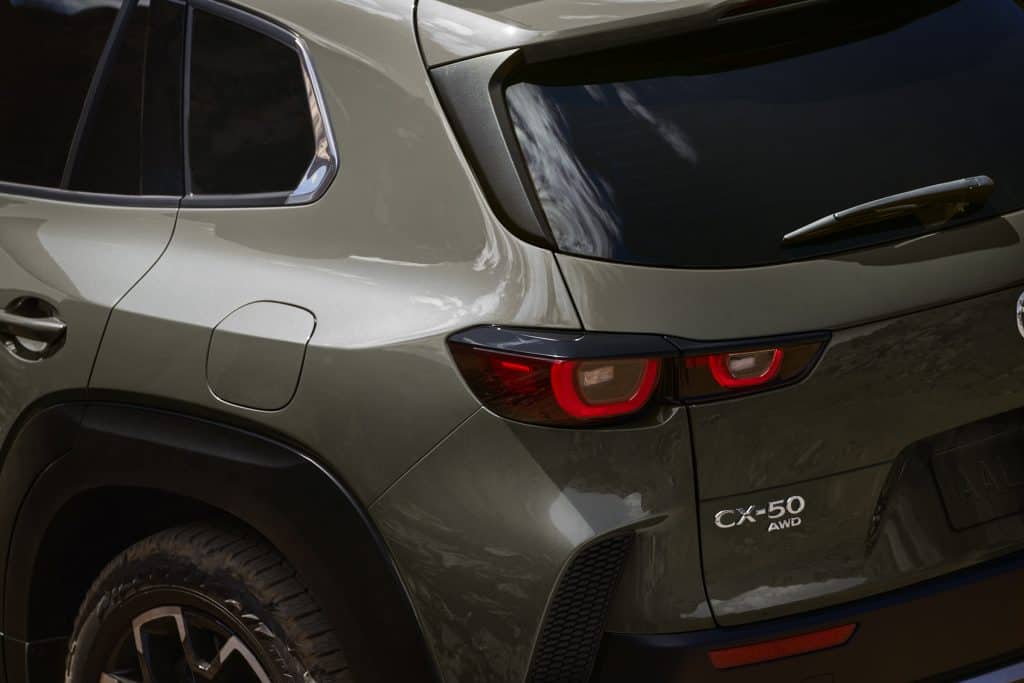 Suppose you're looking for all the bells, whistles, turbo, and much more. The package is perfect for you!
2.5 Turbo Premium Package
SiriusXM(r) Satellite Radio with 3 months trial subscription
Power folding side mirrors with automatic power.
Shark fin antenna mounted on the roof
The front seats are ventilated and have 3 levels of adjustment
Heated steering wheel
2-position memory system
Windshield-projected Active Driving Display
Bose  12 speaker surround system featuring AudioPilot  2 and Centerpoint  2 
Starts at $39,550
2.5 Turbo Premium Plus
Traffic Jam Assist
Traffic Sign Recognition System
Parking sensors for the front and rear
360o View Monitor
Smart City Brake Support-Rear
Wireless phone charger
Mazda Navigation System
Blind Spot Assist
Mirrors that auto-dimming for the driver's side.
Rear-facing heated seats have 3 levels of adjustment.
Starts at $41,550
Special Editions
Additionally to these options, Mazda has two special versions planned for the fall of 2022. This Meridian Edition comes with a turbo engine, an 18″ wheel with black metal alloy, all-terrain tires, various snazzy accessories to the headlights and side rockers, and CX-50 Hood graphics. The Apex edition enhances the excitement by adding crossbars, a roof platform, and front and rear splash guards.
What 2023 Mazda CX-50 trim levels should you buy?
With so many options, there should be something for everyone looking at a family hauler-come-adventure vehicle. Its naturally aspirated 2.5-liter engine is sufficient for most, especially when driving in moderate and fair weather and only hitting moderately traveled and maintained dirt tracks to camping trails, biking, and hiking places.
The families with the most adventurous lifestyles are likely to need the Off-road mode and Hill control features, although these are available on the entry-level model. So, the base model should provide you with the majority of places you would like to go if things become slippery under the tires. From there, it's about considering the value and price of higher-end features.
For those who are especially adventurous and those who view it as an activity and do the miles, the 2.5 Turbo models are the most sought after. It's best for those who tow trailers frequently, but moving up the trim levels is a matter of cost and the features you'd like to have. If you want a CX-50, 2.5 Turbo models are the 2023 Mazda CX-50 trim levels to go for.
We are a bit hesitant with the price tag for 2.5 Turbo Premium Plus, but if you're thinking about family hauling and putting in the miles, you can find more efficient options to invest your money than the Mazda's comfort and design.