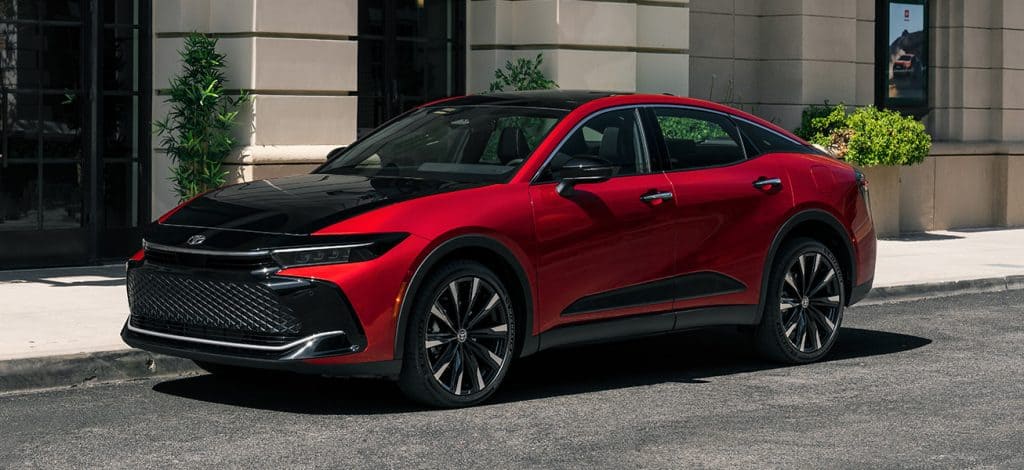 The sedan is dead, so long live the SUV and the pickup truck, right? Well, it appears not; if you're Toyota, that is, anyway. After an absence from the American market for decades, Toyota has announced the reintroduction of the Toyota Crown. On the face of things, bringing a new sedan to market when most automakers are consigning their sedans and hatches to history looks like a dumb move. However, when it comes to the all-new 2023 Toyota Crown, what is it, and has Toyota lot the plot with this one?
What is the 2023 Toyota Crown?
The Japanese auto giant's press release calls the all-new 2023 Toyota Crown a "Reimagined sedan with bold styling, premium comfort, and elevated ride height." If you think Toyota is going against all common sense by reintroducing a sedan that got binned decades ago, the last three words of that quite tell you everything. The 2023 Toyota Crown isn't a sedan at all. The all-new Crown appears to be an attempt by Toyota to bring something new to the crossover SUV market, but is there anything new here at all?
In fact, the 2023 Toyota Crown is a replacement for the discontinued Toyota Avalon, which would lead you to assume it's an Avalon sedan by another name. But the all-new 2023 Toyota Crown looks to be attempting to reintroduce a format that never really took off when it was around earlier.

The new Crown is a cross between a sedan and an SUV, but isn't that just a crossover? Well, yes, but no. Crossovers generally look like SUVs but drive and ride more like cars. The all-new Toyota Crown looks more like a station wagon crossed with a crossover. Think of models like the Subaru Legacy and Volvo S60 Cross Country, or even the Audi Allroad, and you'll have a good idea of what to expect.
However, while the models mentioned above are all as ugly as sin, the 2023 Toyota Crown is a bit of a stunner. Instead of an abrupt station wagon rear end, the new Toyota Crown has a coupe-like sloping roof. But it is a sedan with a trunk. Even though it looks like a liftback, it's still a four-door.
Exterior styling
When I first heard about the Crown, I admit I was less than enthusiastic. But now that I've seen the vehicle, I'm seriously impressed. The exterior styling and two-tone paint job of the model used by Toyota in its launch video are stunning. In fact, I like it so much that I would genuinely consider getting one myself when the lease on my current SUV ends.
The 2023 Toyota Crown resembles a combination of a sports coupe, a sedan, a GT car, and a crossover SUV. If this thing drives anywhere near as good as it looks, Toyota could have a big success on its hands.
I'm an absolute sucker for a coupe roofline on an SUV. I can't stand the way the Mercedes GLA, Mercedes GLC, and BMW X5 look, but I love the GLA and GLC coupes and the BMW X6.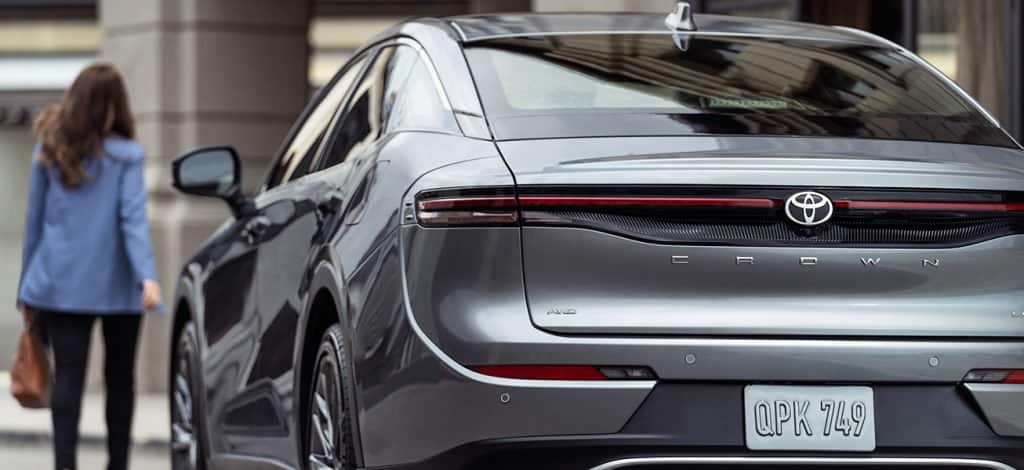 What engines does the 2023 Toyota Crown have?
Entry-level versions of the 2023 Toyota Crown have a familiar arrangement under the hood; a 2.5-liter four-cylinder gas engine paired with three electric motors and a continuously variable automatic transmission (CVT). The most expensive Platinum model gets what's being called a Hybrid Max powertrain that sees a turbocharged 2.4-liter four-cylinder and an electric motor on the rear axle working together to produce an impressive 340 horsepower.
The standard powerplant puts out 236 horsepower and will return an estimated 38 mpg, while the 340 horsepower of the Hybrid Max system pays a hefty fuel economy penalty with a combined 28 mpg.
There are two different versions of an electronic all-wheel-drive available, but I won't bore you with the details other than to tell you every model gets AWD as part of the standard specification.
This model isn't going to be any sort of hard-core off-roader, but you can expect the new Toyota Crown to be pretty useful on roads with slippery surfaces.
How much does the 2023 Toyota Crown cost?
Pricing for the 2023 Toyota Crown hasn't been announced at the time of writing, but we should expect the MSRPs to start from somewhere in the region of $41,000. That sounds like a lot, and it is, but the specifications are impressive enough to justify it.
When will the 2023 Toyota Crown go on sale?
We should start seeing the 2023 Toyota Crown in showrooms in late 2022 or early 2023. However, another matter is how soon you'll be able to get your hands on one in the current circumstances. With supply chain problems and the ongoing shortage of microchips, tech-heavy cars like the Toyota Crown often have lengthy waiting lists.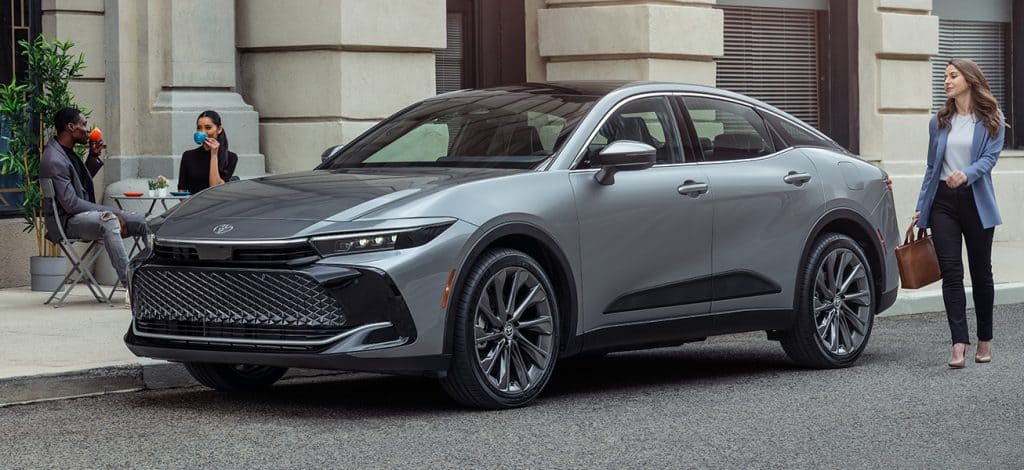 Specifications and features
There will be three trim levels in the 2023 Toyota Crown lineup; XLE, Limited, and Platinum. Unfortunately, you won't be able to upgrade the XLE or Limited to the Hybrid Max powertrain as the 340-horsepower hybrid system is exclusive to the top Platinum trim. However, many buyers will probably go for the top trim as it also dumps the CVT transmission for a conventional six-speed automatic.
Detailed specs for each trim level are not available yet, but if you'd like to know everything we know so far, you can download the full Toyota USA press release here:
Should you buy a 2023 Toyota Crown?
If you like the look of what you see with what we know so far about the 2023 Toyota Crown, I'd definitely recommend getting your name down on the waiting list when the order book opens.
In the current climate, it's hard to see how you'd have anything to lose. Even if you went all the way and took delivery of an early example, you would probably be able to sell it on for what you paid for it or even for a modest profit if you decided it wasn't for you when you got behind the wheel.
For me, the all-new 2023 Toyota Crown is definitely on my list of models to consider when deciding which vehicle I will lease when my current deal expires.
Don't forget; the automotive media was largely dismissive when BMW unveiled the X6, which was effectively an X5 with a coupe rear-end. That model was a massive hit with buyers and has now spawned a raft of imitators, including the likes of the X4 from BMW itself.
Will we see a stampede of automakers rushing to produce their own interpretations of the Toyota Crown in the future? I'm not sure I'd bet my house on it, but if the Toyota is as good as it looks and sounds, I wouldn't bet against it.