Kia has always been well known as an automaker that delivers excellent value for money, but the quality of Kia cars has also improved dramatically over the last decade. If you're considering buying a new Kia, you're probably working to a budget, and whose budget isn't being stretched at the moment by rocketing gas prices? So, if you're looking for great value and saving money on gas simultaneously, have you considered Kia hybrid cars?
Currently, only four Kia hybrid cars are available in the US. And even then, these are hybrid and plug-in hybrid versions of the 2022 Kia Niro and the 2022 Kia Sorento. Here I'm going to compare all four of them to see if a Kia hybrid might be a good investment right now.
And whether you're looking for a new Kia hybrid car or not, you can still save up to 25 cents on every gallon of fuel by downloading the free GetUpside app for your phone here and using it every time you fill up.
2022 Kia Niro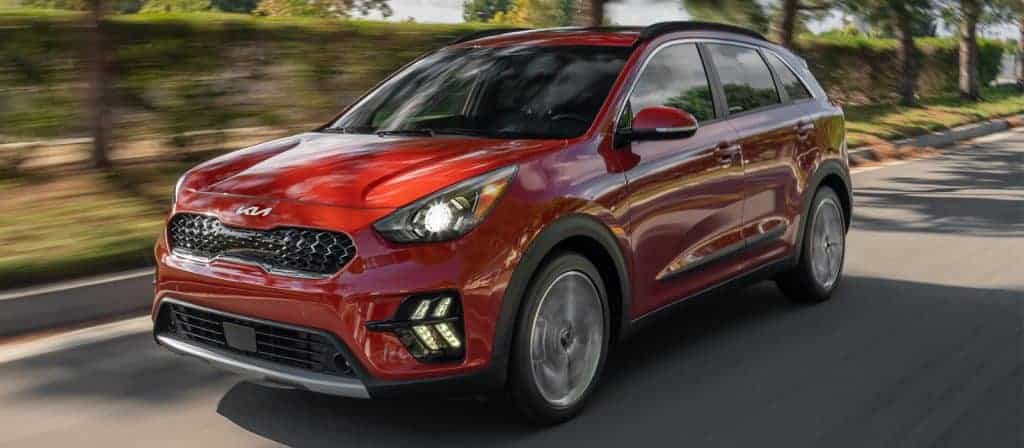 The Niro is a rarity as this compact SUV has been a hybrid ever since it first hit the market in 2016 as a 2017 model year. Most vehicles get launched with a standard version exclusively powered by an internal combustion engine, but the Kia Niro was a hybrid from day one.
Another unique aspect of the Niro has been Kia's decision to send the Niro's power to the front wheels through a dual-clutch automatic transmission instead of a CVT. And yes, that does mean there's no such thing as a Niro with all-wheel-drive.
I've always thought there was something a little odd with how the Niro looks. It's almost as if Kia wanted to make it stand out visually as something different from the rest, but it lost its nerve just before going into production. However, the 2022 Kia Niro benefits from some modest restyling that's taken a bit of the oddity out of how it looks.
As the Niro has been around for a few years now, you could look to save even more money by choosing to buy used instead. There are plenty for sale between $16,000 and $17,000, but you might have to put up with 100k miles or more to get down to that price.
Regardless of whether you buy new or used, the good news is the Niro is one of the most frugal models in its class. There are five different trim levels, but the base LX is best on gas due to the low rolling-resistance tires that help it achieve 53 mpg in the city, 48 mpg on the highway, and 50 mpg on the highway mpg combined.
2022 Kia Niro Plug-in Hybrid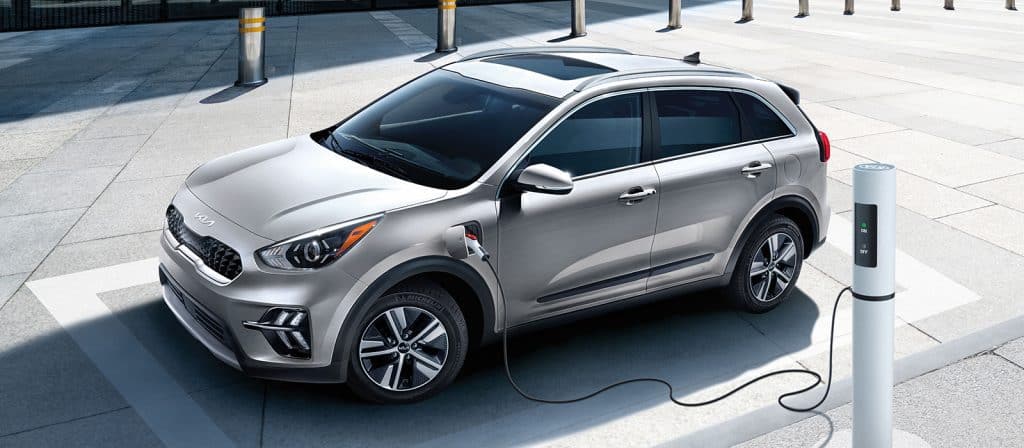 As far as I can see, the only reason to pay more for a 2022 Niro Plug-in Hybrid instead of a 2022 Niro is so you can drive up to 26 miles on electricity only. Regardless of trim level or configuration, all versions of the Niro PHEV return a combined fuel economy rating of 46 mpg. Is it worth paying almost $5,000 more for that? Only you can decide that.
Overall, the Niro and the Niro PHEV are decent Kia hybrid cars that return excellent fuel economy. If that's what you're looking for, then go ahead and buy one. They both come with good levels of standard equipment, and they're not outrageously expensive by any means. However, there are hybrid versions of other models in the same class that are more desirable and don't concentrate quite so heavily on fuel economy to the detriment of all else.
2022 Kia Sorento Hybrid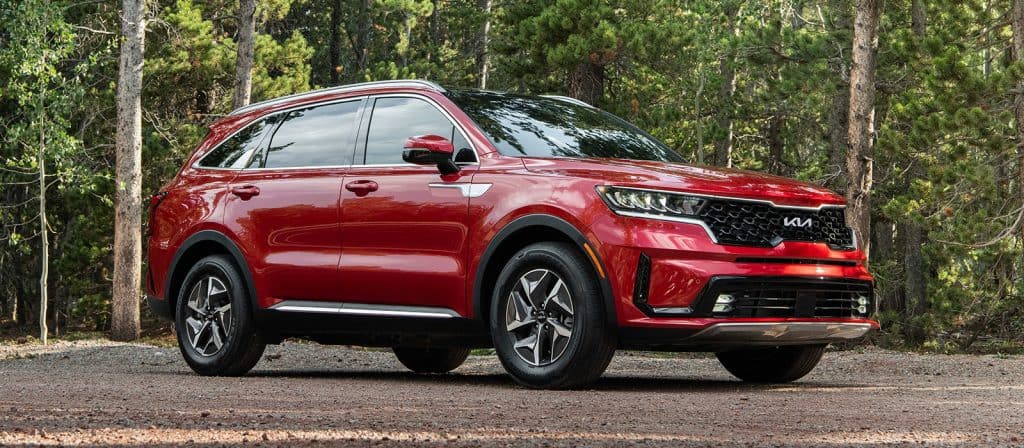 You can have a gas-only version of the 2022 Kia Sorento Hybrid, and there's also a plug-in hybrid option that we'll get to in a moment. Right from the start, I will give this one my vote over the Niro just for the exterior styling. Some commentators have said it looks a bit like a minivan, and I've even seen it classed as a minivan in some places.
Despite that, I like the modern styling of the latest Kia Sorento, so it just comes down to whether the PHEV is a better option for which of these four Kia hybrid models are the best.
The 2022 Sorento is a three-row midsize crossover SUV, but don't assume this is only for those who need more than five seats. The Sorento is an attractive, capable and flexible model that works just as well as a five-seater if you fold the rear seats flat and take advantage of the generous cargo space.
The Sorento Hybrid isn't as powerful or fast as the gas-only Sorento, so you'd need to be keenly focused on fuel economy to go for one of these over the exclusively gas-powered model. The 2022 Sorento Hybrid gets fuel economy ratings of 39 mpg in the city, 35 mpg on the highway, and 37 mpg combined, which is good for a vehicle of these proportions.
2022 Kia Sorento Plug-in Hybrid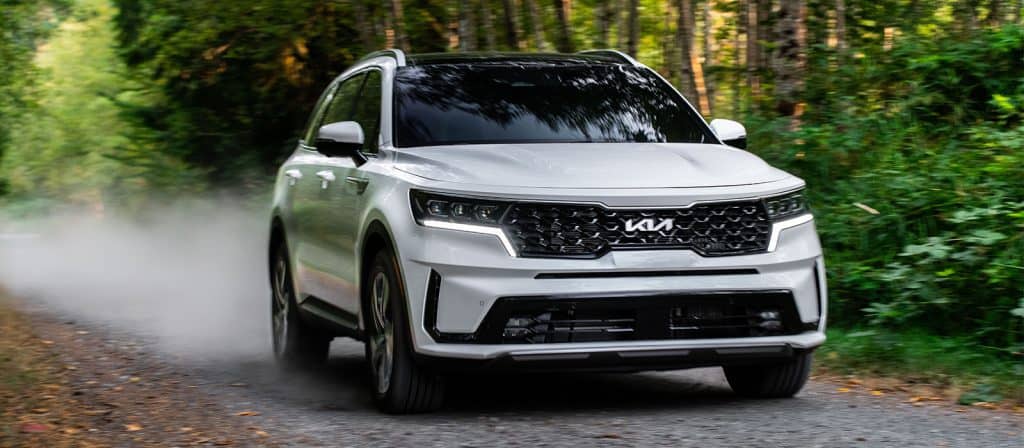 Are you ready to hear how much the 2022 Kia Sorento PHEV costs more than the 2022 Kia Sorento Hybrid? You probably couldn't tell them apart if they were parked next to each other, but the base version of the PHEV costs an eye-watering $11,100 more than the Sorento Hybrid.
However, unlike the Niro and Niro PHEV, the Sorento Plug-in Hybrid adds more than just a plug socket. The Sorento PHEV features a 1.6-liter Turbo Plug-In Hybrid powertrain that develops 261 horsepower and 258 lb.-ft. of torque and has standard torque-vectoring AWD with a center-locking differential. The PHEV also boasts a 66.9-kW electric motor and 13.8-kWh battery that helps it accelerate more quickly than the hybrid.
You can also drive on electric-only with the Sorento PHEV for up to 32 miles, its combined fuel economy rating is 34 mpg, and its overall fuel economy rating is 79 MPGe. Those numbers are not class-leading for a hybrid in the price bracket, but I like a hybrid to offer more than just great fuel economy, and the Sorento Plug-in Hybrid does.
My verdict
I considered buying a Niro a few years ago when it first came out, but I went for a gas-only Sportage instead. I don't do rocket ship mileage, so fuel economy isn't number one on my list of priorities. But if I were going to buy a Kia hybrid for fuel economy, emissions, or even for tax reasons, I'd choose the 2022 Kia Sorento Plug-in Hybrid out of the four currently available.
I will say I'm a big fan of Kia as a manufacturer these days, so there's every possibility I'll buy a Kia next time around. However, I'm intrigued by the sensational EV6, and I'd definitely consider one of those if I had somewhere I could park at home to plug the thing in!
Anyway, here's a table comparing some of the main attributes of the current four Kia hybrid cars. And don't forget, download that GetUpside app for your phone, and you can save up to 25 cents per gallon on gas for any vehicle you drive now or in the future.
| | | | | |
| --- | --- | --- | --- | --- |
| | Kia Niro | Kia Niro PHEV | Kia Sorento Hybrid | Kia Sorento PHEV |
| Price (from) | $24,690 | $29,590 | $34,090 | $45,190 |
| Horsepower | 139 hp | 139 hp | 227 hp | 261 hp |
| Torque | 195 lb-ft | 195 lb-ft | 258 lb-ft | 258 lb-ft |
| City mpg | 53 mpg | – | 39 mpg | – |
| Hwy mpg | 48 mpg | – | 35 mpg | – |
| Cmb mpg | 50 mpg | 46 mpg/105 MPGe | 37 mpg | 34 mpg/79 MPGe |
| Seats | 5 | 5 | 7 | 7 |