The Lexus GX 460 is a full-size luxury SUV that doesn't get as much coverage in the media as perhaps it should. When most people think of Lexus they think of comfort and luxury first and foremost, and that's entirely understandable, but what are they for and what are they capable of? As a proper SUV built on a ladder-frame platform in its early years that later adopted a unibody construction, can a Lexus GX 460 tow a camper or pull a boat as well as some more well-known rivals?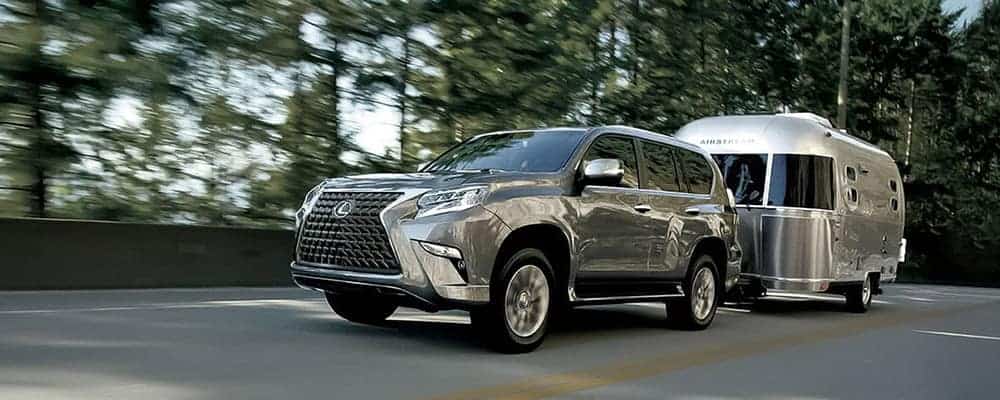 The maximum towing capacity of all versions of the Lexus GX 460 is 6,500 pounds, which is enough for towing the average camper as the average dry weight of a camper trailer is 5,200 pounds. There are plenty of boats that the GX 460 can tow, but something like the extremely popular Boston Whaler 270 Dauntless with a pair of 200-hp outboard engines would be just beyond the capability of the Lexus.
If you're interested in buying a new or a used Lexus GX 460 you're looking at a very luxurious and reliable vehicle that can tow the average camper with ease, and won't even notice the average bass fishing boat if you're pulling one behind you. Let's take a closer look at the Lexus GX 460 then and see what it can and can't do.
Before you even think about parting with your hard-earned money for any used car, please make sure you know what you're buying by getting a vehicle history report you can trust like one from EpicVIN. If you're buying from a dealer they should provide one, but if they don't, get your own here and it could save you a fortune in the long run.
General towing with your GX 460
By choosing an SUV over a full-size pickup truck you're accepting a certain level of compromise when it comes to towing. Something like a Lexus GX 460 is a superb overall package that can do a very good job in a whole variety of roles, but it's not going to be able to match a truck when it comes to sheer towing capacity.
The GX 470 was a true ladder-frame SUV, and with the updated GX 460, Lexus resisted the temptation to move to a more contemporary unibody platform which meant it didn't lose any of its predecessor's capability. Among its luxury rivals, something like a 2021 Volvo XC90 T5 Momentum has a very similar MSRP but the Volvo can only tow up to 5,000 pounds.
On the other hand, for a similar price to the Lexus, you could have a Chevrolet Suburban 2WD LS and you'd then be able to tow up to 7,800 pounds, which is getting close to that Boston Whaler 270 Dauntless I mentioned earlier. Of course, a Suburban LS is another truck-based SUV, but it isn't as luxurious as the Lexus GX and it doesn't have standard AWD either, but you get the idea?
If you are looking to buy brand new there are now four different trim levels in the 2022 Lexus GX 460 lineup. The first is the base GX 460 and then the range goes to the GX 460 Premium, Black Line Special Edition, and the range-topping GX 460 Luxury. MSRPs (US) now start from $56,700 for the base model, $58,035 for the Premium, $60,535 for the Black Line Special Edition, and $66,210 for the top-of-the-range GX 460 Luxury.
Getting ready for towing
You can order a Lexus GX 460 from a dealership ready to go for towing with a hitch receiver or ball so you're ready to go as soon as you drive it away from the lot, but if you're really serious about towing you might want to look at specialist towing equipment that might not be offered by the dealer.
What you are intending to tow with your Lexus will determine which type of towing equipment and electronics package you need, so it's well worth doing your research before placing your order. Basically, you need to decide which tow hitch, electronics connector and brake controller you need for what you have in mind, and trust me, there are plenty of different ones to choose from designed for a wide variety of different towing applications.
Lexus GX 460 history
Lexus launched the GX in 2002 as a 2003 model year and it was based at the time on the Toyota Land Cruiser Prado, but to begin with, it came as the GX 470 and didn't morph into the GX 460 until the second generation came along later. Anyone who knows anything about the Toyota Land Cruiser knows will be well aware of its legendary off-road capability, which the Lexus GX also has in its considerable locker of attributes.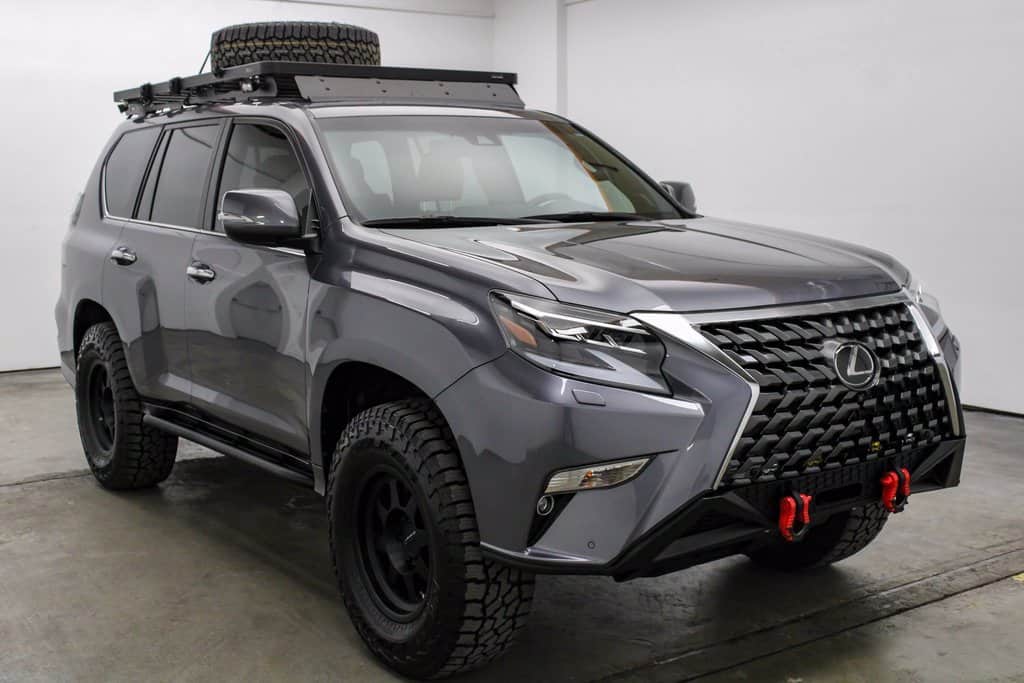 First-generation Lexus GX 470 (2003-2009)
In January 2002. Lexus gave the GX 470 its debut at that year's North American International Auto Show and it eventually landed in showrooms in November 2002 as a 2003 model year. But if you are thinking of buying an early used GX 470 to save money, and they can represent excellent value for money, you need to know that the first examples were only rated to tow up to 5,000 pounds.
It wasn't until midway through the 2004 model year that the GX 470 was upgraded to the current 6,500-pound towing capacity thanks to the addition of a much stronger frame-bolted tubular hitch.
The 2004 model year GX 470 was also upgraded with a sealed unit transmission was with no dipstick, and an optional Kinetic Dynamic Suspension System (KDSS) also became available as a late-year addition that you might want to watch out for if you're thinking of buying a used 2004 Lexus GX 470.
Second generation Lexus GX 460 (2010-present)
The Lexus GX 470 became the GX 460 when the second-generation GX made its debut at the Guangzhou International Automobile Exhibition in China in November 2009. Lexus wasn't inclined to convert to unibody construction for the GX 460 and instead stuck to the trusted body-on-frame platform that's more conducive to heavy towing.
A new 4.6-liter V-8 engine was employed that produces 301 horsepower and 329 lb.-ft. of torque, which gets sent to all four wheels through a six-speed automatic transmission.
First-generation GX 460 model got the first facelift in 2013 for the 2014 model year, and a second facelift and redesign came along in 2019 for the 2020 model year.
2010 Lexus GX 460 "Don't buy, Safety Risk" warning
If you are interested in a used Lexus GX 460 and a 2010 model year is in your sights you probably need to know about a serious safety issue that arose back in the day.
In April 2010, the highly regarded Consumer Reports urged its readers not to buy the 2010 Lexus GX 460 due to the results of a "lift-off oversteer" emergency test. The publication went as far as to give the 2010 GX 460 a "Don't buy, Safety Risk" label, which was the first time it had given one to a vehicle since 2001.
In the high-speed "lift-off oversteer" test, the GX 460 was quickly turned with no pedal input, which would then initiate a sideways slide before the vehicle stability control (VSC) system brought about a full stop. Consumer Reports concluded that the VSC system kicked in too slowly, and if one of the vehicle's wheels hit a curb or slid off the pavement, a rollover accident was a very serious possibility.
Although the 2010 Lexus GX 460 still met US federal requirements, Toyota decided to carry out its own testing and came to the same conclusion as Consumer Reports. A voluntary recall notice for the GX 460 was issued for a software update to correct the VSC response, and when the software update was completed, GX 460 sales resumed on April 29, 2010.
It's almost certain that any used 2010 Lexus GX 460 you see for sale will have had this software updated carried out, either as a recall to the dealership after it was sold or before it left the factory. But if you are looking to buy a 2010 model year, please make sure you check its history to make sure the software fix has been carried out.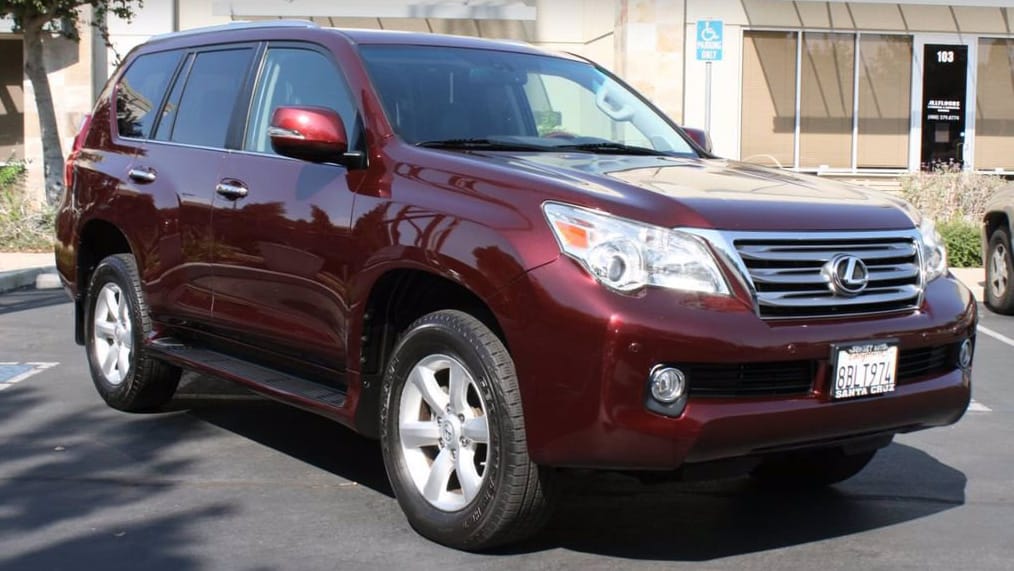 How much should you pay for a used Lexus GX 460?
You will be able to find early examples of the Lexus GX 460 for as little as $15,000, but you will be looking at something like a 2010 or 2011 model with a quarter of a million miles or more. Realistically, you should probably expect to pay at least $20k for a decent early GX 460 with reasonable miles, but below is a table showing the range of average prices for a used Lexus GX 460 from 2010 onwards.
| | | |
| --- | --- | --- |
| Model Year | Minimum Average Used Price | Maximum Average Used Price |
| 2010 | $19,643 | $23,995 |
| 2011 | $19,500 | $28,995 |
| 2012 | $19,500 | $31,998 |
| 2013 | $20,993 | $34,495 |
| 2014 | $26,989 | $43,997 |
| 2015 | $26,188 | $41,998 |
| 2016 | $31,500 | $49,999 |
| 2017 | $32,995 | $51,980 |
| 2018 | $36,995 | $53,440 |
| 2019 | $41,995 | $60,946 |
| 2020 | $50,991 | $66,988 |
| 2021 | $52,600 | $78,880 |
| 2022 | $TBD | $TBD |
Table showing the average minimum and maximum prices for used Lexus GX 460
How does the Lexus GX 460 compare to its rivals?
If you're considering buying a Lexus GX 460 for towing a camper, boat or anything else for that matter, you're looking to spend quite a lot of money so it stands to reason you'll want to know how it measures up to the competition.
There's no ignoring the fact that you can spend the same or less than you would on a GX 460 and get a full-size truck such as a Ford F-150, Chevrolet Silverado 1500 or a Ram 1500 that will be able to tow considerably more; twice as much in some cases. But the Lexus is about much more than just towing.
Lexus is a byword for luxury, but the brand is also legendary for its quality, reliability and its incredible durability. Lexus aftersales service is also considered to be as good as it gets, so a rival would have to be seriously better in some important aspect to tempt you away from the Lexus.
Below is a table I've compiled for you that compares the Lexus GX 460 with some of its major rivals to give you an idea of where it stands in the market.
| | | | | | | |
| --- | --- | --- | --- | --- | --- | --- |
| Model | Price (from) | Engine | Horsepower | Torque | Seats | Maximum Towing |
| Lexus GX 460 | $56,700 | 4.6L V8 | 301 hp | 329 lb.ft | 7 | 6,500 lbs |
| Range Rover Sport | $69,500 | 3.0L I-6 Hybrid | 355 hp | 365 lb.ft | 5 | 7,716 lbs |
| Volvo XC90 | $51,500 | 2.0L turbo-four | 250 hp | 258 lb.ft | 7 | 5,000 lbs |
| Infiniti QX80 | $65,347 | 5.6L V8 | 400 | 413 lb.ft | 7 | 8,500 lbs |
| Toyota Sequoia | $53,215 | 5.7L V8 | 381 | 401 lb.ft | 7 | 7,400 lbs |
| Ford Expedition | $53,160 | 3.5L t-turbo V6 | 380 | 470 lb.ft | 5 | 9,300 lbs |
How the Lexus GX 460 stacks up against the competition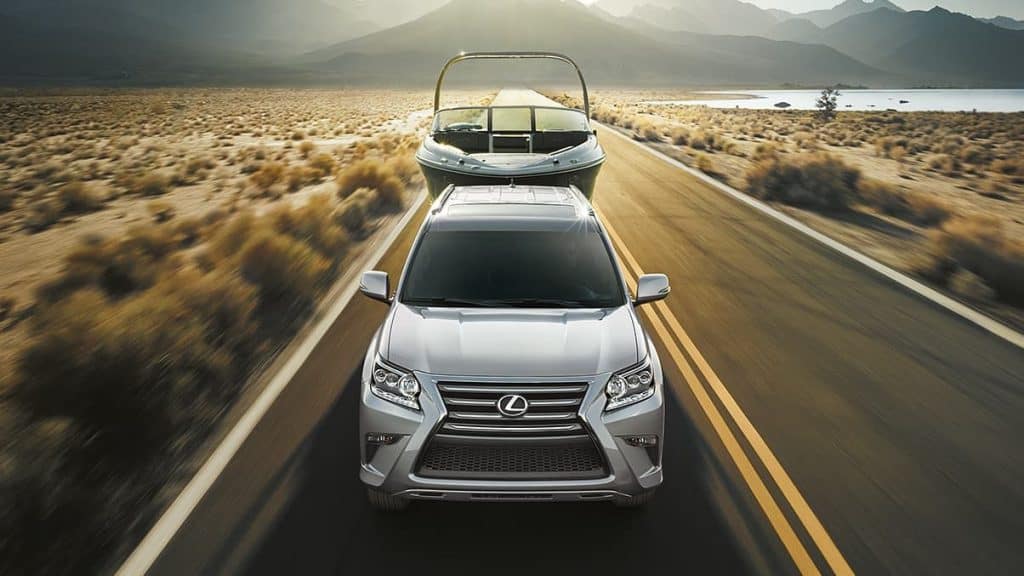 What can you tow with a Lexus GX 460?
Here are a couple of tables with some examples of popular campers and boats you will be able to tow with a Lexus GX 460. The maximum weight I allowed for a camper was 6,000 pounds to allow up to 500 pounds for accessories and cargo.
| | | |
| --- | --- | --- |
| Camper Make/Model | Length | Unloaded Vehicle Weight (UVW) |
| Airstream Caravel 20FB | 20′ 8″ | 4,300 pounds |
| Dutchmen Aspen Trail LE 25BH | 28′ 8″ | 4,300 pounds |
| Forest River Flagstaff Micro Lite 22TBS | 23′ 11″ | 4,795 pounds |
| Keystone Passport SL 240BHWE | 27′ 10″ | 5,069 pounds |
| Jayco Jay Feather X23E | 26′ 8″ | 5,105 pounds |
| Starcraft Super Lite 241BH | 29′ 11″ | 5,075 pounds |
Trailers the Lexus GX 460 can tow
With the boats, I kept them close to 4,000 pounds to allow for 1,000 – 1,500 pounds for the trailer and up to 1,500 pounds for the engine(s). Please note that even some of these example boats could exceed the 6,500 maximum towing capacity of the Lexus GX 460 if a particularly heavy trailer and engine combination is chosen to go with them.
| | | | |
| --- | --- | --- | --- |
| Boat Make/Model | Boat Type | Length | Dry Weight |
| Glastron 205 GTS | Bowrider | 20′ 6″ | 3,010 lbs |
| Cobalt 23SC | Bowrider | 23′ 2″ | 4,200 lbs |
| Stingray 215LR | Bowrider | 21′ 1″ | 3,705 lbs |
| Tahoe 1950 | Deck Boat | 19′ 5″ | 3,135 lbs |
| Sun Tracker Party Barge 18 DLX | Pontoon | 20′ | 1,495 lbs |
| Regency 250 LE3 Sport | Pontoon | 27′ 5″ | 3,392 lbs |
| Macgregor 26 | Sailboat | 25′ 10″ | 2,250 lbs |
| Hunter 260, 26 | Sailboat | 26′ 3″ | 3,000 lbs |
| Bass Cat Jaguar | Bass Boat | 21′ 5″ | 2,150 lbs |
| Ranger 1880 MS | Bass Boat | 18′ 10″ | 2,290 lbs |
Boats the Lexus GX 460 can tow
The Lexus GX 460 is an excellent blend of style, comfort, luxury, and technology combined with extremely impressive levels of off-road capability and a pretty decent 6,500-pound towing capacity. You can get rivals that can tow more than the Lexus, but as an overall luxury package for daily driving and vacation expeditions, the Lexus GX 460 makes a compelling argument for itself.
If you want to know what the best price for a new Lexus GX 460 is in your area then you can get free, no-obligation quotes from dealers in your area using this tool.
By the way, if you'd like to know about some of the very best products, services, and companies I've found for buying, selling, and helping with vehicle ownership then please check out my recommended products and services page right here. As well as telling you where to go to get the very lowest prices on new and used vehicles, I also cover warranties, finance, insurance, parts, detailing, how to get cheaper gas, and other stuff too.