‍In the modern auto industry, there are plenty of options to choose from when it comes to buying a new truck. Not only do you have the choice between different brands and models, but there are also several variations of trucks with their own unique advantages and disadvantages. For example, compact trucks like the Ford Ranger and Ford Maverick cater to drivers who want something smaller, more maneuverable, and affordable than a standard full-size pickup truck. This article outlines some of the primary differences between the Ford Ranger vs Ford Maverick so you can decide which one offers the best value and could be right for you.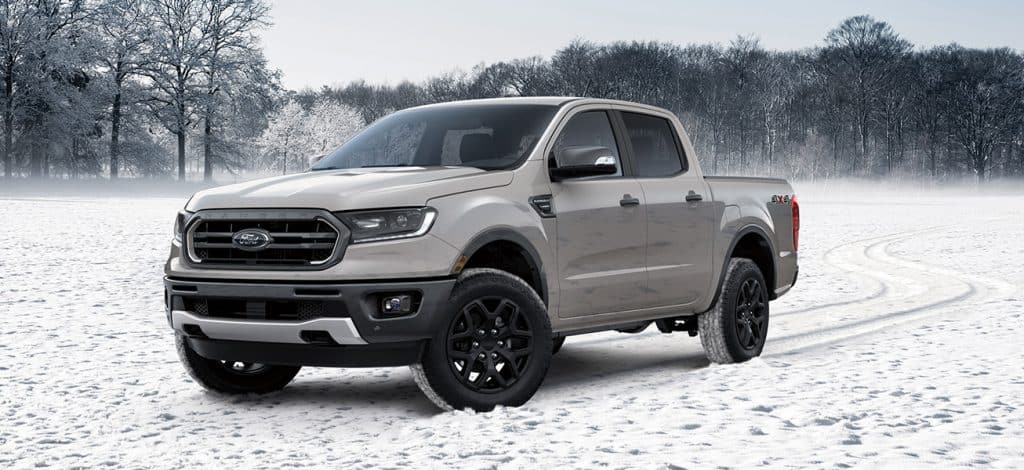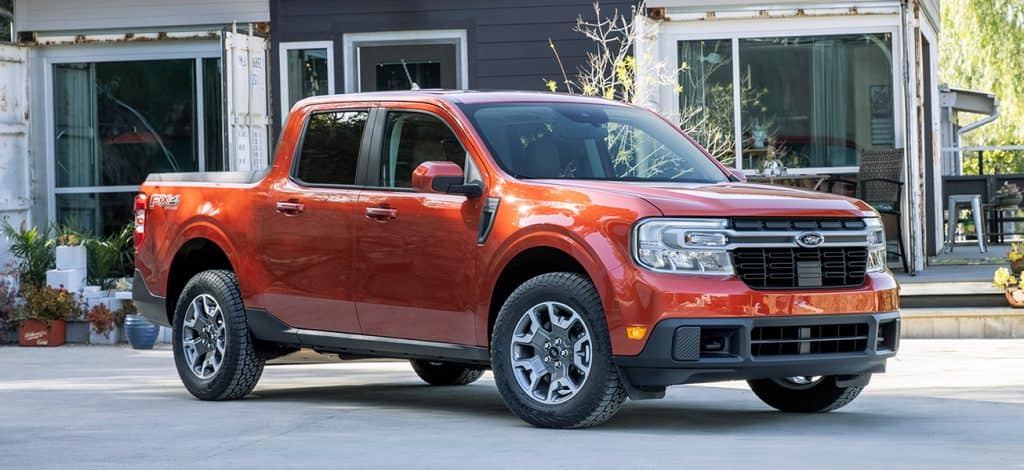 Read on to learn more about these two rivals with subtle differences that could impact your next purchase decision.
What is a Compact Truck?
A compact truck is a smaller truck (typically four-wheel drive) that falls somewhere between a regular car and a regular mid-size or full-size truck in terms of its size, capability, and style. The term "compact" is a little misleading since these types of trucks are not particularly small.
Rather, they are smaller than standard full-size trucks and are comparable in size to standard mid-size trucks; for example, the Ford F-150 is about 10 inches shorter than the Chevy Silverado.
Unlike these larger trucks, which often provide ample space for hauling cargo, towing heavy loads, and accommodating passengers, compact trucks are better used for everyday driving and errand running.
Ford Ranger Review
The Ford Ranger has been a popular compact pickup truck since its initial debut in 1982 and its reintroduction to the American market in 2019. With an impressive reputation for being reliable and easy to maintain, the Ranger is an appealing option for drivers who want a smaller, more stylish truck than something like an F-150.
The Ranger comes in three main trims: the Xl. XLT and the Lariat. The XL model is the most affordable option, while the Lariat offers a relatively luxurious feel by comparison. All three are powered by a 2.3-liter EcoBoost engine mated to a 10-speed automatic transmission that produces 270 horsepower and 310 lb.-ft. of torque.
The Ford Ranger comes in a wide range of colors and has an average price of around $32,600. It also comes with a variety of features, including a touchscreen infotainment system, a locking tailgate, and a fold-out bed extender.
After being hugely successful around the globe after being discontinued in the US in 2012, a version of the global Ranger was introduced in 2019. It isn't as successful as it is elsewhere, but most of the rest of the world doesn't have full-size light-duty models like the F-150, etc.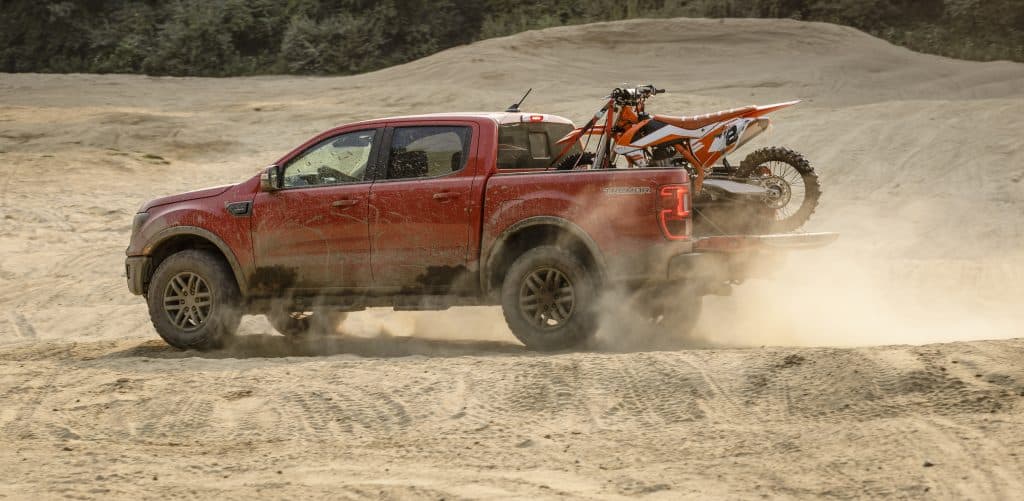 Ford Maverick Review
Ford has used the Maverick name in the past, most recently for a line of dodgy SUVs that were made in conjunction with Mazda. I won't hesitate to tell you that the old Ford Maverick SUV is the worst vehicle I have driven in my entire life, with a manual transmission that was like stirring a cauldron with a broom handle.
The all-new 2022 Ford Maverick is a compact pickup truck and has nothing in common with the old Maverick other than the name. The 2022 Maverick is cheap, cheerful, and great value for money. The only big problem with it is it's almost impossible to get one at the moment due to supply problems.
The 2022 Ford Maverick is powered by a 2.0-liter 4-cylinder engine that produces 182 horsepower—much less than the Ranger's 237 horsepower. This less-powerful engine is likely a factor in the Maverick's higher price point.
The Maverick comes in two main trims: the regular and the ST. Both models are priced similarly, but the ST model features an ST appearance package, ST badging, ST floor mats, and a sport-tuned suspension.
The Maverick costs from just $19,995, and the most expensive 2022 Ford Maverick Lariat AWD SuperCrew costs just $25,860. That's staggering value for money by anyone's measure, which is why you'll have so much trouble getting your hands on one.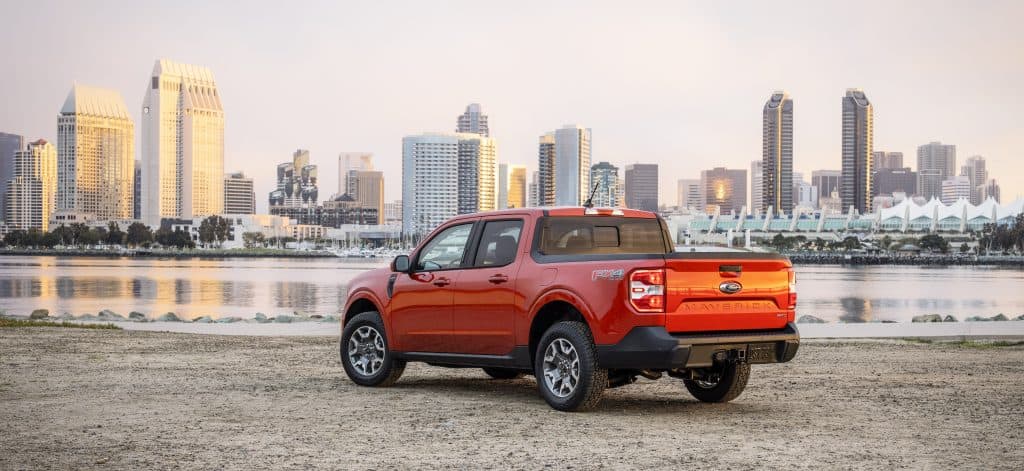 Differences between the Ford Ranger and Maverick
Despite being similar in size and shape, the Ford Ranger and Ford Maverick are different enough to consider them separate models. The two trucks have noticeably different engine options, with the Ranger featuring a 2.3-liter EcoBoost engine and the Maverick coming equipped with a 2.0-liter 4-cylinder engine.
The Maverick's less-powerful engine likely accounts for its lower price point. The Rangers also come in a wider variety of specifications, although both are only available in three main trims.
If you go for the most affordable versions, the Maverick XL FWD SuperCrew and the Ranger XL 2WD SuperCab, the Maverick's maximum towing capacity is just 2,000 pounds while the Ranger can tow up to 3,500 pounds.

Which One Is Right for You?
Deciding between the Ford Ranger and Ford Maverick is largely a matter of personal preference and how much capability you need, or how much you can do without. Both trucks have 4-wheel drive, and their standard features are pretty similar across the board.
However, if you're serious about going off-road, the 2022 Ford Ranger is substantially more capable than the 2022 Ford Maverick.
The main difference between the two is in the engine department, but this has the potential to impact the overall cost of the vehicle and the way it drives. The Ford Ranger boasts a more powerful engine than the Ford Maverick, which could make it a smoother and more enjoyable ride as well as making the Ranger more capable.
The Maverick's less-powerful engine also likely means that it will require more maintenance than the Ranger's engine because you might find yourself pushing it to its limit more than you would if there was some power to spare.
Since the Maverick is a newer model than the Ranger, there is also the possibility that it will last longer and require less maintenance over time as teething troubles could be on the horizon for the Maverick.
Final Words
The Ford Ranger and Ford Maverick are two major players in the compact truck market, and their subtle differences could impact their overall appeal. Both trucks offer 4-wheel drive, a roomy interior, and ample storage space for everyday driving.
The Ranger has a more powerful engine and a wider variety of specifications, while the Maverick has less power but a lower price tag. The only way to know which one is right for you is to get behind the wheel and take them for a spin.
It would be wrong to think of the 2022 Maverick as a toy because it isn't a toy. However, you could say that it's a pickup truck for people who don't really need a pickup truck.
I don't get the Maverick personally unless you're overriding priority is getting a truck for the lowest price. It's a bit cute for my liking, so I'd spend the extra and go for the Ranger. What about you?