A while back, Kia unveiled an updated Kia Telluride for the 2023 model year at the 20th Annual New York International Auto Show. Two rugged trim levels, namely X-Line and X-Pro, join the trim levels, along with styling updates and updated convenience technology. The Kia Telluride had already outclassed the competition when it was introduced back in 2019. Based on a concept vehicle and named after a town in Colorado, it is only offered in the USA, unlike its corporate cousin, the Hyundai Palisade, which is also offered in Kia's home market. The one thing it lacks, however, is an electrified version. So, is a Kia Telluride Hybrid or plug-in hybrid inevitable?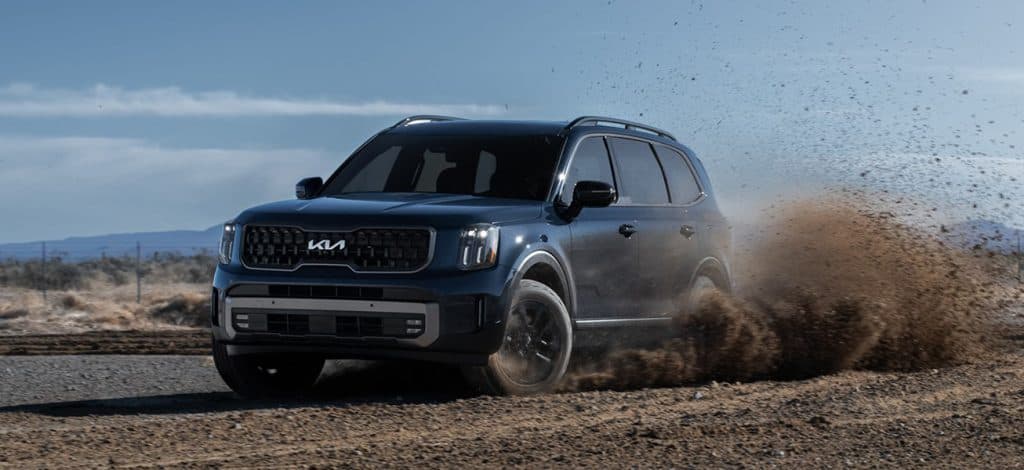 Why is Kia leading the market segment?
Ever since it was introduced, the sales numbers have only gone up, and it seems like the graph will continue to rise. How did the Kia Telluride, especially as it's a Kia, manage to pull off this feat when there were many other automakers present who would have expected to get the highest share of the market? Many factors come into play when answering this question. For anyone around when Kia first landed on US shores in the early 1990s, the idea that it would smoke the competition in the highly competitive three-row SUV category seems unimaginable.
The Crossover SUV craze
It's a well-known fact by now that crossovers dominate the automotive market. And as long as people are buying them, manufacturers will keep producing them. It's pretty simple, huh? We have seen Ford abandon its whole sedan and hatchback lineup in favor of their high-riding siblings. We have witnessed the decline in sedan and hatchback offerings by other major automakers as well. Even Europe has started to follow the lead.
Kia was already in the game with offerings like the Sportage and Sorento, but the market appetite for much bigger cars needed to be satisfied. First revealed as a concept, Telluride eventually came to life, and at just the right time. This perfect timing of arrival is part of the reason the Kia Telluride stole such a significant share of the market.

Just perfectly packaged
What makes the Kia Telluride great is the fact that it comes with everything that a customer expects from a vehicle of this size and price, and much more. Kia holds nothing back and has tailored this car according to customers' desires and expectations. It has learned from the market experience and rival models already in the market.
Kia offers copious standard features throughout its range, and its top-of-the-line trim is on par with the luxury car makers. Simple yet attractive bodywork and a handsomely appointed interior full of features are the icing on the cake. Kia took notes from the layouts in luxury vehicles like BMWs and Cadillacs and has integrated a new all-digital instrument panel with dual 12.3-inch screens serving as infotainment and gauge displays. The same goes for build quality, which gives an impression of an upscale vehicle. The third row is completely usable for adults, along with ample interior storage throughout the cabin.
Stuff like advanced safety and convenience features come standard, and as you move up the trim ladder, it keeps getting better. For example, Kia's Forward Collision-Avoidance Assist and Blind-Spot Collision-Avoidance Assist-Rear, to name a few, come standard in the base LX trim.
With a sophisticated powertrain, it has ample power to move while still returning decent fuel economy and it's impossible to complain about its ride. Being comfortable while driving and being confidence-inspiring are just some of the highlights. Most importantly, a spacious cabin and the ability to tow and haul stuff leave it as the only crossover SUV in the market hitting all marks. As a matter of fact, the 2023 Kia Telluride can tow up to 5,500 pounds. This all helps the Kia Telluride set a benchmark for the rest of the mid-size crossovers in the market. The success of the Telluride is there for all to see, and the 2023 Telluride has still managed to move the needle even further forward.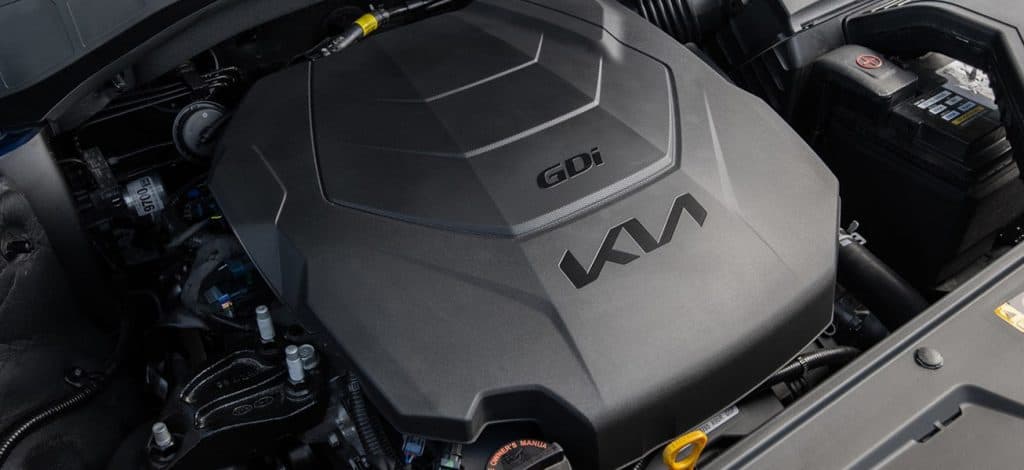 Meeting expectations and receiving critical acclaim
The Kia Telluride has been tested against the competition by numerous auto journalists, and it aced almost all the criteria, putting it on top of almost every list. Kia Tellurides are praised for their spacious glasshouse and premium feel, earning them an enviable reputation among buyers. There are reports all over America that Kia Tellurides are sold long before they ever arrive on the lot, so much so that test drives are restricted in some places.
On top of all that, it also earned the 2022 IIHS Top Safety Pick Award.
Is the Kia Telluride good value for money?
All of this for how much money? This is where the Telluride really breaks from the pack. You'd expect a premium price for a vehicle of this stature and these specifications, but that's not the case. The Kia Telluride is priced like every other normal Kia. But the fact that a base Kia Telluride demands less than $35,000 and a base Honda Pilot is $39,375 is astounding. It is also slightly less than the Ford Explorer and Toyota Highlander cost.
Is there a Kia Telluride Hybrid
Ever since the world realized that fossil fuels might be one of the reasons our planet is getting hotter, there's been an increasing transition to eco-friendlier alternatives. Almost every automaker has a hybrid or plug-in hybrid variant of their best-selling cars. But that's not the case here. Kia has so far refrained from offering a Telluride Hybrid or Telluride Plug-in Hybrid. Instead, Kia expects its customers to choose between its slightly smaller offering, the Sorento, or the much smaller Sportage if they want electrification. Kia may have a reason for that, but until they offer one, we can only speculate.
One explanation for this might be that Kia doesn't want to direct sales competition for its existing electric and hybrid offerings. Sorento and Sportage hybrids have a fair share of sales in their respective segments, and an electrified Telluride could hurt Sorento sales. On the other hand, it could be the case that Telluride sales are strong enough that it doesn't need a hybrid offering. Whatever the reason may be, for now, we can only speculate.
Considering the stellar success of the Kia Telluride, why would Kia want to mess with a winning formula? Is Kia missing out on potential extra sales by not offering hybrid versions of the Telluride, or are those sales already going to the Sorento?
Kia Sorento Hybrid and Plug-in Hybrid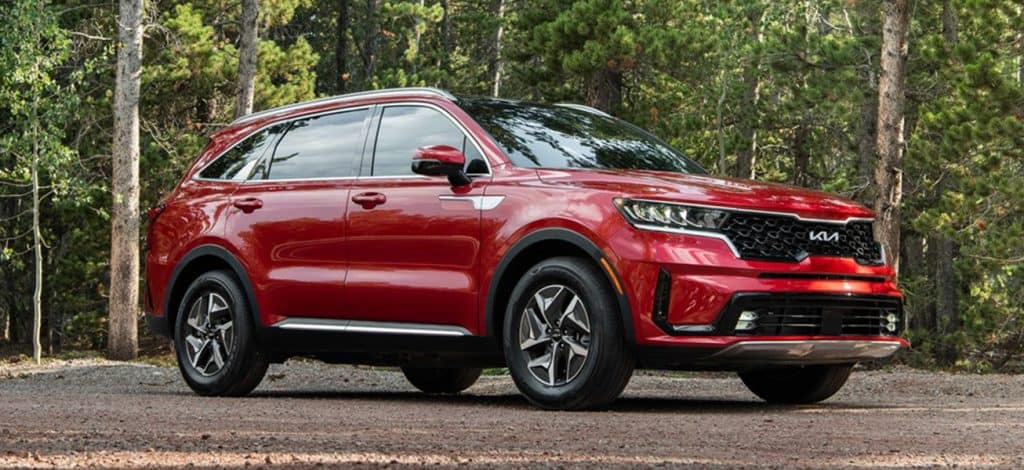 In contrast to the Telluride, the Sorento offers more powertrain options. It has smaller dimensions, resulting in slightly less interior space. This also translates to snug third-row seating and less boot space when upright. All of this doesn't mean that it lacks the same quality of interior as the Telluride. Inside, you will find a nicely presented cabin and smart layout that is comfortable to dwell in. The exterior is more car-like in contrast to the boxier style of Telluride. It's pleasing to look at and in no way less aesthetic. However, the Telluride looks a lot more rugged, which has to be part of its appeal.
And if you're wondering, it also doesn't lag in convenience and in-car driver assistance technology. Apple CarPlay and Android Auto come standard, as does dual-zone automatic climate control. In terms of driver assistance and safety, Auto Emergency Braking Technology, Blind Spot Detection Technology, Rear Cross-Traffic Alert, and the like are also standard. Therefore, the Sorento is no poor relative to the Telluride.
When comparing powertrains, both the hybrid and plug-in hybrid combine an electric motor with a 1.6-liter turbo four-cylinder engine. The hybrid puts out 227 hp and the latter 261 hp. That's obviously less than the 291 horsepower of the Telluride, which uses a 3.8-liter V6 as its sole powerplant. But even if it lacks the punch of a larger engine, it returns an equally impressive fuel economy. A six-speed automatic transmission and all-wheel drive are standard for both.
The base S trim of the Sorento hybrid costs $35,855, which is a slight increase over the base Telluride. You can opt for a more expensive trim in a hybrid as well, if that's what you need and your budget allows.
If a snug third-row and a slight drop in power are none of your concern, then the Kia Sorento is a perfect alternative to its bigger brother. After all, it doesn't give up on other features.
Kia Sportage Hybrid and Plug-in Hybrid
Recently redesigned, the Sportage is a compact alternative to the Telluride. Both the hybrid and the plug-in hybrid are available for the 2022 model year. Since it qualifies as a compact crossover, there is no third-row seating and its footprint is much smaller than that of the Sorento or Telluride. It is roomier inside than before, resulting in best-in-class rear-seat legroom, and there's plenty of storage and cargo space. As seen in Telluride and Sorento, the interior is well put together and generally impressive. Everything is well-positioned, and quality materials have been used throughout. The dash is adorned by a massive dash-mounted screen. Where it lacks is drive. Its drab driving demeanor will leave you wishing for more. But the hybrid powertrain and forgiving ride are enough to make up for it.
The exterior is outgoing, and the design of the headlights does require a second look. The giant grille up front is easily distinguishable. The rest of the bodylines are smooth, but the rear has a combination of sharp and smooth creases. Overall, looks are once again extremely distinctive in its class.
The hybrid and plug-in hybrid options pair a 1.6-liter turbo four-cylinder with an electric motor, albeit with a stronger motor and bigger battery in the plug-in hybrid. The hybrid puts out 227 hp and the latter 261 hp, the same as in the Sorento.
The base Sportage LX hybrid starts at $27,290, much less than the Telluride or Sorento.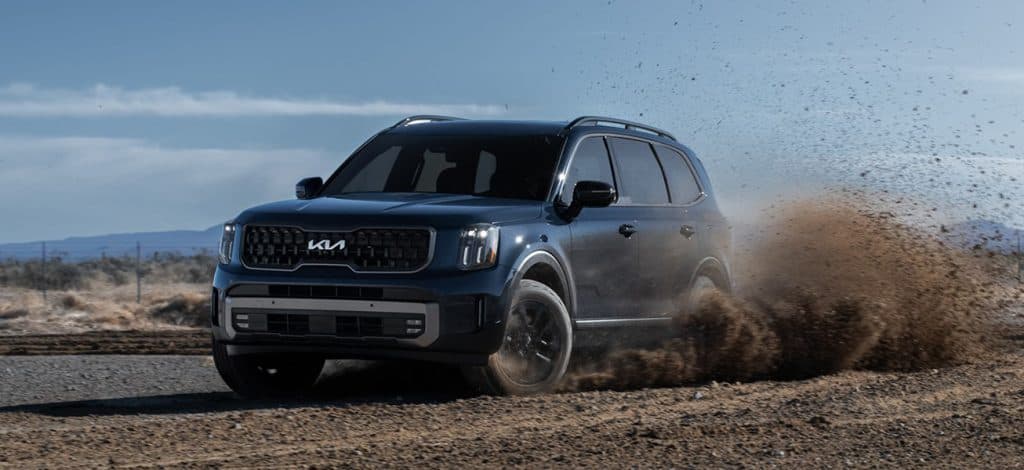 Conclusion
The bottom line is that if you don't need a third row and can live with a slightly lower power output in exchange for a hybrid or plug-in hybrid, the Sportage and Sorento are viable alternatives to the Telluride.
We're still left wondering why Kia is abstaining from making a hybrid Telluride when they don't have a proper three-row hybrid crossover SUV where full-size humans can happily occupy the third-row seats. The competition is intensifying, and the future appears to be electric. Who knows, Kia might drop a proper EV at some point because there's no sign of a Kia Telluride Hybrid or Kia Telluride Plug-in Hybrid on the horizon at the moment.