There are lots of reasons why some people don't keep up with routine maintenance of their car, but two of the most common reasons for neglecting essential maintenance are the cost and the inconvenience. In this article, I'm going to show you a way of reducing the cost and inconvenience so you keep up with routine maintenance which should mean you get more for your car when the time comes to change it for something else.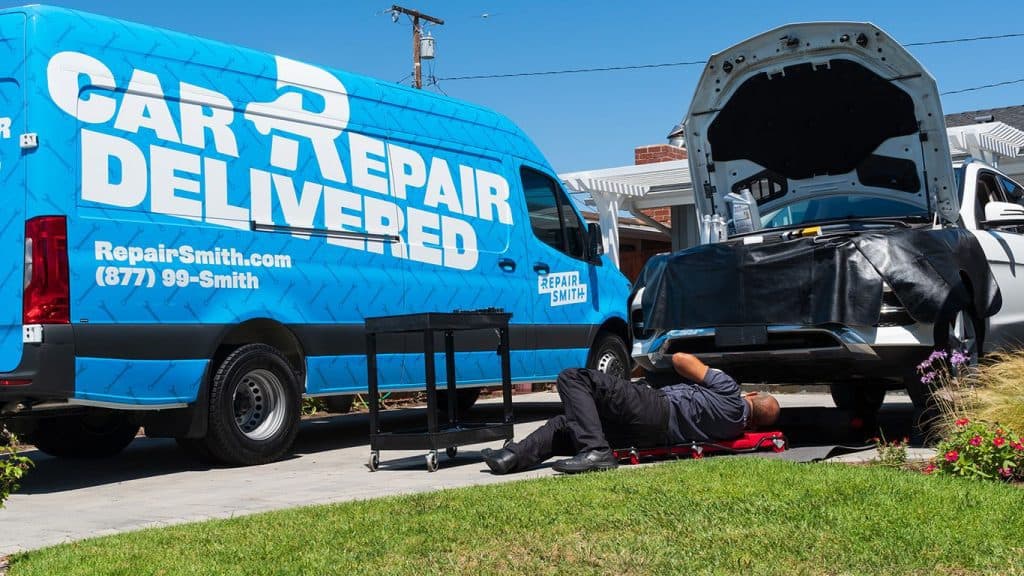 In general, not only is a mobile mechanic who comes to you instead of you going to them cheaper than a shop because they have lower overhead costs, but they are also more convenient.
Just think about it for a moment. You don't have to organize your day to get your car to the shop on time, you don't need to rely on the shop or someone else to get you home or back to the shop to collect your vehicle when it's finished. And on top of all that, because a mobile mechanic doesn't have the overhead costs of having to rent and maintain expensive premises, a big chunk of that saving can be passed on to you in the form of lower charges.
What is a mobile mechanic?
A mobile mechanic is an automotive technician who comes to you to work on your car instead of you having to go to a shop or garage they work out of. Some mobile mechanics are one-person operations who work from their homes, some are large companies that operate a mobile business model instead of the traditional shop-based way of doing things, and others are franchisees.
Can you trust a mobile mechanic?
A customer can totally trust a mobile mechanic with their vehicle in just the same way you'd trust any tradesman who comes to do work for you at your home or place of work. You wouldn't employ someone to come and fix your roof or your heating system without checking them out first, would you? The same applies to a mobile mechanic.
The internet is a wonderful thing that allows you to easily research tradespeople online in minutes so that you can make up your own mind about whether you think they are the appropriate person or business for you to employ. You should do exactly the same with a mobile mechanic as you would do before employing a builder, roofer, gardener, cleaner, lawyer, or anyone else.
Look up online reviews for mobile mechanics and ask around. Have any of your family or friends used one, and if they have, what did they think? You will need to find out things like do they turn up when they say they will. Do they have the equipment to do the job? Do they leave a mess on your driveway when they're finished? Do they complete the job satisfactorily, and does the final bill match what you agreed?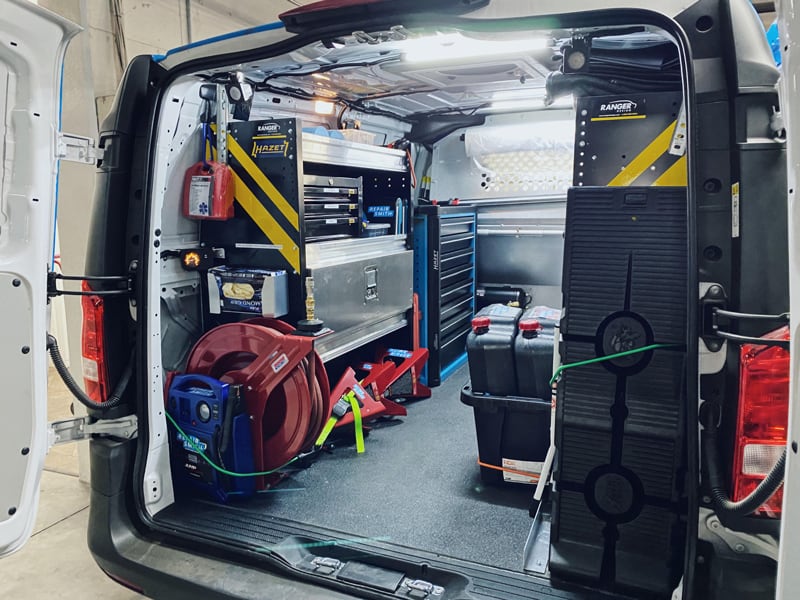 Will a mobile repair always be cheaper than a shop?
A mobile auto repair should always be cheaper than it would be if you were taking your car to the shop, but how much cheaper is the key question. In general, the labor charge for a mobile mechanic should be around 30% less than it would be with a shop because with the mobile service you are genuinely only paying for the labor.
When you go to a garage for vehicle repairs or vehicle maintenance there's more to the labor cost than just the labor itself. That charge will cover the cost of the premises such as the rent, local taxes, heating/air-con, cleaning, maintaining the premises, the purchasing, and maintenance of the equipment, and more.
Okay, so a mobile mechanic labor rate will include the costs associated with tools and diagnostic equipment, but so will the labor rate you pay to a builder or any other tradesman who comes to your home for that matter.
Do mobile mechanics offer full-service auto repair?
It would be wrong of me to claim that a mobile mechanic service would cover every single element of vehicle repair and maintenance, but it's hard to think of too many jobs they wouldn't be able to do outside your home or workplace.
Of course, if your vehicle needs a complete respray, nobody is going to be able to do something like that without premises that have a professional spray booth. And if anyone does offer you such a service you should run a mile because you really don't want to have to live with the results of a respray that's been done in the open outside your house.
On the other hand, you'd be amazed at how much mobile repair services can do when it comes to accident repairs like touch-ups, dents, scratches, scrapes, chips, cracks and more.
You could also be forgiven for assuming that some quite intricate jobs that require very specialist equipment might not be within the capabilities of a mobile mechanic, but in many cases, you'd be wrong.
For example, I assumed that wheel alignment is something that would need to be done in a garage but I was wrong. Then again, I'm not someone who has ever really turned a wrench on a car myself as I don't really do bits of cars that get dirty.
If you have any other repair or maintenance jobs in mind that you think might be beyond the capabilities of a mobile mechanic, I suggest you take a look at this list of repairs that a company called RepairSmith can carry out for you.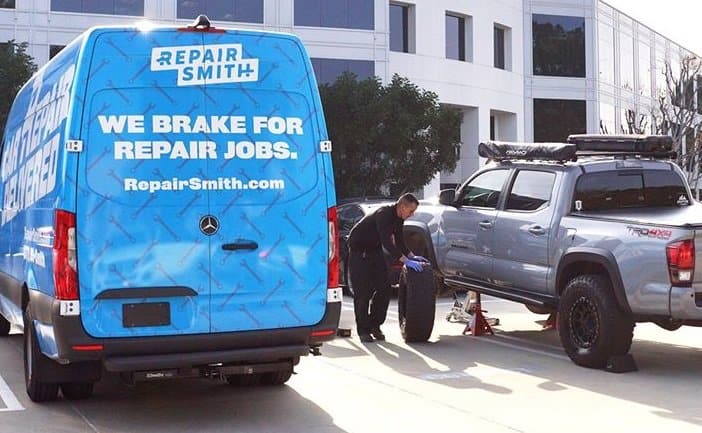 Are parts cheaper from a mobile mechanic service?
It is entirely possible that you may pay less for any parts, fluids or other consumables your vehicle needs if you use a mobile mechanic service near you instead of an independent shop or a main dealership, but it's not something you should always expect.
Just like labor costs, main dealers and even independent garages will sometimes uplift the price of parts and consumables to go towards covering those extra overheads, and sometimes by quite a lot.
You are the consumer and you are therefore in control, so make sure you agree to any costs for parts and consumables before you agree to the job. For example, if you are getting an oil service done and the mechanic, therefore, has to supply the correct oil and a filter you can check how much they are quoting for the oil and filter against the price from an online retailer.
Some mobile mechanics will use parts you supply if you prefer, but only if it is agreed beforehand and only if what you are supplying is of the correct quality and specification. It's the same with tires, brake shoes, rotors, and anything else that may be required.
A local brake shop might be cheaper for the parts than the mobile mechanic is quoting, and you can be sure they'd be cheaper than what you'd pay at a shop. Of course, it's up to you if you want to go into that level of detail before agreeing to a job.
As far as I'm concerned, I'd just get a couple of quotes from shops and the mobile service and if the mobile was cheaper or even the same price, I'd go for the mobile mechanic service for the sheer convenience.
Is routine car maintenance necessary or value for money?
Routine car maintenance is more than necessary, it's actually vital if you want to be able to rely on your car starting when you want it to, getting you where you need to be when you need to be there, stopping when you need to stop, and for getting you home on time and in one piece.
If you buy a brand-new vehicle you probably don't have to think about routine maintenance for a while, but you will if you do a lot of mileage and it can't be overlooked forever in either case.
As far as value for money is concerned, it's a waste of time for me to try and convince you that you'll ever feel good about paying out hundreds of dollars for things done to your vehicle that you can't see or feel. However, a full service history and a well-maintained vehicle will always sell for more money than one that's been neglected.
Most people don't think about the resale value of their vehicle until it may be too late, but resale value is something you should think about before you even buy a car. Vehicle depreciation is an unfortunate and unpleasant fact of life, but there are things you can do to minimize it and keep your car repaired and properly maintained, and that's why maintenance and repairs are good value for money.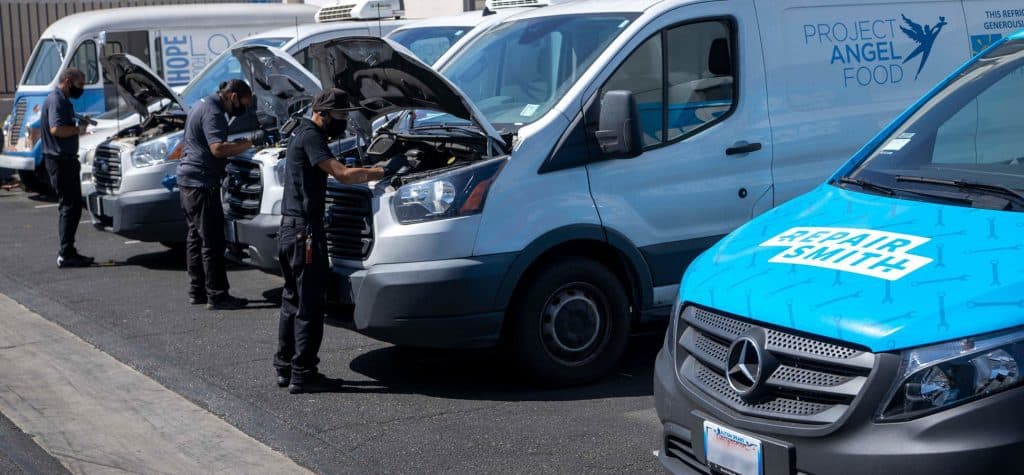 Where can I find a reputable mobile mechanic near me?
Once again, the internet is your best friend when it comes to finding a mobile mechanic near you. How many different options you have available to choose from will vary depending on where you live, but most places will have a mobile mechanic service of some sort nearby unless you live in a cave in Yosemite or somewhere similar.
What I can do is point you in the direction of a company that I've researched that offers a very comprehensive service and has good customer reviews. The company impressed me so much that I've become an affiliate for them and they are widespread across the country.
That company is RepairPal, and you can find them right here. They offer just about every service you can think of, but with the extra convenience of coming to you rather than you going to them.
You can get a quote from them for any work you need doing with no obligation, and their website even has a diagnostic tool you can use to help identify what's wrong with your vehicle if you're not exactly sure yourself.
Once you have a quote you can go online and search things like brake servicing near me, local mechanic shops near me or just mechanic near me and get additional quotes for the same work from shops, garages and dealerships.
I'm pretty sure that RepairPal will be cheaper, but even if the quotes are pretty similar, surely the convenience of not having to take your vehicle somewhere to wait or go back for it later would push you towards a mobile service rather than a shop? I know it would with me.