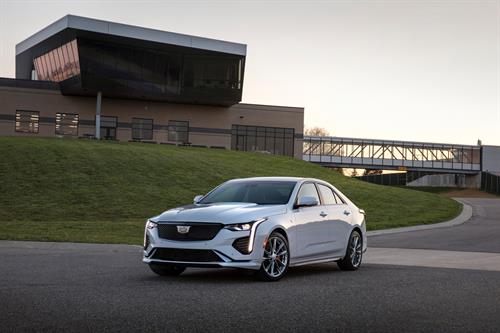 Let's be honest for a moment. Sedans have been having a pretty hard time of things in the last few years, and models that used to sell in massive numbers like the Ford Fusion and Chevy Malibu have been struggling to find favor with new-vehicle buyers. However, it appears nobody told Cadillac as the luxury brand has just revealed the totally new 2020 CT4 sport sedan.
The market hasn't exactly been starved of new models in recent times, but when it comes to entirely new nameplates, the vast majority have been SUVs. Maybe Cadillac knows something the rest of us don't, and we're going to soon be seeing a backlash against the all-conquering SUV format as a sedan fightback begins in the global auto market?
When I first heard details of the new CT4, I have to admit it all sounded pretty good. The new Caddy sticks with a proper, rear-wheel-drive format, and under the hood, there's going to be a standard 2.0-liter twin-scroll turbocharged engine. The 237 horsepower and 258 lb.-ft. of torque it delivers isn't exactly earth-shattering, but as you'd probably expect, there is a tempting alternative.
That alternative is a first for the segment in the shape of a 2.7-liter Dual-Volte Turbo engine. This powerplant will be available with the Premium Luxury version of the new CT4 and it will be the standard unit under the hood of the V-Series. This one puts out a very healthy 309 horsepower and 248 lb.-ft. of torque, which sounds a lot more suitable for a car fitting the sport sedan description.
The standard engine will come mated to a very sophisticated eight-speed automatic transmission, but the bigger engine will come with an appropriately upscale, segment-exclusive 10-speed automatic.
By the way, if you'd like to know about some of the very best products, services and companies I've found for buying, selling, and helping with vehicle ownership then please check out my recommended products and services page right here. As well as telling you where to go to get the very lowest prices on new and used vehicles, I also cover finance, insurance, parts, detailing and other stuff too.
As we expect from a Cadillac, the standard and available equipment list are extensive. Standard kit includes keyless entry, a full-color dual-display driver information center, HD rear vision camera, LED interior lighting with stealth mode, dual-zone automatic climate control, and a premium audio system with active noise cancellation.
From there, buyers can add just about any feature and comfort they wish – at a price, of course – including all-wheel-drive.
Although it's a personal view, there does appear to be one issue with the all-new 2020 Cadillac CT4 sport sedan, and that's the way it looks. While other Caddy models like the CT6 ooze class and luxury, and the likes of the CTS-V suggest an aura of thinly-veiled aggression, attitude, and performance, the CT4 looks as though it's not sure what it is. It's not a bad-looking car, but it's not exactly drop-dead gorgeous or breathtakingly aggressive. It's unmistakably Cadillac, but is that going to be enough to spark a revival in the fortunes of the sedan?