You want a new vehicle and it has to be an SUV because five seats are just not going to be enough for what you need, but you're also concerned about the amount of gas a large SUV is going to guzzle. The obvious answer then has to be a hybrid, but what's the best hybrid SUV with third-row seating in 2022?
Your choices are pretty limited if you're looking for a new three-row SUV with the option of a hybrid powertrain in 2022, even though we're all supposed to be thinking about the environment and sustainability when we buy a new vehicle these days. Remarkably, some three-row hybrid SUVs that used to be available are no longer available brand-new, such as the Acura MDX which is now only available with a couple of gas V-6s.
I've done some research then, and the following are your best options if you need a new three-row hybrid SUV in 2022. And if you want something smaller, make sure you check out my article about the best hybrid compact SUVs for 2022 right here. And if you want the lowest prices for these or any new vehicles in your area, try out this free, no-obligation tool that provides genuine quotes from top dealers where you live.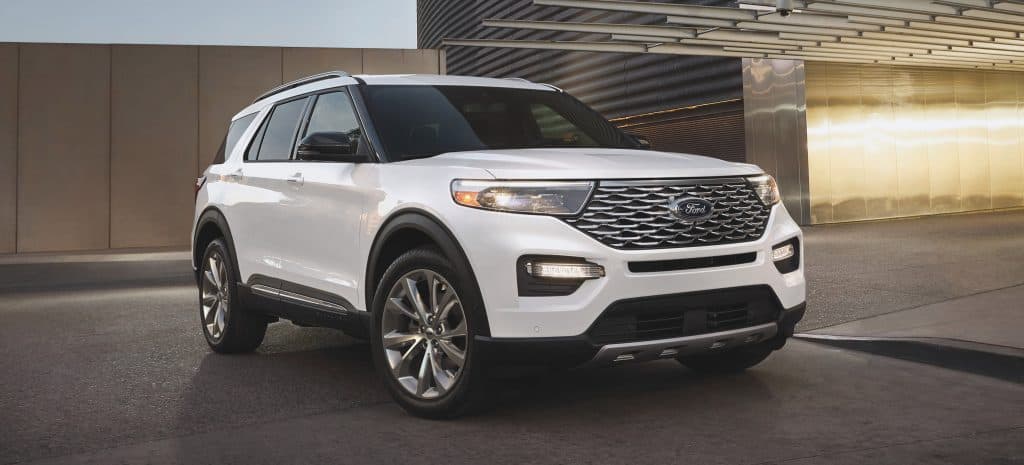 2022 Ford Explorer
If you want an Explorer with a hybrid powertrain you're going to have to dig pretty deep as you can only have one with the Limited or the Platinum trim levels. The performance is reasonably good, although it's not as lively as versions equipped with the base four-cylinder or the available gas V-6.
It's probably fair to say that the 2022 Ford Explorer Hybrid is a competent three-row SUV but not an outstanding one, and I'm pretty sure you'll agree that it isn't the one to go for if the value for money is high on your agenda.
If you are looking to save a few dollars by buying used instead, the cheapest used Ford Explorer Hybrid I've found at the time of writing is a 2020 Limited for $39,995.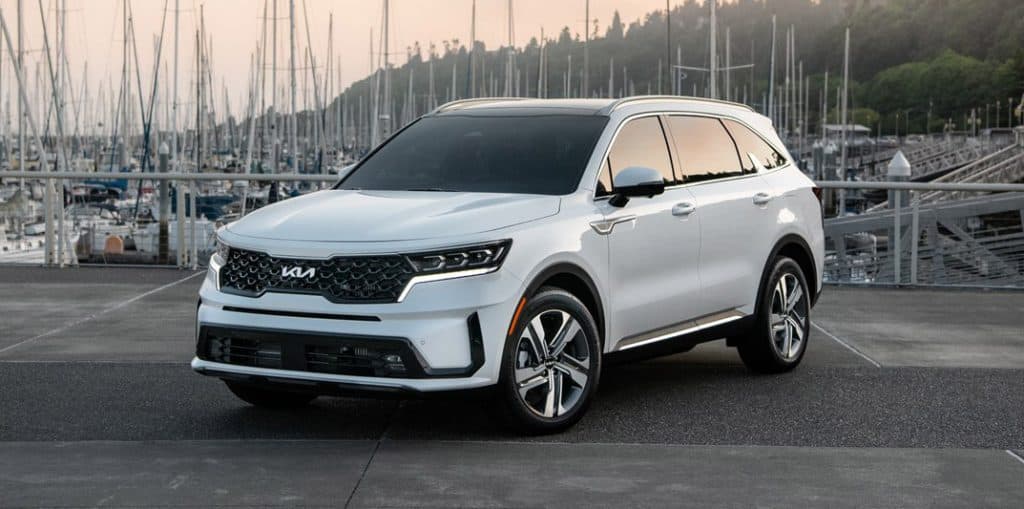 2022 Kia Sorento
The 2022 Kia Sorento is available in both hybrid and plug-in hybrid versions, and being a Kia it's seriously good value for money. The exterior styling might not be to everyone's taste but it's not too "out there" for most of us. Although it does have that all-important third row you need to be aware that they are not very big, which isn't an uncommon criticism in this class.
Hybrid models sit in the middle of the Sorento performance range with a useful 227 horsepower that's 36 horsepower more than the base four-cylinder but 54 horsepower less than V-6 models. And as these are essentially very sensible family cars, it's also worth pointing out that the Kia warranty is better than just about anything else out there.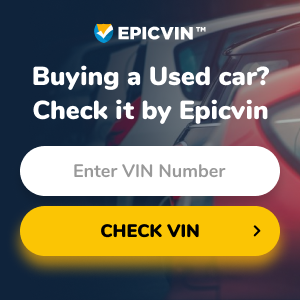 What you then have to consider is that the cheapest version of the 2022 Kia Sorento Hybrid costs $4,500 more than the most affordable version with the four-cylinder, and the Sorento Plug-in Hybrid costs almost another $10k on top of that! That begs the question of whether you'll save $4,500 on gas with the Sorento Hybrid over the period you have it compared to the non-hybrid four-cylinder version?
If you are buying a hybrid due to concerns for the environment and "doing your bit" then that doesn't matter, but if you are looking to save money on gas by going hybrid you might have some math to do first here.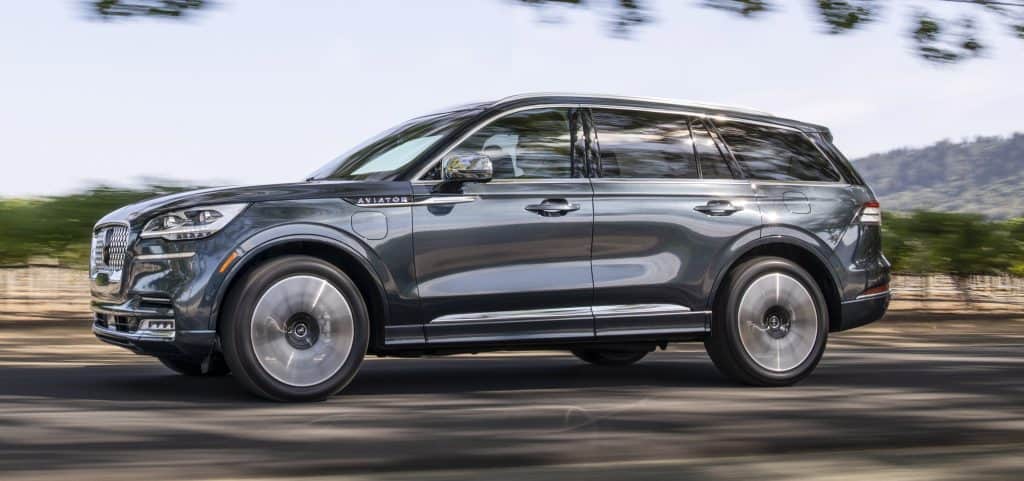 2022 Lincoln Aviator Grand Touring
You have a 2022 Lincoln Aviator in hybrid or plug-in hybrid forms with the Grand Touring trim, and although this is another one where you're going to need deep pockets, at least it's a genuine luxury model rather than something like the Ford Expedition.
What is notable about the 2022 Lincoln Aviator Grand Touring Hybrid is its performance, despite the fact this is a mighty heavy beast. The Aviator mates its standard 3.0-liter twin-turbo V-6 with a 75-kW electric motor and a 13.6-kWh lithium-ion battery pack to generate an impressive 494 horsepower and 630 lb.-ft. of torque.
That makes it good for a 0 to 60 mph time of around the six-second mark, but the 5,673 pounds it weighs means the maximum towing capacity is reduced to 5,600 pounds from the 6,700 pounds non-hybrid models can offer.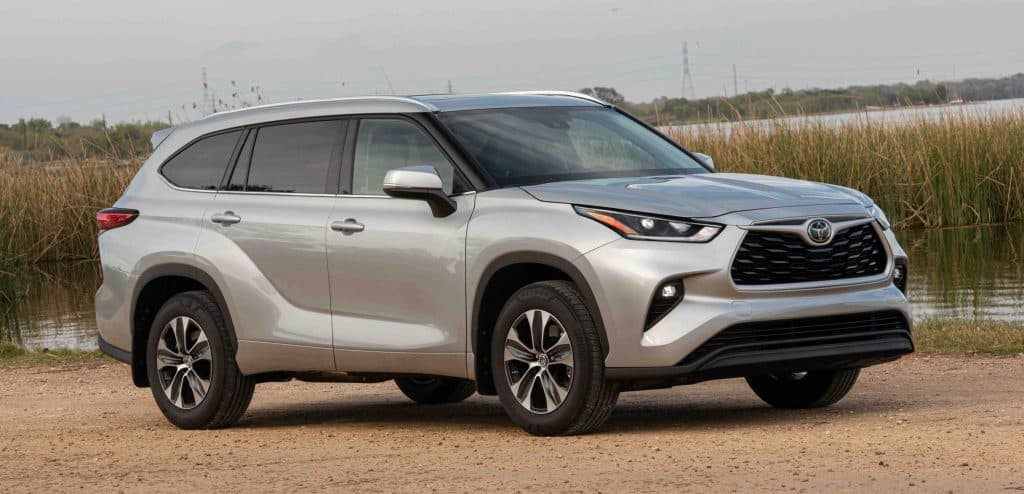 2022 Toyota Highlander
If you want a high-quality large SUV that can seat up to eight people and has a hybrid powertrain you could do a lot worse than a 2022 Toyota Highlander. The starting MSRP for a 2022 Toyota Highlander Hybrid LE is a very modest $39,055 for a front-wheel-drive version, but the extra capability of AWD will only set you back another $500 and I believe that's money very well spent here.
If you want minivan capability and versatility in a vehicle that's reliable, durable, high-quality, affordable and economical, but also looks a million times better than just about any minivan you'd care to mention, the Highlander Hybrid is a great choice.
On top of all that, the Highlander also gains that coveted Top Safety Pick+ rating for overall safety from the IIHS, which is what you want from a vehicle designed to carry up to eight people.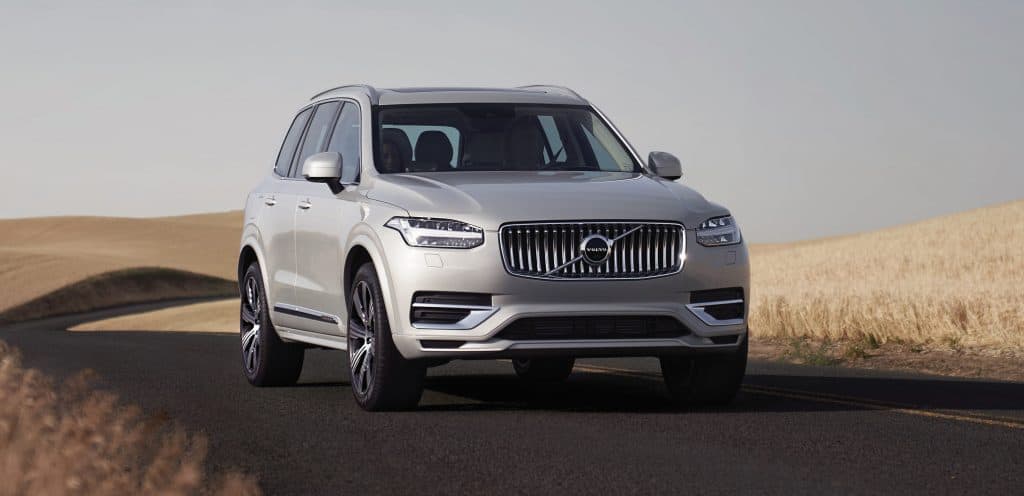 2022 Volvo XC90 Recharge
I've never been a huge fan of the Volvo XC90, and although the 2022 XC90 is a lot better-looking than previous generations there isn't enough beyond that to make me choose one of these over several others on this list.
For a start, the fuel economy ratings are nothing to write home about and that makes you question why you'd buy a hybrid version over a regular turbo-four. And yes, I know a turbo-four doesn't sound like a big enough engine for a vehicle of this size, but this is an ideological thing for Volvo and they're doing a pretty good job of pulling it off.

What you will like about the 2022 Volvo XC90 Recharge (plug-in hybrid) is the quiet, comfortable, luxurious and stylish interior, a great warranty and generally good reliability. With only 18 miles of all-electric driving range available, however, it does question the justification for going plug-in rather than just standard hybrid for a car of this magnitude.
Another issue I have with Volvo is its claim to be a true luxury brand and pricing its vehicles accordingly. Don't get me wrong, I'd buy one of these over just about any BMW or Mercedes SUV as I think they are all unfeasibly ugly apart from the coup versions, but the Volvo badge still doesn't come anywhere close to those two when it comes to bragging rights in the bar.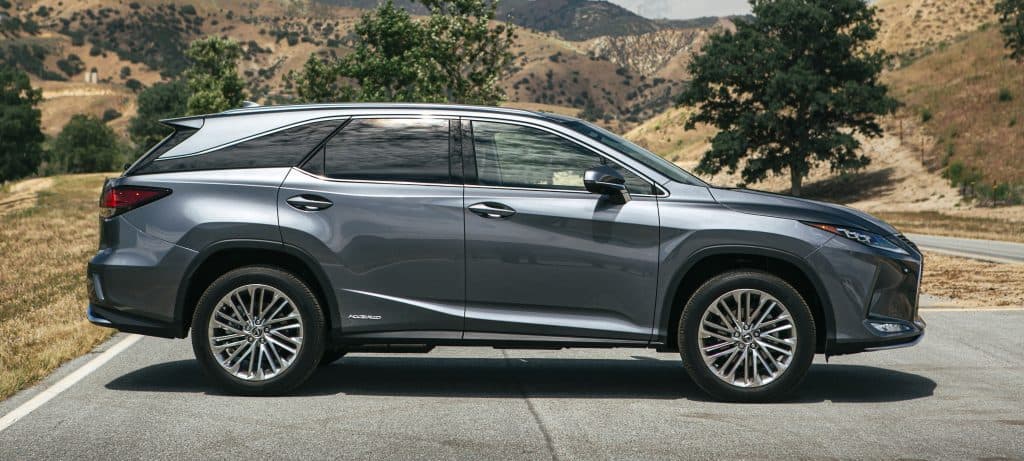 2022 Lexus RX 450hl
The Lexus RX is an excellent SUV and you can have a 2022 Lexus RX 450hl that does have a third row and it is a hybrid, which is why it makes this list. The starting MSRP for one of these is $51,660, which is pretty reasonable for a true luxury model that offers near-legendary levels of reliability and an unparalleled reputation for excellent customer service from its dealer network.
Okay, those are the good bits. The first potential issue you'll have to overcome with one of these is the way it looks. I like current Lexus styling but I do appreciate that it's not for everyone and it could be questionable how soon these could start to look dated, which is always a possibility with anything that has "edgy" or futuristic styling.
What you need to know about these is the third-row seats are a bit of an afterthought, and some reviewers have gone as far as to describe them as close to useless. I'm not quite sure who they're designed for, but it wouldn't surprise me if they are only offered to get people interested who might not be if the RX was only available as a five-seat SUV.
With the same 3.5-liter V-6 under the hood as the RX 350 mated to a battery pack and a couple of electric motors, the 2022 Lexus RX 450hl puts out a creditable net 306 horsepower and is as quick as the other RX models, but no quicker.
Conclusion
There's more to consider when buying a three-row hybrid SUV than I normally have to think about when buying a new vehicle, so I don't envy any of you who are having to navigate this particular segment of the auto market. Below is a table comparing these 6 three-row hybrid SUVs so you can see at a glance some of the major attributes and get an idea of where you should start your quest.
But if it were me, I'd choose the Highlander for its value for money, decent looks, high build quality and its safety credentials.
| | | | | | | |
| --- | --- | --- | --- | --- | --- | --- |
| | MSRP (from) | AWD? | Seats | HP | Torque | Towing |
| 2022 Ford Explorer Hybrid | $52,115 | Available | 6 | 318 | 322 lb-ft | 5,000 lbs |
| 2022 Kia Sorento | $34,090 | Available | 7 | 227 | 258 lb-ft | 3,500 lbs |
| 2022 Lincoln Aviator Grand Touring | $68,680 | Yes | 6 | 494 | 630 lb-ft | 5,600 lbs |
| 2022 Toyota Highlander | $39,055 | Available | 7 | 243 | 175 lb-ft | 3,500 lbs |
| 2022 Volvo XC90 Recharge | $64,800 | Yes | 7 | 303 | 400 lb-ft | 5,000 lbs |
| 2022 Lexus RX 450hl | $51,660 | Yes | 6 | 306 | 247 lb.-ft. | 3,500 lbs |
Table comparing the six best three-row SUVs in 2022
By the way, if you'd like to know about some of the very best products, services, and companies I've found for buying, selling, and helping with vehicle ownership then please check out my recommended products and services page right here. As well as telling you where to go to get the very lowest prices on new and used vehicles, I also cover warranties, finance, insurance, parts, detailing, how to get cheaper gas, and other stuff too.