The GMC Terrain is one of those rare SUVs that have actually got smaller over time. It started life off as a midsize crossover SUV but now it's very much in the compact segment. It's a fine-looking vehicle that's still pretty spacious inside, so here's what to look out for when buying a used GMC Terrain.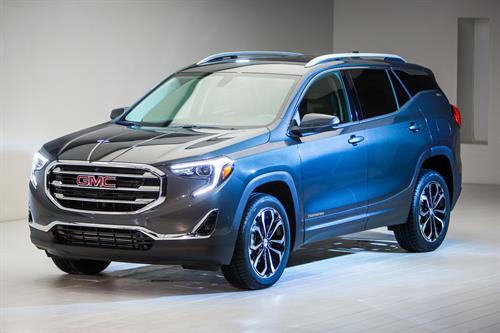 What is the GMC Terrain?
The GMC Terrain is a crossover SUV which means it's built on a unibody platform rather than an old-school ladder-frame construction. Crossovers like the Terrain have much more car-like driving characteristics while still retaining the look and spaciousness of a traditional body-on-frame SUV. The Terrain gives up some of the towing and off-road capability associated with traditional ladder-frame SUVs to deliver a more comfortable driving experience that's more suited to the urban environment vehicles like this spend most of their time in.
When did the GMC Terrain body style change?
The GMC Terrain change in shape and size in 2017 as a new second-generation was launched for the 2018 model year. The Terrain took on a much sleeker and less boxy shape compared to the old model for the new generation but it also dropped in size a little, and that now means it competes in the compact crossover segment rather than the midsize segment.
By the way, if you'd like to know about some of the very best products, services and companies I've found for buying, selling, and helping with vehicle ownership then please check out my recommended products and services page right here. As well as telling you where to go to get the very lowest prices on new and used vehicles, I also cover finance, insurance, parts, detailing and other stuff too.
How many GMC Terrain models are there?
The GMC Terrain is now available in four trim levels which are SL, SLE, SLT and Denali, but when it was launched back in 2010 the four trims were SLE-1, SLE-2, SLT-1 and SLT-2. The early first-generation models were all available in front-drive and all-wheel-drive variants, but in 2021 the base SL model is now only available as a front-drive model.
GMC Terrain History
When the GMC Terrain was introduced by GM in 2009 for the 2010 model year it was brought in as a replacement for the Pontiac Torrent that had often been sold in the same dealerships. The first-generation Terrain was built on the same GM Theta platform as the Chevrolet Equinox but they are now built on the automaker's newer Delta platform. The Terrain is currently GMC's smallest model and slots into the lineup below the GMC Acadia which I cover here.
First-generation GMC Terrain (2010-2016)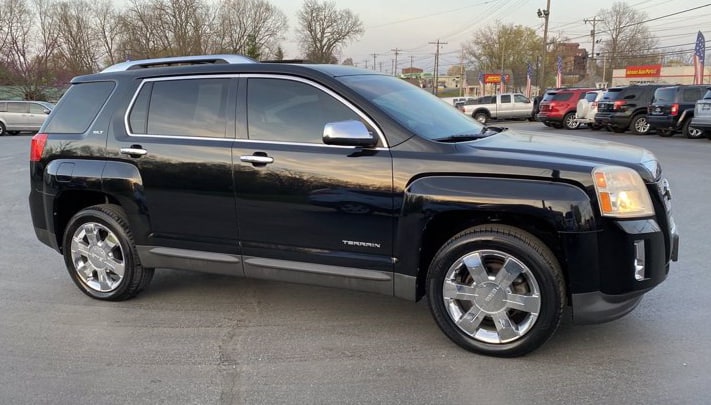 As GM shut down the Pontiac brand it introduced the first-generation GMC Terrain as a replacement for the Pontiac Torrent. Although the Terrain was built on the same Theta platform as the Pontiac, it was essentially a rebadged version of the Chevrolet Equinox.
The base engine is a 2.4-liter inline-four that develops 182 horsepower and 172 lb.-ft. of torque, but the early models were also available with a 3.0-liter V-6 engine option that are much better for towing.
Compared to the very similar Chevy Equinox of the time, the GMC Terrain was always a little more upmarket with a higher entry-level specification. And in 2013, GMC introduced a new Denali trim level which is now a name synonymous with luxury and high-specification across the GMC lineup.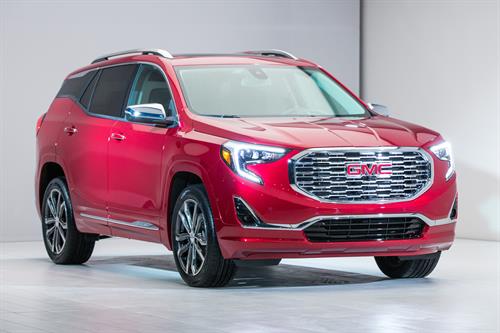 Second-generation GMC Terrain (2018-present)
GMC unveiled an all-new second generation of the Terrain in January 2017 and it went on sale in the summer as a 2018 model year offering. By now the Terrain was available with three different engine options and a raft of standard and available technology such as Apple CarPlay and Android Auto compatibility, automatic braking, a surround-vision camera system and forward-collision alert.
A refreshed version of the second-gen was due to arrive for the 2021 model year but it was pushed back to the 2022 model year as a result of disruption to the market caused by the coronavirus pandemic.
Before you even think about parting with your hard-earned money for any used car, please make sure you know what you're buying by getting a vehicle history report you can trust like one from EpicVIN. If you're buying from a dealer they should provide one, but if they don't, get your own here and it could save you a fortune in the long run.
How popular is the GMC Terrain?
The GMC Terrain sells in much smaller numbers than the closely related Chevy Equinox. The best year for sales of the Terrain was 2018 when 114,314 units were sold in the US, but in the same year GM sold 332,618 units of the Equinox and that wasn't even the Equinox's best year.
On the plus side, if you buy a GMC Terrain instead of a Chevy Equinox you'll see far fewer of the same vehicles on the road so there is a little extra exclusivity associated with the GMC than the Chevy. On the other hand, you can also end up paying more for a vehicle that does exactly the same job in pretty much the same way.
Is the GMC Terrain a luxury car?
The GMC is technically considered to be a luxury vehicle, but there is some debate as to where the GMC brand actually stands in the market. It has been reported that GMC has now dethroned Cadillac as GM's biggest-selling luxury brand, but most consumers would still consider Cadillac to a more premium brand than GMC.
If you look at a site like thecarconnection you'll see it comparing brand new versions of the GMC Terrain with the likes of the Subaru Forester, Mazda CX-5 and the Honda CR-V. If the GMC Terrain was a true luxury vehicle it would be compared instead to the likes of the Acura RDX, Mercedes-Benz GLC-Class and the Audi Q5.
I'd say that like Buick, GMC is something of a halfway house between the mass-market and luxury brands rather than being a true luxury marque.
Is the GMC Terrain reliable?
The GMC Terrain gets more reliable as the years go by, so you will find that later models are noticeably more reliable than earlier versions of the crossover. First-generation models are reported to have had major issues with things like their transmissions, climate controls and electrical systems, but the second-generation models appear to have eliminated most of these concerns.
First-generation models had issues with excessive oil consumption as well as transmission and electrical problems, so make sure you look at the service history carefully before committing to buy a used first-gen GMC Terrain. If you can see evidence of these issues being rectified and there's no sign of them on a test drive then you're pretty much good to go.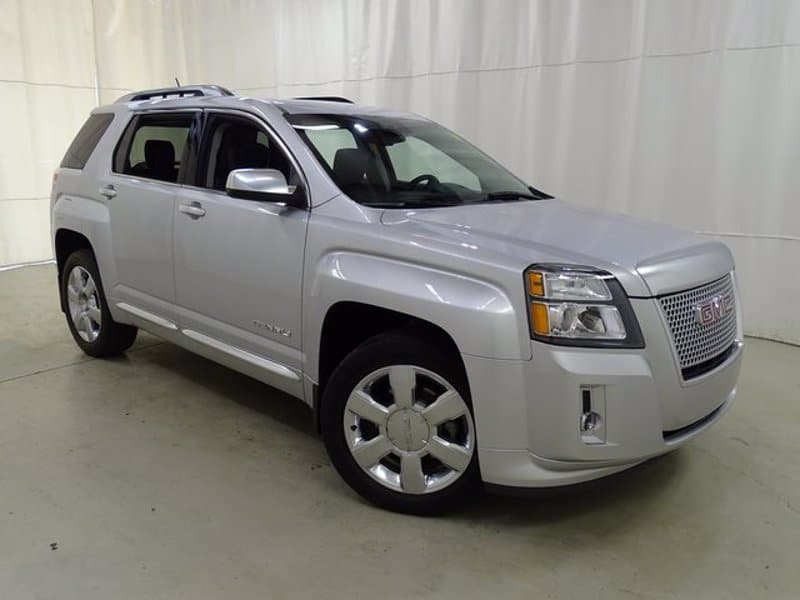 How many miles will a GMC Terrain last?
A used GMC Terrain can be good for 300,000 miles or more if it's been properly looked after and maintained, and as long as the one you're looking to buy has a good service history you shouldn't be too concerned about relatively high mileage.
Does the GMC Terrain hold its value?
A GMC Terrain will depreciate by as much as 28% in its first year and by 36% after three years of average miles. By the time a GMC Terrain is five years old, it will only be worth about 53% of its original value.
The depreciation curve levels off a little after the first year but it starts to drop relatively dramatically again after year four. There's no particular age of used GMC Terrain I'd say was better to buy than another to minimize depreciation, but I'd definitely say you should buy a one-year-old used terrain rather than a brand new one as you could save yourself as much as $7,000 or more.
Which is better, the GMC Acadia or GMC Terrain?
The GMC Acadia is a better option if you need more cargo space and a third row of seats to accommodate up to seven people, but the GMC Acadia is smaller, cheaper, more maneuverable and more fuel-efficient if five seats are enough for your needs.

Is the GMC Terrain AWD?
Most versions of the GMC are standard front-wheel-drive with AWD available, and a lot of used GMC Terrain models on dealer lots will be AWD versions. In later years the base models have been exclusively front-wheel-drive but the rest of the trim levels can be front- or all-wheel-drive.
Which GMC Terrain model years should you avoid?
The 2011 model year GMC Terrain has the worst record for faults and complaints, according to the Car Complaints website, but most model years of the first generation are generally considered to be less reliable than the second generation appears to be so far.
What is the GMC Terrain comparable to?
The GMC Terrain is often compared to and shopped against rivals such as the Chevrolet Equinox, Honda CR-V, Toyota RAV4, Mazda CX-5, Ford Escape and the Subaru Forester. However, it's actually priced exactly the same as the likes of the Audi Q5 so you might want to shop it against more upscale rivals such as that.
What's the GMC Terrain fuel economy like?
A 2010 GMC Terrain FWD model equipped with the 2.4-liter four-cylinder engine is rated by the EPA for fuel economy at 22 mpg in the city, 29 mpg on the highway and 23 mpg combined. An AWD model with the 3.0-liter V-6 engine is rated at 17/24/20 mpg respectively.
The fuel economy of the GMC Terrain improves dramatically when it gets to the second generation as the most efficient versions are rated as good as 28 mpg in the city, 39 mpg on the highway and 32 mpg combined. However, that is with a 1.6-liter turbodiesel engine and a six-speed automatic transmission. The most frugal gas-powered versions are rated at a more modest 26 mpg in the city, 30 mpg on the highway and 28 mpg combined.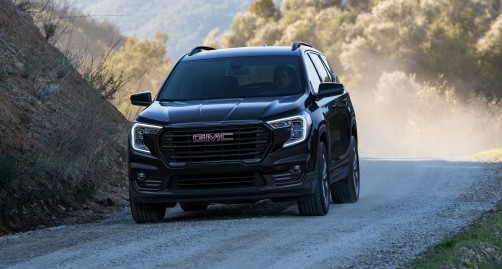 How safe is the GMC Terrain?
Safety has always been a real strength of the GMC Terrain and even the first models in 2010 got a Top Safety Pick designation from the IIHS. You may be shocked to find that second-generation versions of the GMC Terrain are not as highly rated by the IIHS and don't achieve Top Safety Pick status, but this is only down to a poor headlight rating. The Terrain still scores extremely well in crash tests and the NHTSA gives it a full five-star rating for overall safety.
How much should you pay for a used GMC Terrain?
You can get an early used Terrain for less than $2,000, but I suggest you start looking from $3,500 upwards. For between $3,500 and $4,000 you could get something like a 2012 base model with just over 100k miles on the odometer, but unless you really are shopping on the tightest of budgets I'd suggest going for something as late in the first generation as possible or even an early second-gen model.
Here are the average minimum and maximum used prices for the various models years of the GMC Terrain.
| | | |
| --- | --- | --- |
| Model Year | Minimum Average Used Price | Maximum Average Used Price |
| 2010 | $6,000 | $12,998 |
| 2011 | $5,934 | $17,475 |
| 2012 | $7,994 | $16,499 |
| 2013 | $8,000 | $17,957 |
| 2014 | $8,000 | $20,999 |
| 2015 | $7,900 | $23,421 |
| 2016 | $11,833 | $24,988 |
| 2017 | $11,598 | $29,250 |
| 2018 | $16,446 | $34,645 |
| 2019 | $17,312 | $41,409 |
| 2020 | $19,495 | $39,950 |
How many seats in a GMC Terrain?
The GMC Terrain has always been a five-seat crossover SUV with no option for a third row. If you need the extra seating capacity you'll have to go up a level to something like the GMC Acadia or the Chevy Traverse, but the five seats the Terrain does have are spacious comfortable and come with plenty of adjustment at all trim levels.
Is the GMC Terrain fast?
The GMC Terrain is one of the fastest compact SUVs you can buy without spending very serious money on something like a BMW X3 M. The 2021 GMC Terrain has a 0-60 time of just 7.2 seconds and even a 2010 Terrain can get you to 60 mph from a standing start in as little as 8.1 seconds.
Is the GMC Terrain comfortable?
Comfort is a big feature of the GMC Terrain and it really is a very comfortable and well-built compact crossover SUV at every trim level. And even though it's now a compact rather than a midsize model, there's actually more legroom in the second-row seats in second-gen models than there was previously.
First-generation versions of the Terrain have 37.2 inches of legroom in the rear seats, while second-gen models boast an impressive 39.7 inches. Front legroom is only microscopically less generous in second-gen than first-generation versions of the Terrain, and cargo space is pretty similar throughout the model years.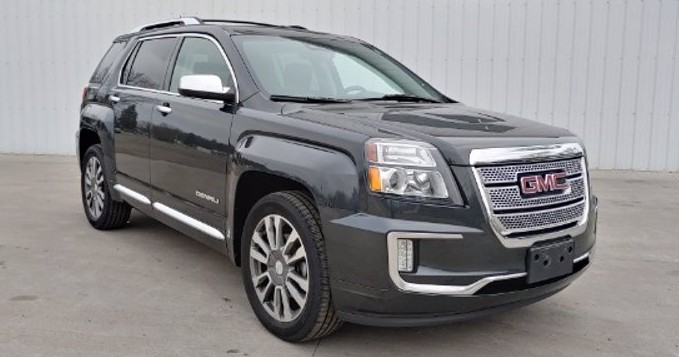 What's the highest level of GMC Terrain?
The highest trim level of the GMC Terrain is the Denali trim, and the very word has now become synonymous with automotive excellence and luxury. Even though the Denali trim wasn't introduced to the GMC Terrain until the 2013 model year, even the SLT-2 that was previously the highest trim level in the Terrain lineup wasn't as luxurious or well-equipped as the Denali. Denali is now pretty much the standard that domestic top trim levels are judged by.
Is a used GMC Terrain worth the money?
A used GMC Terrain is a comfortable, spacious and well-equipped crossover SUV, and if you can manage with five seats it's well worth the money. It's a little more upscale and exclusive than the closely related Chevy Equinox, but it doesn't cost a whole lot more and the cost to run and maintain one is about the same.
Of course, if you want to buy a used SUV for a fraction of the market price and you're prepared to do a little homework to potentially save yourself thousands of dollars, make sure you check out government auctions here for details of where and how you can by ex-government and confiscated vehicles at auctions all over the country.