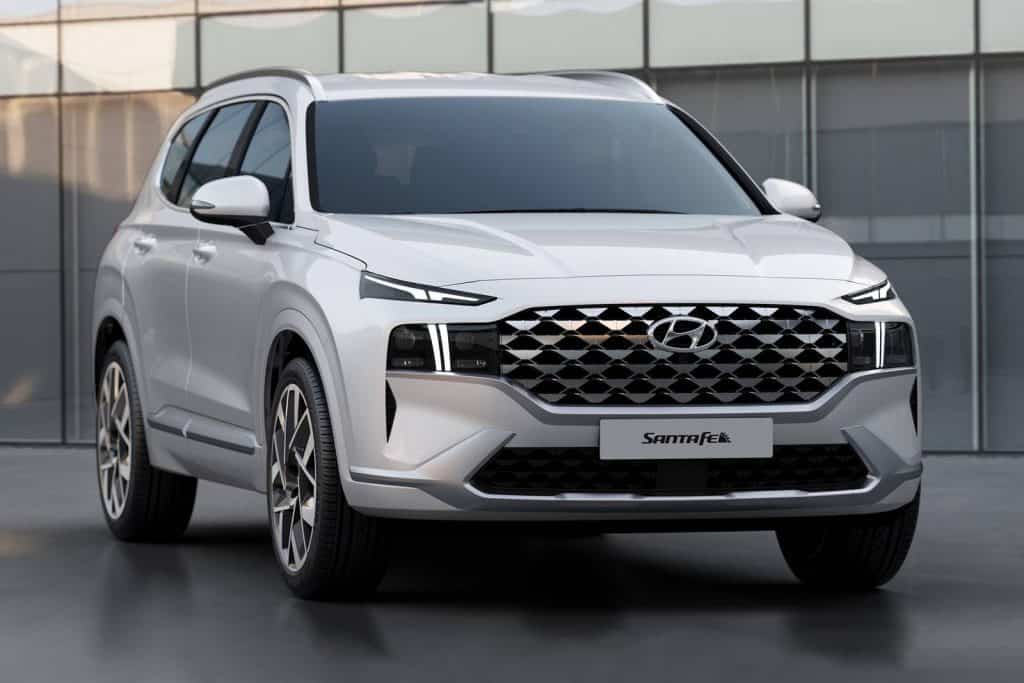 The Hyundai Santa Fe is a popular midsize crossover SUV that's changed a lot over the years. It's been around since the turn of the century through four different generations and because it's sold in pretty decent numbers ever since it was launched there are a lot of used ones out there for sale. Here I'm going to tell you about the way this model has developed over the years and what to look out for when buying a used Hyundai Santa Fe.
Hyundai Santa Fe History
The Hyundai Santa Fe went into production in 2000 and was launched as a 2001 model year offering, but back in those days, the Santa Fe was actually a compact crossover rather than the midsize model it is today. This is one of those midsize crossovers that you'll find in five and seven-seat versions, but if you're thinking of buying an early seven-seat version of the Santa Fe I suggest you take a good look at the amount of space there is (or isn't) in the third row.
Over the years, the Santa Fe has grown in size and stature but the very latest version no longer offers a third row of seats. In fact, the newest version of the Santa Fe does a pretty good impersonation of a luxury SUV, especially in its top Calligraphy trim level.
If you're looking for good value in a used midsize crossover the Hyundai Santa Fe is well worth checking out, but you'd be well advised to first decide which version of the Santa Fe is going to be right for your needs as not all versions of this Hyundai are created equal.
Before you even think about parting with your hard-earned money for any used car, please make sure you know what you're buying by getting a vehicle history report you can trust like one from EpicVIN. If you're buying from a dealer they should provide one, but if they don't, get your own here and it could save you a fortune in the long run.

First-Generation Hyundai Santa Fe (2001-2006)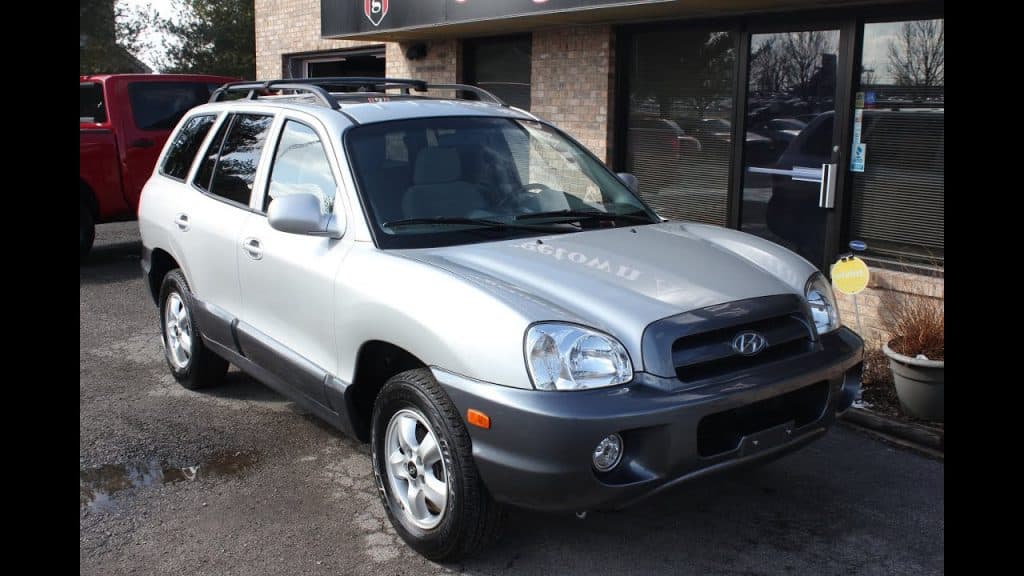 I'm not sure I can make much of a case for you looking to buy a first-generation Hyundai Santa Fe. This one was produced from the 2001 model year to the 2006 model year and it's looks and feels pretty long in the tooth these days. Under the hood is a relatively fuel-efficient standard four-cylinder engine and there are five-speed manual and four-speed automatic transmissions.
You'll also find versions of this Santa Fe with a more powerful V-6 engine that was only available with the automatic transmission while all-wheel-drive was available if you wanted more traction than the standard front-wheel-drive format offered.
If you'd like to know what first-generation trim levels there are and what features they offer, here are some of the official brochures you can download for free.
Second-Generation Hyundai Santa Fe (2007-2013)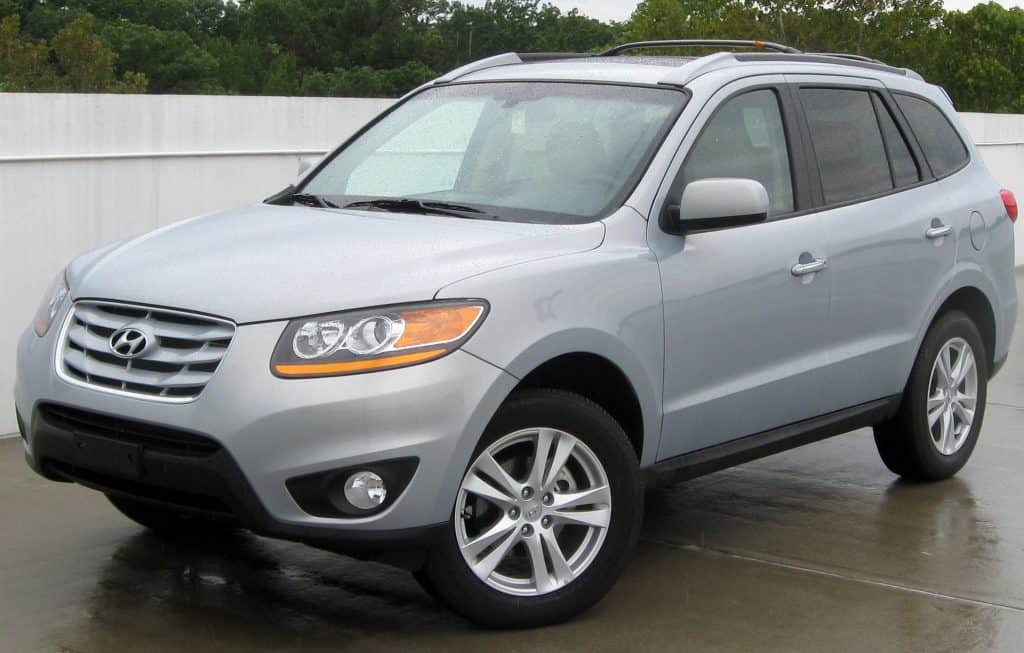 This second-generation is where used buyers should probably start as this is a much more contemporary-looking model your family won't be ashamed to be seen in. This one was produced from the 2007 model year through to the 2013 model year and this is where the Santa Fe grew into its new place in the midsize crossover SUV segment.
There are seven-seat versions of this Santa Fe but the third-row is laughably small, so don't say I didn't warn you! However, in just about every area this is a vastly more impressive vehicle than the first-generation Santa Fe and one I can wholeheartedly recommend. If a second-generation Santa Fe is the sort of vehicle you're thinking of buying, look for a 2010 or newer model as there was a significant mid-cycle refresh for 2010 that gave the Hyundai quite a lift.
Hyundai took the new size seriously and didn't bother with a four-cylinder engine this time around. Instead, you'll find two different V-6 engines; a standard 2.7-liter unit and a nicely torquey 3.3-liter engine. The best early second-generation models are those with the 3.3-liter engine and five-speed Shiftronic automatic transmission. This combination is found in the more upscale trim levels that are very nicely equipped and are great value for money
By the way, if you'd like to know about some of the very best products, services and companies I've found for buying, selling, and helping with vehicle ownership then please check out my recommended products and services page right here. As well as telling you where to go to get the very lowest prices on new and used vehicles, I also cover finance, insurance, parts, detailing and other stuff too.
If you'd like to know what second-generation trim levels there are and what features they offer, here are some of the official brochures you can download for free.
Third-Generation Hyundai Santa Fe (2013-2020)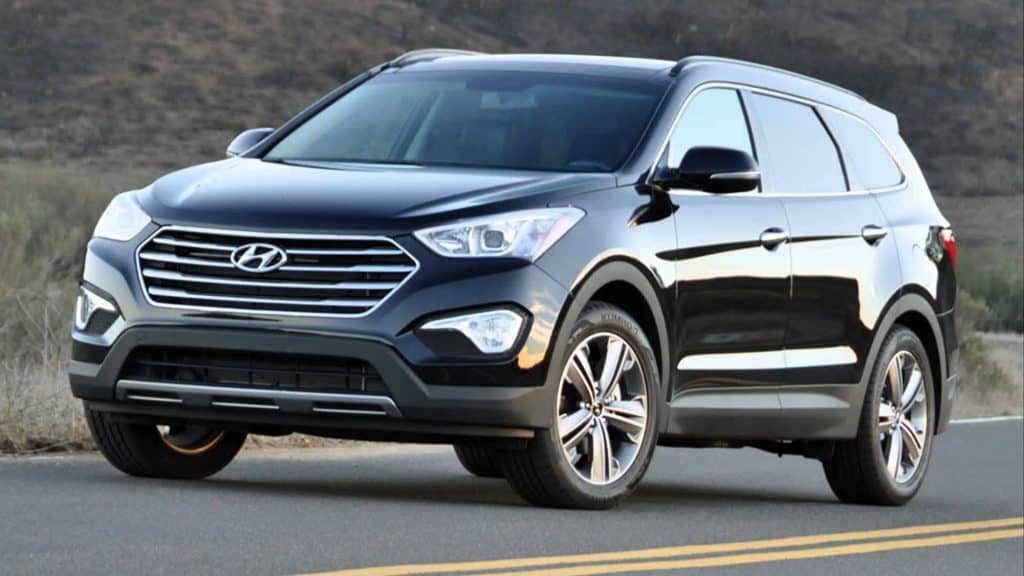 When Hyundai launched the third-generation of the Santa Fe in 2012 for the 2013 model year it made it available in two different wheelbases. The short-wheelbase, five-seat version was marketed as the Santa Fe Sport in North America, and in Canada, the longer wheelbase variant was marketed as the Santa Fe XL.
Now, it gets a little complicated here with the model years. The short-wheelbase Santa Fe Sport was only in production up to the 2018 model year, but the long-wheelbase version of the Santa Fe continued to be produced and sold up to the 2020 model year as the Santa Fe XL even though a new fourth-generation Santa Fe arrived for the 2019 model year.
A used third-generation Santa Fe is an impressive vehicle that can be great value for money, and don't forget they have a full manufacturer warranty until they're five years old. If you'd like to know what third-generation trim levels there are and what features they offer, here are some of the official brochures you can download for free.
Fourth-Generation Hyundai Santa Fe (2019-present)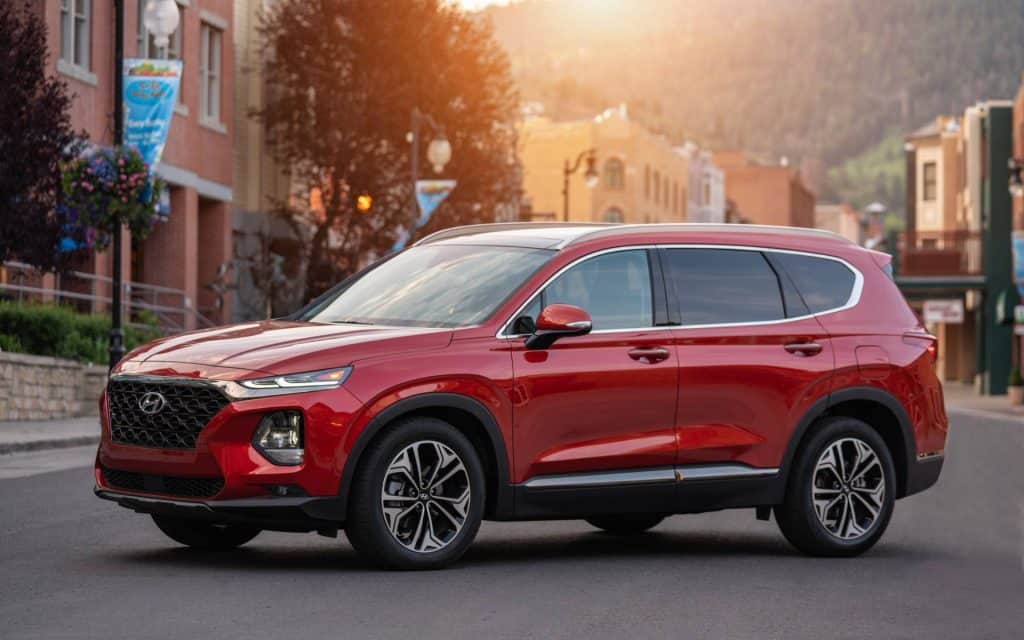 The Santa Fe took on its current form in 2018 for the 2019 model year when an all-new fourth-generation landed in showrooms. The fourth-generation took the Santa Fe firmly into the two-row realm as seven-seat duties were carried on for a couple of years by the third-gen Santa Fe XL that remained in production alongside the all-new fourth-generation.
Hyundai must not have been particularly happy with the fourth-gen Santa Fe as it was only on-sale in its original form for two years before the company decided to give it a facelift for the 2021 model year. I quite like the refreshed look but plenty of other commentators don't, but the good news for used buyers is the refreshed look dates the 2019 and 2020 model years and that means the used prices could be a little more agreeable.
I think the 2021 Hyundai Sante Fe is a seriously strong contender in a segment of the market that's fiercely competitive at the moment, and if you'd like to know the best price you can get on a brand new Santa Fe then use thecarconnection free price quote tool here.
Here are a couple of free brochures that will give you a good idea of trim levels, features and specifications.
How Much Should You Pay for a Used Hyundai Santa Fe?
There are used Hyundai Santa Fe models out there to suit just about every budget but it's always good to have an idea of what you should expect to pay for the one you think would suit you best. To give you an idea of how much you should expect to pay for a used Hyundai Santa Fe I've compiled a table that uses data from thecarconnection.com and Autotrader to give you a price range for each model year from 2008 onwards.
These prices are generalizations covering all trim levels based on average miles for their age which is why the range for each model year is quite broad.
Hyundai Santa Fe Known Problems
There are a few problems to watch out for with a used Hyundai Santa Fe, but there's nothing so serious that if you suspect it you should immediately walk away from a purchase. Even so, here are the main things you might find wrong with a used Santa Fe.
Crankshaft Position Sensor – This is possibly the most common problem and if this sensor fails it can lead to the engine stalling or not starting at all. Replacing the failed sensor will almost always correct this problem and the cost if not covered by a warranty is around $100.
Automatic Transmissions – Up to and including the 2016 model year, automatic transmissions in the Santa Fe can suffer from poor shift quality. This can be rectified with a proper transmission service using Hyundai-approved fluids filled to the correct level.
Rough Idle – If a 2.7-liter V-6 or 2.4-liter four-cylinder Santa Fe is displaying an intermittent rough or unstable idle it's probably down to a faulty exhaust gas recirculation (EGR) switching valve. Once again, this can affect models up to and including the 2016 model year but it's only about a hundred dollar fix.
Airbag Recall – This was quite a serious issue but Hyundai was only one of many automakers with this problem. This was an intrinsic fault with the airbags Hyundai and others bought to fit many of their vehicles, which could deploy incorrectly during an accident when a child car seat has been placed in the passenger front seat. The model year affected were 2003, 2004, 2005, 2006 and 2010, so if you're looking to buy one of those years then ask to see evidence that the recall was done.
The Hyundai Santa Fe is a pretty reliable vehicle with no inherent major faults you need to worry about, but as ever, it always pays to look for one with a full service history that's been well cared for. Even if you're buying one that's older than five-years-old and therefore outside that generous original manufacturer warranty, you'll still have peace of mind that any problems that might have occurred with that vehicle will probably have been sorted because it had that warranty for the first five years of its life.
If you'd like the opportunity to get a used Hyundai Santa Fe or any other used car for a ridiculously low price, government auctions are a great place to go. As well as putting vehicles up for auction that have previously been used by the police and other public bodies, they're also used to dispose of vehicles confiscated by the authorities too. Check out this link to find out more about how you can learn where these auctions are and when they're taking place.
Hyundai Santa Fe Rivals
As I said earlier, the Santa Fe has a lot of competition and a number of its main rivals are seriously good too. The fact the Santa Fe remains as popular as it is in North America says a lot about its quality, value for money, and just how far Hyundai has come as an automaker over the last decade or so.
The Kia Sorento is an obvious rival to mention as it's largely the same vehicle with a different front fascia and badging, but other notable rivals of early Santa Fe models include the Ford Explorer, Chevrolet Equinox and the Nissan Pathfinder.
If we're talking about the fourth-generation Santa Fe, buyers will probably shop it against the likes of the Honda Passport, Volkswagen Tiguan, Jeep Grand Cherokee, Nissan Murano and the Chevy Blazer.
What's Special About the Hyundai Santa Fe?
It's hard to make a general statement about what makes the Santa Fe a good used buy because we can be talking about very different vehicles, depending on which model year and generation it is. The latest Santa Fe is very different from the first two generations as Hyundai has now turned the Santa Fe into a more sporty and upscale than it used to be.
If you're just looking for a cheap, reliable and well-equipped used SUV then a second or third-generation Santa Fe will definitely fit the bill and you can even have a third-row seat if you're prepared to put up with the size of them.
From the second-generation onwards the Santa Fe has always been an attractive and generously equipped crossover SUV that doesn't cost a fortune to buy or run and will rarely let you down. For me, the third-generation is the sweet spot at the moment when it comes to a used Santa Fe as it still looks contemporary, it has plenty of modern features many of us now consider to be essential, and it won't break the bank to buy.
Should You Buy a Used Hyundai Santa Fe?
As I mentioned above, there are a lot of alternatives to the Santa Fe you might want to consider and a strong case can be made for any one of them. You really are spoiled for choice in this area of the used vehicle market at the moment, but you will struggle to find better value for money than you get with the Hyundai.
That's always been the Hyundai unique selling point, but as the years have gone by the Santa Fe has gone from being cheap and cheerful to now border on feeling and looking like a luxury model. I'm not going to suggest the Santa Fe is the most exciting model in its segment – although that is changing with the 2021 Santa Fe – but it's hard to think of anything that lets it down and the fact it gets that five-year warranty when it's new tells its own story about the confidence you can have in this and any other modern Hyundai.
Hyundai Santa Fe FAQs
Is the Hyundai Santa Fe reliable?
The repairpal.com website gives the Hyundai Santa Fe a reliability rating of 4.0 out of 5.0 which makes it 2nd out of 26 for midsize SUVs when it comes to reliability.
Is the Hyundai Santa Fe expensive to maintain?
The average annual repair cost for the Santa Fe is $515 which puts it below the average level when it comes to ownership costs.
Is the Hyundai Santa Fe a gas guzzler?
The Hyundai Santa Fe definitely isn't a gas guzzler but it isn't as frugal as a subcompact hatch or sedan either. Here's a useful table showing the best EPA fuel economy ratings for each model year from 2001.

Which Santa Fe model years should you avoid?
There's no single model year where the Hyundai Santa Fe was so bad it should be avoided, but the years where Consumer Reports reliability ratings were lowest are 2005, 2010 and 2015.
Does the Hyundai Santa Fe hold its price?
The Santa Fe loses about half its value in the first three years but the depreciation rate flattens off between the fourth and seventh year, so a four, five or six-year-old Santa Fe will have already taken its biggest depreciation hit when you buy it.
How many seats are there in a Santa Fe?
Fourth-generation Santa Fe models are strictly five-seat vehicles but earlier generations can be found in five, six or seven-seat configurations.
Is the Hyundai Santa Fe AWD?
The Santa Fe has always been standard front-wheel-drive with AWD available for those who want to pay extra for it.
Is the Hyundai Santa Fe made in the US?
Yes, ever since the second-generation, the Hyundai Santa Fe has been built in the US at Hyundai's plant in Montgomery, Alabama.
Is the Santa Fe a good family vehicle?
The Santa Fe is a good vehicle for families who don't need more than five seats. Although there are earlier models available with six or seven seats, that third row is seriously cramped and children will soon grow too big for them.
Is the Hyundai Santa Fe bigger than the Tucson?
Yes, the Hyundai Santa Fe is a bigger SUV than the Tucson but the main difference between the two is the length. Here's a table comparing some dimensions of the fourth-generation Santa Fe and the current Tucson.