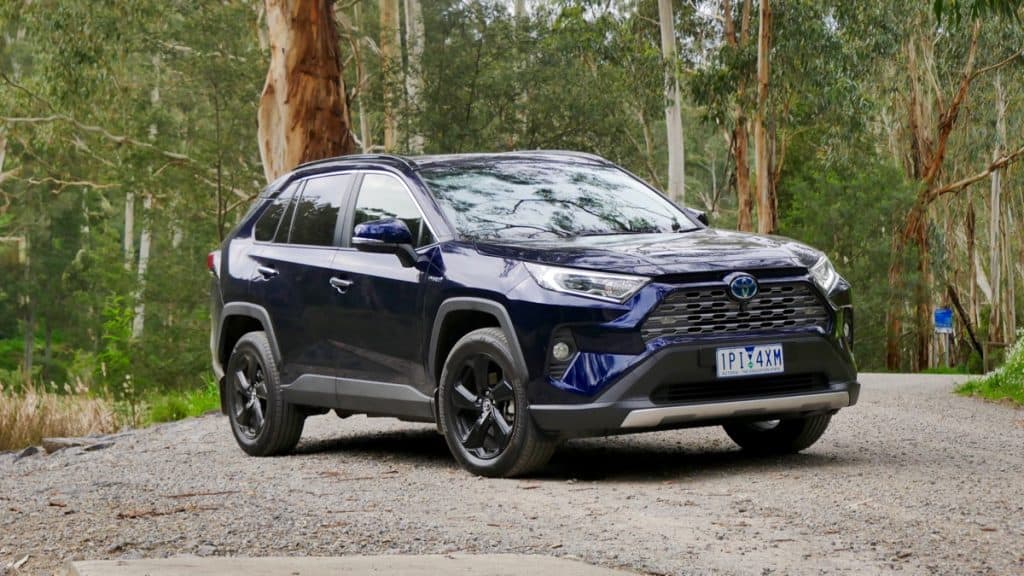 The Toyota RAV4 isn't just another compact crossover SUV in an incredibly crowded market; the RAV4 is actually the biggest-selling SUV in America and the rest of the world. In 2019, Toyota sold an incredible 448,071 units of the RAV4 in America, which is almost 64,000 more than its nearest rival, the Honda CR-V. It's been that way for some time now, and that means there's also a vibrant market for used RAV4s. If you're in the market for one, here's what you need to know and look out for when buying a used Toyota RAV4.

How long has the Toyota RAV4 been in production?
The Toyota RAV4 has been in production since 1994 when it became the first crossover SUV. It went on sale in Japan and Europe in 1994 but it didn't go on sale in America until January 1994 for the 1996 model year. It was the first vehicle to combine the benefits of an SUV with the driving characteristics of a car, and now the crossover is SUV is the dominant format in the global auto market.
Before you even think about parting with your hard-earned money for any used car, please make sure you know what you're buying by getting a vehicle history report you can trust like one from EpicVIN. If you're buying from a dealer they should provide one, but if they don't, get your own and it could save you a fortune in the long run.
Why is the Toyota RAV4 so popular?
The Toyota RAV4 is the best-selling SUV in the world because it combines the styling, spaciousness, and capability of an SUV with excellent maneuverability and the car-like driving characteristics you just can't get with a traditional truck-based SUV. Consumers all over the globe love this type of vehicle and Toyota has worked hard to listen to what buyers want and to continue developing the RAV4 to meet those demands and needs.
How popular is the Toyota RAV4?
As the biggest-selling SUV in the entire world, it's hard to argue against the popularity of the Toyota RAV4 even if you're not its biggest fan yourself. In the US alone, the Toyota RAV4 consistently sells more than 400,000 units every year and it's been growing in popularity almost every year since it went on sale in 1996.
The growth in sales of the Toyota RAV in the US in recent years has been pretty staggering. It took until 2015 for US sales to break through the 300,000 units per year barrier, but in 2017 there were 407,594 RAV4s sold in America and the high point for sales so far came in 2019 with 448,071 units sold. Even with the challenges of the pandemic thrown into the mix, Americans still bought 430,387 brand-new Toyota RAV models in 2020.
How many generations of the Toyota RAV have there been?
There have now been five different generations of the Toyota RAV4, but the changes over the years and generations are probably best described as evolutionary rather than revolutionary. While most of us probably wouldn't consider the idea of buying a first-generation version of something like the Kia Sportage as they are now so horribly dated, the early generations of the Toyota RAV4 are still not actually that bad.
It's obviously a far superior vehicle today than it was back in the mid-1990s, but a cheap first- or second-gen version still isn't a bad vehicle for a young new driver as their first car.
Toyota RAV4 history
It was way back in 1994 when Toyota brought us the first RAV4, and that was a time when SUVs were by no means the most popular vehicle on roads around the world as they are today. The RAV4 is also credited as being the very first crossover, or the first SUV to be built on a car's unibody platform instead of a truck-based ladder-frame.
Basically, a crossover looks like an SUV but it drives more like a car, and we can therefore probably give Toyota a lot of the credit (or blame) for our current obsession with crossovers.
Even though you could be forgiven for thinking the RAV4 name was just an abbreviation of some early project name given to the prototypes, the name actually means something tangible here. RAV4 originally stood for "Recreational Activity Vehicle: 4-wheel drive," even though not every RAV is actually a four-wheel-drive vehicle.
Over the years there have been long and short-wheelbase versions of the RAV4, with short-wheelbase versions being sold in Japan and Europe and long-wheelbase versions sold in North America and Australia. Three-door, short-wheelbase versions are no longer produced, but there is still a market for these interesting models in some parts.
Unlike some rivals, each different generation of the RAV4 is instantly distinguishable from other generations. Despite Toyota radically redesigning its incredibly popular compact crossover SUV for each new generation, the Toyota RAV4 continues its incredible popularity all around the world to this day.
If you want to get a used RAV4 or other used vehicles for the lowest possible price, government and police auctions are the way to go. You need to know what you're looking for to buy at auction, but this guide is a great place to find used vehicles at incredible prices.
First-generation Toyota RAV4 (1994-2000)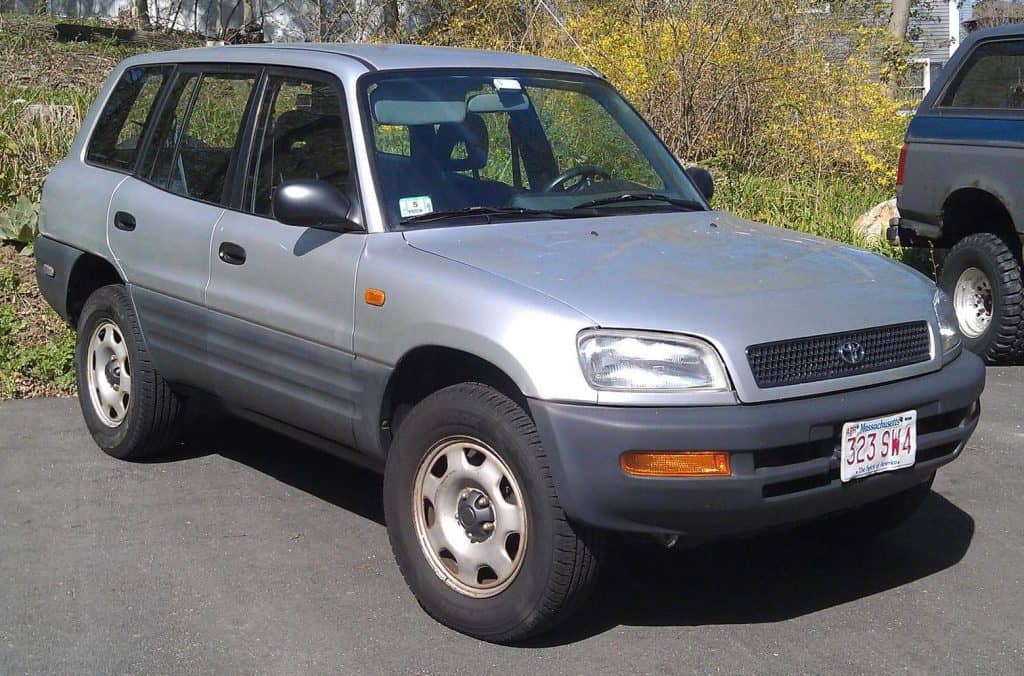 Sharing a platform and other components with the Carina and Corolla cars, the first generation of the Toyota RAV4 was first launched in Japan in May 1994. Three-door versions went to market first with a five-door version following in 1995 that went on sale in America in January 1996.
First-generation models featured a 2.0-liter four-cylinder gasoline engine that produced 119 horsepower and came mated to either a four-speed automatic or a five-speed manual transmission. These early models were available in three and five-door versions and with standard front-wheel-drive or the available all-wheel-drive.
The 1998 model-year versions of the first-generation Toyota RAV4 got a modest facelift, which basically comprised of revised front and rear fascias and the introduction of a soft-top option for three-door models. The 2.0-liter engine also got a slight increase in output to 127 horsepower.
You may see some first-generation models that were produced as late as the 2003 model year, even though a new second-generation RAV went on sale in 2000. These were hybrid versions and the gas-only versions of the first generation stopped being produced in 2000.
Second-generation Toyota RAV4 (2000-2005)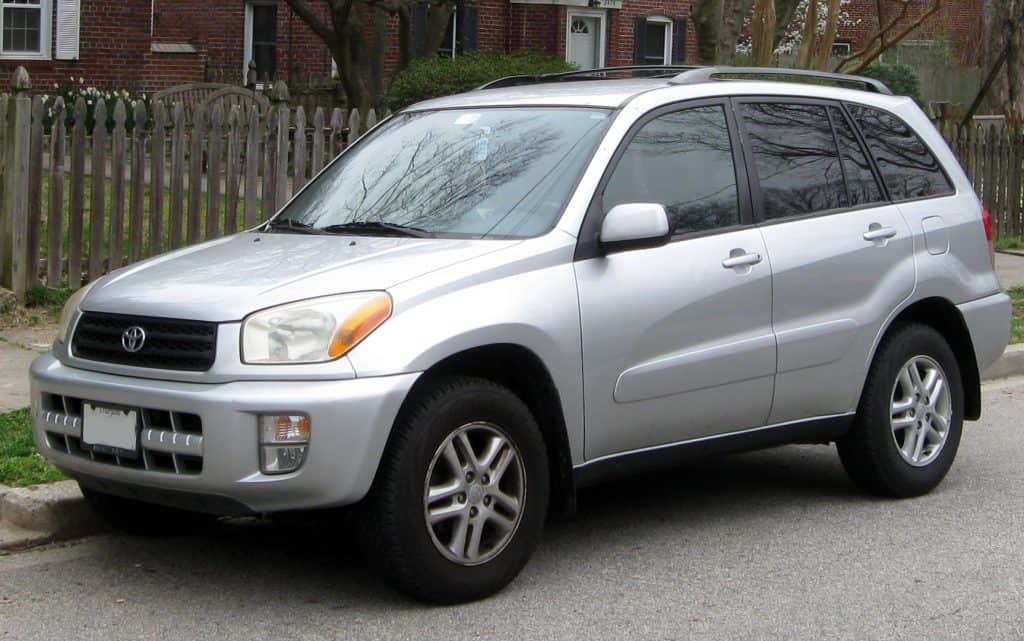 Although the second-generation RAV4 looks markedly different from its predecessor, it was still made available in three and five-door versions and it still shared a platform and other components with the Toyota Carina and Corolla. In America, however, the second-generation RAV was only made available in the five-door variant.
This is the time when the RAV started to gain several features that are now considered essential but were quite advanced for the time, such as ABS brakes, electronic stability control, air conditioning, a height-adjustable driver's seat, cruise control, and powered windows, mirrors, and seats.
The same 2.0-liter engine powered the RAV4 in the US until the second generation got a facelift for the 2004 model year, and then the engine was upgraded to a more powerful 2.4-liter unit that produced 160 horsepower and 162 lb.-ft. of torque.
Apart from perhaps the new VW Beetle, the second-generation Toyota RAV4 had a higher proportion of female drivers than any other make or model in America at the time.
Third-generation Toyota RAV4 (2006-2012)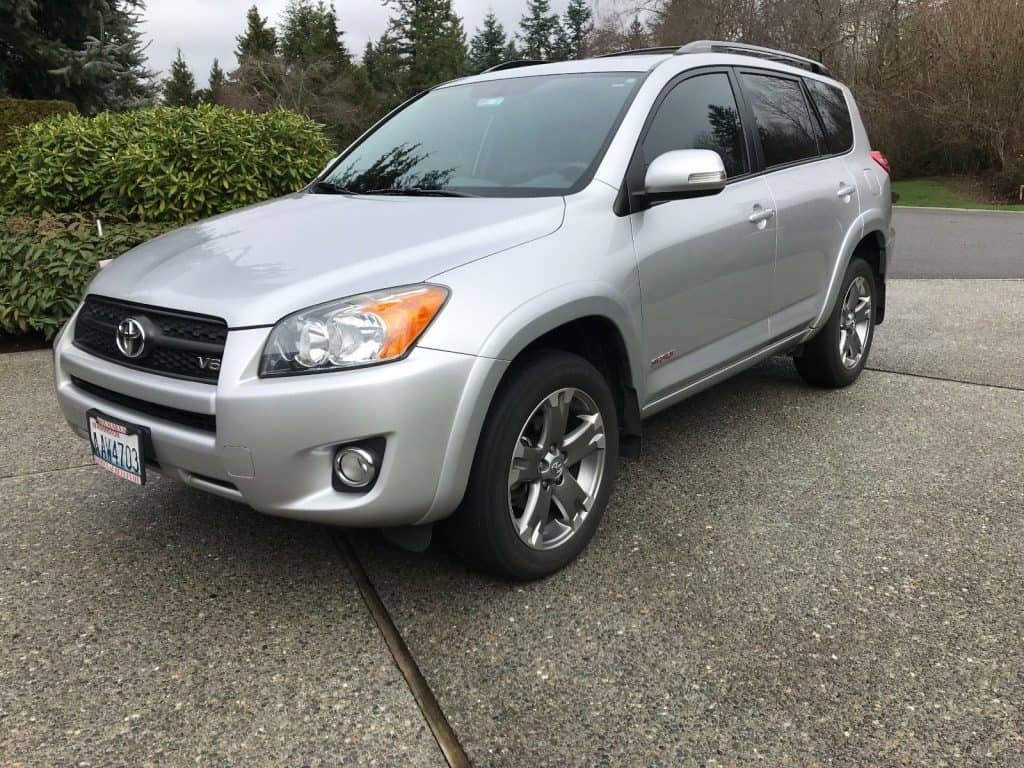 If you are looking for the smallest styling changes between different generations of the RAV4, they probably happened between the second and third generations as they can look pretty similar to the untrained eye.
Despite looking similar to the previous generation, third-gen models were actually built on an entirely new platform that features an electric power steering system for the first time. Once again, there were three and five-door versions produced but America only got the longer wheelbase five-door variant.
This generation's refresh came for the 2009 model year, and it once again meant new front and rear fascia designs and an all-new four-cylinder powerplant. Models from 2009 onwards became available in trim levels that could make the Toyota look quite different, with the Limited trim having a different front grille and bumper cover from other models and Sport models boasting a larger spoiler and red badging.
Sport models also had the option of a V-6 engine and a rear door without the externally mounted spare tire. The V-6 engine was a 3.5-liter unit producing 270 horsepower that came mated to a five-speed automatic transmission.
Fourth-generation Toyota RAV4 (2013-2019)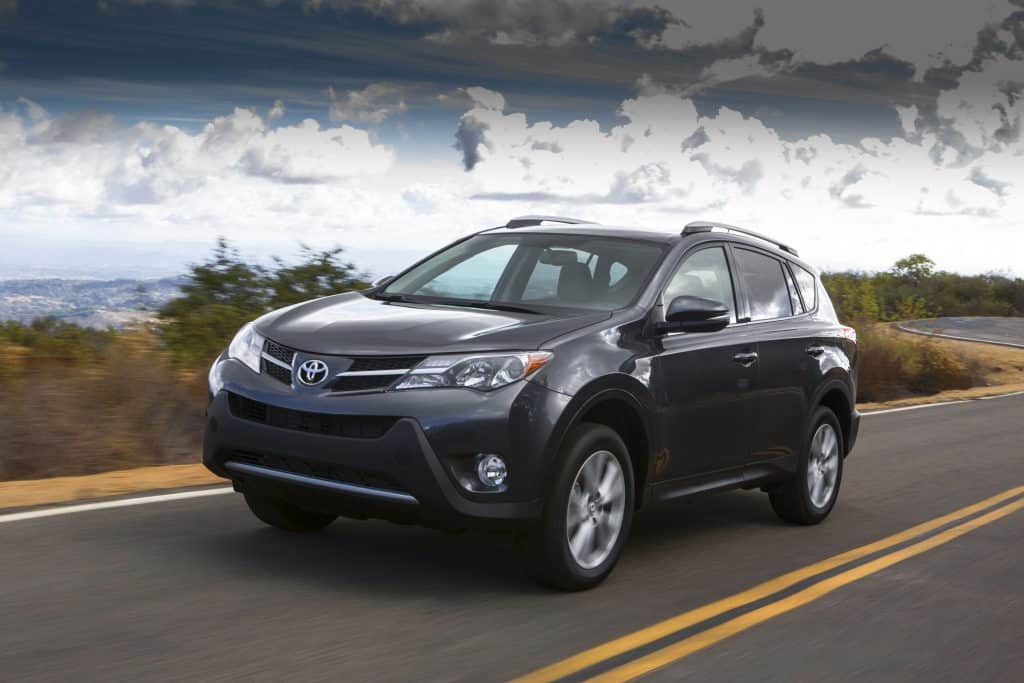 The fourth-generation model arrived for the 2013 model year and the redesigned exterior styling was a big change. This is also the point where the available third-row seating was dropped from the specification list, as well as the V-6 engine. The RAV4 was facing increasing competition at this point from the likes of the Honda CR-V and the Ford Escape, so Toyota had to ups its game, and it did this by firmly planting its tires in the compact area of the crossover SUV market.
If the exterior design still wasn't different enough for you to tell a third-gen RAV4 from a fourth-gen model, just take a look at the rear of the vehicle. If there's a spare wheel mounted on the rear door, you're looking at a third-gen model because the fourth-generation did away with this dated feature entirely.
Early fourth-generation models all feature the same 2.5-liter four-cylinder engine that develops 176 horsepower and was mated to a six-speed automatic transmission. A facelifted model was introduced for the 2016 model year, and it first went on sale in hybrid form. The new model featured redesigned LED front and rear lamps, updated speedometer dials, and a full-color TFT multi-information display.
Fifth-generation Toyota RAV4 (2019-present)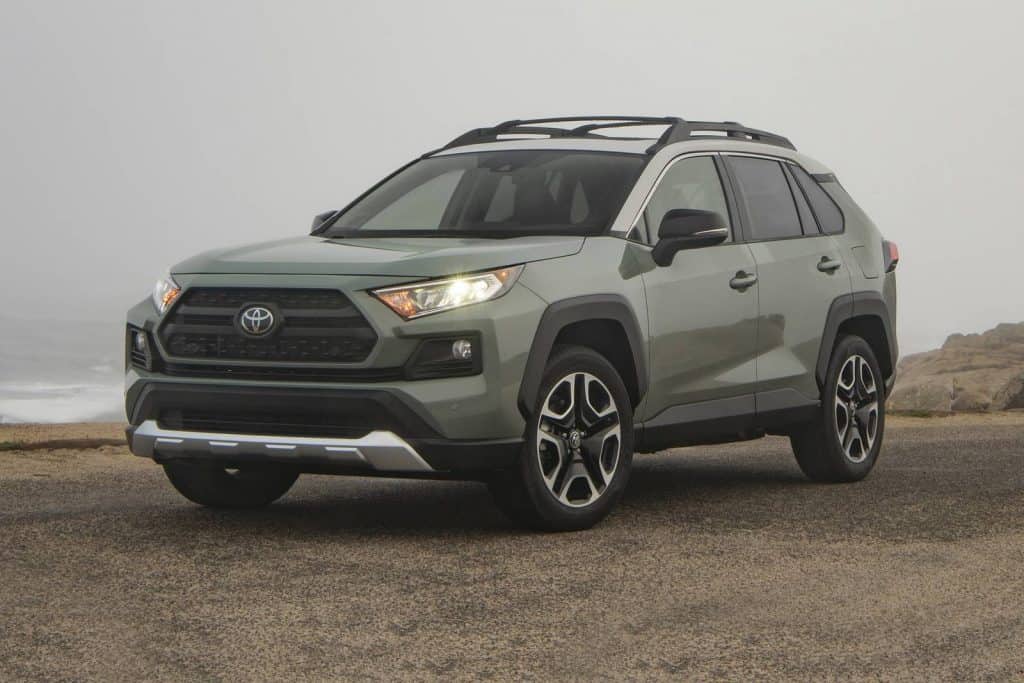 Once again, you have to give Toyota credit for radically restyling its big-selling crossover for the fifth generation, and these models really do nail that miniature off-roader look. Despite the aggressive off-road styling, the latest RAV4 wears its car-like credentials on its sleeve with a platform shared with the likes of the eighth-generation Toyota Camry, fifth-generation Toyota Avalon, and seventh-generation Lexus ES.
Buyers now have two powerplants to choose from under the hood of the fifth-generation RAV4, which are a 2.5-liter inline-four that puts out 203 horsepower and 184 lb.-ft. of torque and a 219-horsepower hybrid system.
Is a used Toyota RAV4 reliable?
The Toyota RAV is more than just a reliable compact crossover SUV; it's probably one of the most reliable and durable vehicles you can buy in any segment. There aren't too many used cars where you wouldn't scoff at the idea of buying and running a 20-year-old example as a cheap runabout, but the Toyota RAV4 definitely falls into that category.
The Repairpal website gives the Toyota RAV a reliability rating of 4.0 out of 5.0, which ranks it at number three out of 26 models in its class the website compared. It also boasts an annual average repair cost of just $429, and that makes it one of the cheapest vehicles of its type to run and maintain.
What are the best years for the Toyota RAV4?
J.D. Power and Consumer Reports rate the Toyota RAV4 highly for its reliability. And according to highly trusted resources, the 2016 Toyota RAV4 is the most reliable model year with J.D. Power giving it a score of 85/100 for reliability and 91/100 for its outstanding resale value.
Although the 2017 and 2018 model years also scored very highly, the 2016 Toyota RAV4 is still judged to be the most reliable year so far. To be honest, though, there isn't really such a thing as a Toyota RAV4 model year to avoid.
If you were going to be picky there have been a few issues reported with the 2019 RAV4, including gear slippage, stalling or sliding forward at moderate speeds, noisy acceleration, and faulty gas gauges. Faulty gas gauges were reported with very early versions of the RAV but it did get corrected after a while. It's unlikely this problem with the 2019 RAV4 is connected, but it's still a major problem if you don't know yours has the problem and you run out of gas when the gauge said you were fine.
Known issues with the Toyota RAV4
Although the RAV4 has been available since as long ago as 1995, it would be pretty pointless taking an in-depth look at potential problems with 25-year-old models as any vehicle of that age could have any number of potential issues. For that reason, here are details of things you'll need to consider with models from 2005 onwards.
2005 – The 2005 model year saw a lot of complaints of excessive oil use, and these complaints grew even louder as vehicles did between 75,000 and 150,000 miles and drivers sometimes report a need to add more oil more often than once a month. This problem has occurred many times over the years and is something you need to watch out for with used RAV4s.
2006 – This wasn't a good year for the RAV with no less than eleven different recalls issued during the year. These include complaints about rear tie rod corrosion leading to potential crash risk, cuts in the seat belt webbing, a power window switch that could pose a fire risk, the driver's airbag not deploying, and gas pedals occasionally sticking in the down position with the obvious problem that could cause.
2007 – If 2006 wasn't a vintage tear for the RAV4, the 2007 model year was even worse with 14 recalls that included the 11 from the previous year along with a few more thrown in for good measure. The best advice is to avoid the 2007 model year unless you come across one that's been loved and nurtured like someone's first-born child.
2008 – Guess what? In some ways, the 2008 model year was even worse for the RAV4. Although the problems were fewer, those that were reported were more expensive to fix and they're not the sort of problem you want to now be dealing with in a used car. The cost of fixing one of the major issues with a 2008 model could be more than the vehicle is worth.
2009 – Excessive oil consumption rears its head again with some 2009 models, but the main issue to look out for with one of these is peeling exterior paint. Thankfully, this is an easy problem to identify and you should negotiate the price right down if you're looking at a 2009 model that hasn't had the problem rectified.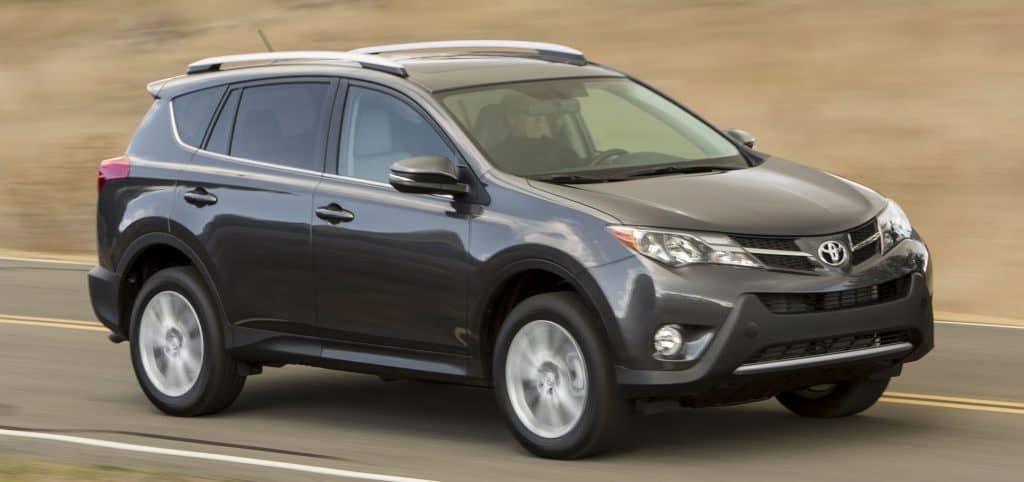 2010 – The paint issues continue into the 2010 model year, and that problem with the sticking gas pedal also appeared again and was the subject of another recall. If you're considering a 2010 model, check the history to make sure that a recall has been carried out.
2011 – This is a pretty good year for the Toyota, but you still have to watch out for those paint issues. Other than that aesthetic issue, these 2011 models are pretty sound.
2012 – Brakes surging or not working at all was a problem being reported in these models, and those exterior paint issues were still prevalent. Once again, check the history to make sure the recall for the brakes has been carried out before committing to buy a 2012 RAV4.
2013 – The only common problem for 2013 was a navigation display that was almost impossible to see due to the glare from the light when driving in bright sunshine. Other than that, there's not a lot to be wary of with a 2013 model.
2014 – As vehicles and their onboard electronics get increasingly complex it's hardly surprising that 2014 versions of the RAV4 can suffer from internal accessory issues. If a faulty audio system or infotainment unit is enough to put you off buying a 2014 Toyota RAV4, perhaps a model that's still under the original manufacturer warranty might be a better option for you?

2015 – Brake issues, such as the clicking and squeaking noises or the brakes not working at all have been reported with 2015 models. Paint issues were also still a problem, so check the bodywork properly and test the brakes extensively when test driving a 2015 model.
2016 – Minor brake problems and the occasional faulty cruise control were about all I could come up with to warn you about with the 2016 model year.
2017 – There have been a few reports of shifting difficulties with transmissions and the steering pulling to one side with 2017 models, but these problems don't appear common enough to be anything to be too concerned about them being endemic.
2018 – It's definitely a case of so far so good with the 2018 model year. Any problems reported have been so statistically insignificant that they're not really worth listing. No piece of machinery is perfect, and when a manufacturer is selling close to half a million units per year of a vehicle in a single country there are always going to be the odd ones with a problem or two.
2019 – Although only a small number of 2019 models suffer problems with the transmission, the fix usually involves repairing the whole system and it can cost several thousands of dollars. If the one you're looking at is no longer under warranty, make sure you give the transmission a proper test before buying if there isn't evidence that it's already been done.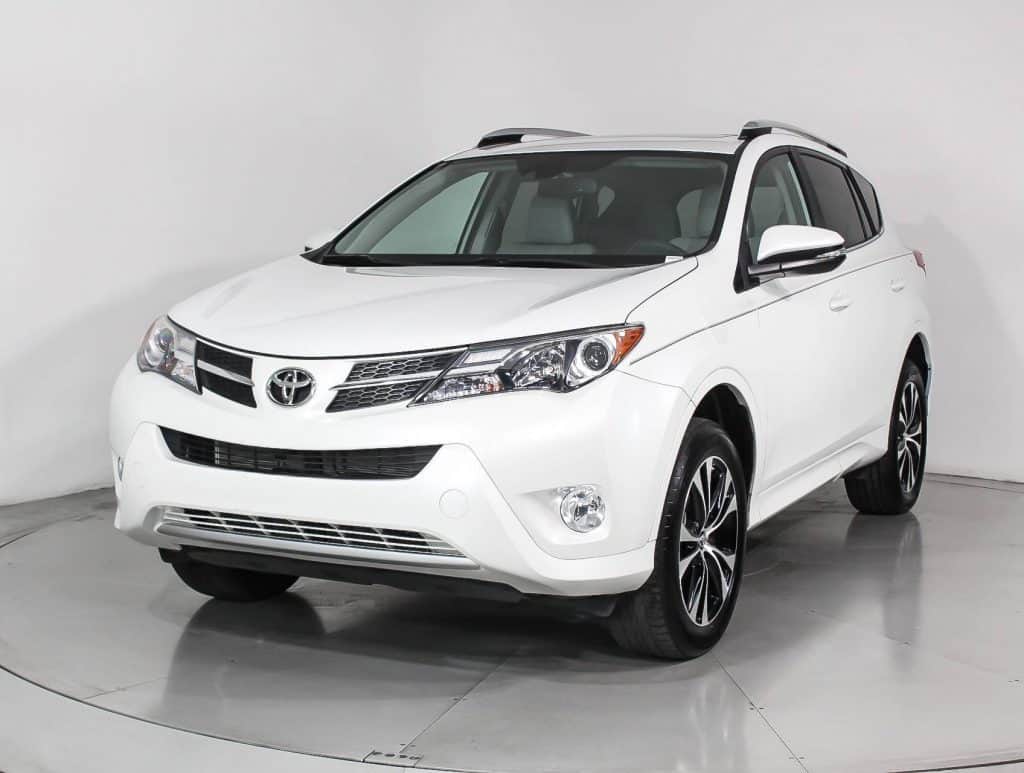 Does the Toyota RAV4 have transmission problems?
Transmission problems are not particularly common with the Toyota RAV4 throughout its history, although there has been an unusual number of reports of problems with 2019 models. Lurching forward at low speeds as well as loud bangs and a forceful, clunky feel when shifting into gear has been reported, and some drivers have even had issues with the transmission lagging or even failing to shift into gear at all.
Thankfully, these problems will have been covered under the Toyota's warranty so they shouldn't be an ongoing worry for used buyers in the years to come.
What's so good about the Toyota RAV4?
The RAV4 has always been a good-looking vehicle that's available in a good range of different versions and trim levels. Few rivals can come anywhere near the RAV4 when it comes to driver and passenger safety features, and the RAV4 Hybrid is one of the best hybrid models available at the moment.
It's not all good news, of course, and even later models could be considered to lack a little internal space, the sound-deadening could be better, and these compact Toyota crossovers can get pricey at higher trim levels.
However, you only have to look at how many RAV4s Toyota sells around the world and how long that's been the case to deduce that something has to be very right about the Toyota RAV4.
How much should you pay for a used Toyota RAV4?
You're not going to get a used Toyota RAV4 for pennies; that's for sure. Even models from the 1990s with around 200,000 miles on them go for around $2,000, and a decent 2007 model with around 150,000 miles on it will cost you at least $5,000.
If you're looking for a really good RAV at a decent price you should be able to pick up a 2018 LE for less than $15,000, although higher-spec models can cost more than $30,000. Because the RAV has been around for so long and there are so many different models out there, it's not difficult to find a decent one to suit just about any budget.
Here's a table showing the average minimum and maximum used prices for the Toyota RAv4 from 2008 to the 2020 model year.
| | | |
| --- | --- | --- |
| Model Year | Average Minimum Used Price | Average Maximum Used Price |
| 2008 | $4,490 | $16,000 |
| 2009 | $5,990 | $12,995 |
| 2010 | $5,995 | $16,998 |
| 2011 | $6,900 | $17,998 |
| 2012 | $8,590 | $17,998 |
| 2013 | $9,435 | $18,125 |
| 2014 | $10,256 | $21,794 |
| 2015 | $12,993 | $25,000 |
| 2016 | $12,991 | $28,400 |
| 2017 | $13,789 | $28,940 |
| 2018 | $16,000 | $32,399 |
| 2019 | $18,995 | $40,225 |
| 2020 | $20,490 | $44,495 |
What's considered high mileage for a Toyota RAV4?
In general, a well-maintained and properly cared for Toyota RAV should be good for at least 250,000 miles, and it's certainly not out of the question for a good example to keep going strong long after it's passed the 300k-mile mark. There aren't many vehicles at this price where I could wholeheartedly endorse you buying a model that was 15 years old or even older, but in this case, I certainly can as long as it's been properly cared for.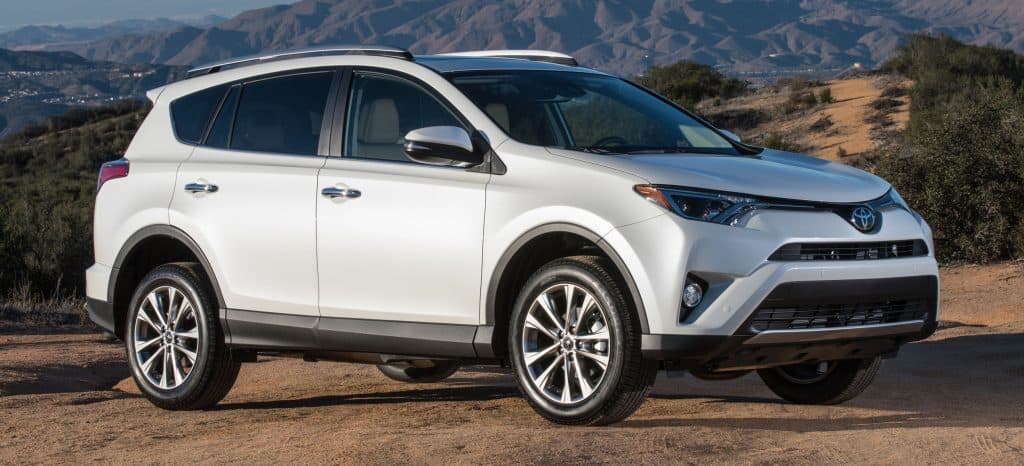 Is the Toyota RAV4 good off-road?
A Toyota RAV with AWD does have some off-road capability, but it's certainly not a vehicle you'd describe as a 'proper' off-roader. It doesn't have the high ground clearance the kind of approach angle a hardcore 4×4 would typically employ, but the all-wheel-drive system can certainly cope when the pavement runs out as long as you're not confronted with boulders and excessive gradients.
Is the Toyota RAV a safe vehicle?
Few vehicles have better safety credentials than the Toyota RAV4 and Toyota packs a ton of standard safety features into the RAV4 at every trim level. For many years, the RAV4 had a five-star safety rating from the NHTSA and Top Safety Pick status from the IIHS, but in 2017 it went even further by gaining the IIHS's coveted Top Safety Pick+ rating for overall safety.

Toyota RAV4 rivals
When the RAV4 was launched in 1994 there was little or no competition to speak of. That's certainly all changed now, and there are loads of rivals you might want to consider. The most obvious direct rival is the Honda CR-V, which is another massive global sales success story and the second-best-selling SUV in America and the world.
If you want a stylish alternative to the RAV4 you might want to check out the Mazda CX-5, but if the value for money is your main consideration there's always the Chevy Equinox and the Ford Escape. If you want something that's great value and is also pretty capable off-road, the obvious rival to the RAV4 has to be the Subaru Forester.
Should you buy a used Toyota RAV4?
There's no reason to shy away from buying a used Toyota RAV4, but somewhat inevitably, the later the model and the more you pay, the better it will tend to be. Despite my list of problems above, the Toyota RAV4 is one of the most durable, reliable, and enduring vehicles of its kind out there and even early models have plenty of life left in them yet.
It may not be the coolest, most exciting, or fun-to-drive crossovers you can buy in the used market, but it's a sensible choice for those who'd like a used compact crossover that won't come with too much drama. There are, admittedly, an awful lot of them out there and you won't stand out in a crowded parking lot with one. But just consider the fact that the Toyota RAV4 is the biggest-selling SUV on the planet and it should reassure you that the RAV is a sound buy, new or used.
Does the Toyota RAV4 hold its value?
Strong resale values are a Toyota characteristic and the RAV4 doesn't go against that welcome convention. Low levels of depreciation do mean you will have to pay strong money for a low-mileage used Toyota RAV4, but the depreciation curve will continue on a relatively steady trajectory even after several owners.
According to caredge.com, a RAV4 will only lose around 25% of its value over the first three years of ownership from new, based on 12,000 miles per year. That means a base model that costs $26,525 today will still be worth just under $20k after three years. If you bought that three-year-old Toyota RAV4 for $19,873 it should still be worth $15,896 after another two years and a further 24,000 miles. There aren't too many rivals you could say any of that about.