If you missed out on getting a 2022 Ford Maverick and don't want to make the same mistake again, you'd want to know when the order book opens for the 2023 Ford maverick, right? The good news is Ford is starting to accept orders for the 2023 Bronco Sport, Explorer, Edge, Ranger, and Super Duty from August 2, and you've been able to order the hot-selling F-150 and Transit models for a couple of weeks now. The bad news is the order book for 2023 Ford Maverick retail orders won't be opening until September. But at least that gives you a little time to get ready.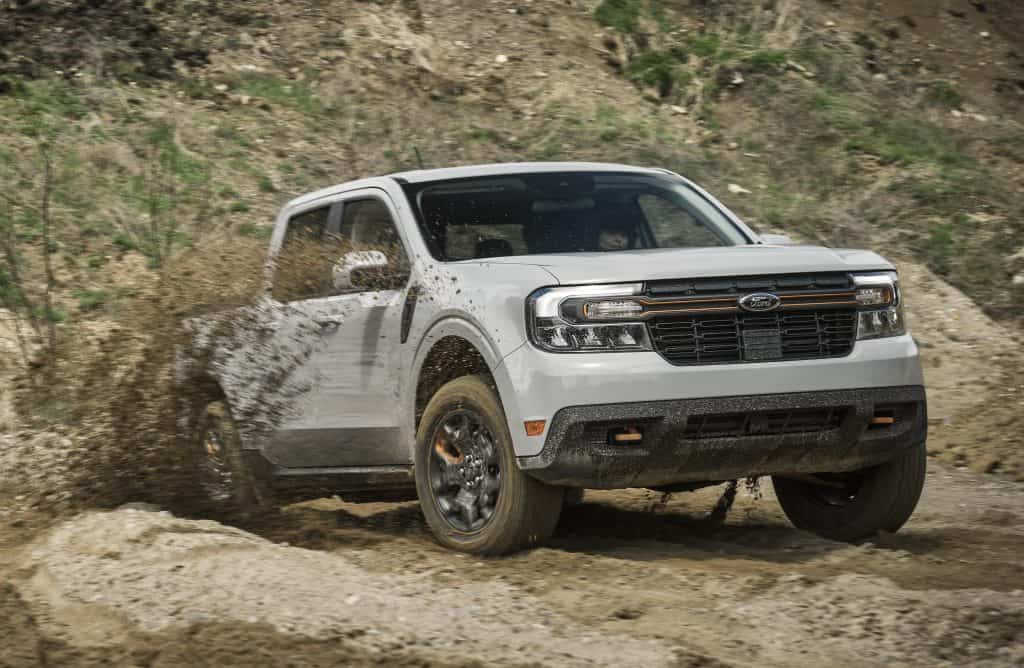 2023 Ford Maverick Tremor Off-Road Package
Because the Ford Maverick was a completely new addition to the lineup for the 2022 model year, the Blue Oval isn't going to change much at all. The Maverick has been a massive success since it went on sale, with Ford unable to get anywhere close to meeting demand.
The big news about the 2023 Maverick is a new Maverick Tremor Off-Road Package becoming available for XLT and Lariat versions of the compact pickup truck. The Tremor Off-Road Package will include a 1-inch lift for improved ground clearance, the exclusive Trail Control system, a unique front and rear suspension for enhanced off-road capability, an advanced all-wheel-drive system with a four-wheel-drive lock, and the 2.0-liter EcoBoost gas engine.
Ford Trail Control is a cruise control system designed specifically for off-road driving that takes care of acceleration and braking in the most extreme off-road driving conditions to leave the driver free to concentrate on steering and choosing the best path for the vehicle.
Of course, few buyers would want to pay for a package like that if they were the only ones who knew their new, much sought-after Maverick pickup truck had all that extra off-road capability.
That's why the 2023 Maverick Tremor Off-Road Package includes distinctive design cues such as blacked-out Ford logos, headlamps and taillamps, some signature Tremor Orange tow hooks, and an updated fender vent.
The package also includes unique 17-inch alloy wheels in a new Tremor Orange and dark gray anodized finish that are wrapped in standard all-terrain tires. The look is completed by a new grille, and a lower front fascia than standard Mavericks with a more aggressive approach angle and steel skid plates that deliver improved capability as well as a bolder aesthetic.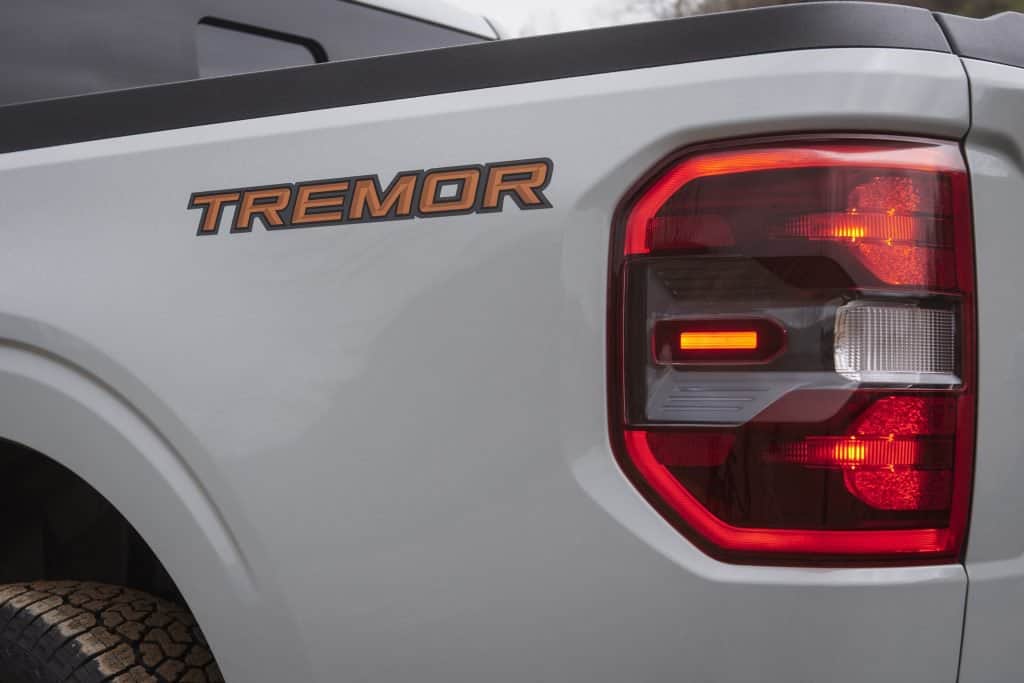 Maverick Tremor Appearance Package
However, the full range of Tremor goodness doesn't come with the 2023 Maverick Tremor Off-Road Package, which will be a $2,995 uplift to the MSRP of a 2023 Maverick XLT or Lariat. If you want the full-fat Tremor experience, that's going to cost you an additional $1,495 for the Tremor Appearance Package.
If you do splash out the extra $1,495, you then get to enjoy a Carbonized Gray-painted roof and matching mirror caps, and some fetching black side Tremor graphics on the hood and lower body of the truck.

The interior gets the treatment too
Ford couldn't do all that to the exterior of the 2023 Maverick Tremor without carrying it through to the truck's interior. Inside the cabin, you'll find Black Onyx seats with stitched Tremor logos and obligatory signature Tremor Orange accents, while the center console, register vents, and door handles are included in the new Tremor color scheme as well.
Todd Eckert, Ford truck product marketing and brand manager says of the new addition to the lineup, "Maverick Tremor delivers on this same promise with new functions and features designed for off-roading – all while keeping the truck's signature size, affordability, and Built Ford Tough durability and capability."
Off-road ready
It needs reiterating that this is a genuine upgrade to the Maverick that adds considerable extra off-road capability. The advanced AWD system is completely new to the Maverick and includes a twin-clutch rear-drive unit with a differential lock, which can divert virtually all rear axle torque to either wheel to handle the most serious off-road environments. Five selectable drive modes are offered that let the driver quickly and easily tailor the on-road and off-road capability of Maverick Tremor to suit the conditions.
It won't matter whether you're on pavement, mud, sand, snow, or just towing; the Maverick Tremor will deliver more capability than any of the 2022 maverick models you might have missed out on the first time around.
Maverick towing and hauling capability
You have to be open and honest with yourself if you're buying a Maverick. This is a baby of a pickup truck, especially by today's standards. The maximum tow rating for the Maverick tremor is just 2,000 pounds, but the payload rating is pretty decent at 1,200 pounds.
That's enough for hooking up a modest trailer for a dirt bike or jet ski, and the bed can take enough camping gear and fishing tackle for a decent weekend adventure.
When will 2023 Ford Maverick deliveries commence?
The 2023 Ford Maverick with the Tremor Off-Road Package and/or the Tremor Appearance Package will be available to order from early September 2022. Production of the 2023 maverick gets underway in the fall, so deliveries should start landing in showrooms and with customers in late November or early December.
One thing is for certain; if you want to be one of the people taking delivery just before or just after Christmas 2022 of a brand-new 2023 Ford Maverick with or without the Tremor treatment, you'd better get your order in as soon as possible.