The Toyota Hilux is one of the most popular, durable, reliable, and versatile pickups in the entire world, and it's the go-to pickup truck in many, many different countries. But if the Hilux is so good and nowhere loves trucks as much as we do in America, you might wonder why you can't buy a Toyota Hilux in America? And before we go any further, the Hilux isn't banned from being sold in the US.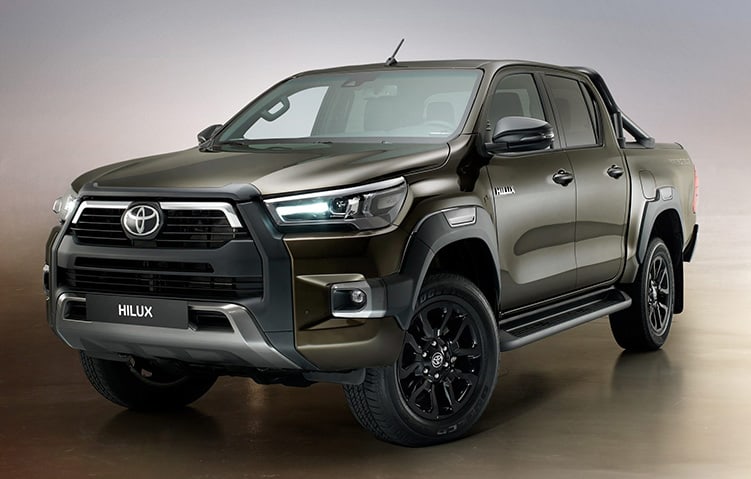 You can't currently buy a Toyota Hilux in America because of the Chicken Tax, a 25% tariff (tax) imposed by the American government on imported brandy, dextrin, potato starch, and light trucks like the Toyota Hilux. If the Hilux were built by Toyota here in America, like many other Toyota models, it wouldn't attract that tariff, allowing Toyota to sell it at a competitive price. The tariff would make the Hilux too expensive and unable to compete in the compact pickup truck segment.
Even though you can't buy a Hilux in America, you can find some fantastic used trucks and other vehicles for seriously low prices. Government auctions are where you can find ex-government and confiscated vehicles of all types for sale that can be a serious bargain for clever buyers.
Toyota Hilux history
It might come as a surprise to some people here in truck-obsessed North America, but the Hilux has been finding considerable favor with pickup truck buyers around the globe outside this continent since as long ago as 1968. Some people might want to categorize it as a compact pickup, but it's mostly been considered a midsize truck since 2004 when the seventh generation of the Hilux was launched.
It was sold here in the US as the Hilux until the name was dropped in 1976, although the truck itself continued to be sold until it was replaced here by the all-new Tacoma in 1995.
This world-beating midsize pickup truck entered its eight-generation in 2018, and it is now assembled in Thailand, Argentina, Pakistan, and South Africa. It's currently available with three different gas engines, six different diesel engines, and five and six-speed automatic and manual transmissions, depending on the market.

If you'd like to know more about a used Toyota pickup you can buy here in America, check out my article about buying a used Toyota Tundra.
And if you'd like to know the best price you can expect to get a new truck or any new vehicle for, the best thing to do is use the new car quote tool from thecarconnection.com because I've been using their website for my new car research for about eight years now, and that site always seems to be right on top of everything when it comes to new car news and reviews.
Before you even think about parting with your hard-earned money for any used car, please make sure you know what you're buying by getting a vehicle history report you can trust like one from EpicVIN. If you're buying from a dealer they should provide one, but if they don't, get your own and it could save you a fortune in the long run.
What does "Hilux" stand for?
Quite simply, "Hilux" is a combination of the English words "High" and "Luxury" which are abbreviated and merged together to form Hilux. Even though most trucks today can all be seriously luxurious, Toyota was one of the first manufacturers to see the appeal of a compact pickup truck to retail buyers and increased the interior comfort and features to broaden the appeal of the Hilux beyond the workplace.
Why is the Toyota Hilux banned in the US?
The Toyota Hilux is not banned in the United States and you are perfectly entitled to import one from somewhere else in the world if you want to. However, when you add all the associated costs of importation, such as the 25% Chicken Tax, you'll end up with a compact truck that has cost you considerably more than a new Toyota Tacoma and you'll lose a ton of money on it when you come to sell.
Why is the Toyota Hilux so popular around the world?
The Toyota Hilux is one of the most popular pickup trucks in the world because of its capability, style, versatility, and unrivaled reputation for durability. The Hilux is offered in a number of different body styles, with a variety of powertrain options appropriate to the particular market, and prices range from affordable to pretty expensive and everything in between.
How popular is the Hilux compared to the Tacoma?
Sales of the Toyota Hilux are more than twice those of the Toyota Tacoma, despite the fact the Hilux isn't sold in America. Toyota sold 255,750 units of the Tacoma in the US and Canada in 2019, but in the same year, the Japanese automaker sold 550,361 Hilux models around the world. Without even being offered for sale in the world's biggest pickup truck market, the US, the Toyota Hilux was still the fourth best-selling truck on the planet in 2019 after the Ford F-150, Ram 1500, and the Chevy Silverado 1500.
Legendary durability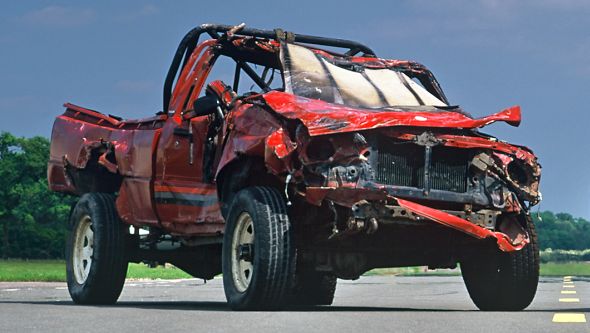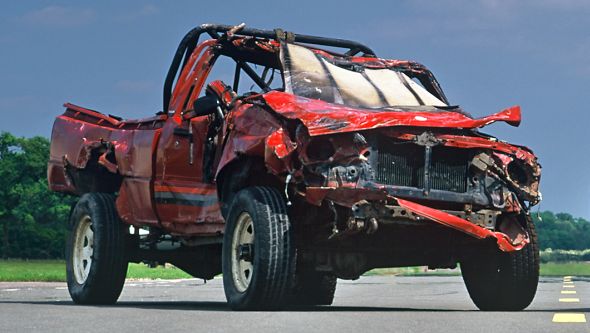 Back in 2007, the Hilux gained an almost mythical status for its durability after featuring on the UK's global hit TV show, Top Gear. The show bought a 1988 Hilux that had 190,000 miles on the odometer, with aim of trying to "kill" it by putting it through a series of increasingly arduous tasks. Toyota already claimed the Hilux was the toughest vehicle in the world at the time, so the show set out to see if that was correct or just an unsubstantiated claim by the manufacturer.
The show took the Toyota and sideswiped buildings with it, drove it down a flight of stairs, crashed it head-on into a tree, and even tethered it to a slipway into the sea while the tide was out and left it there to be covered as the tide came in. During the night, while the Hilux was left in the sea, the windshield was washed out and lost, the tether broke, and it was then half-buried in the sand by the tide.
After it was eventually recovered from the sea and the sand was removed, a mechanic was allowed to work on it with nothing more than a basic toolkit and no replacement parts. Remarkably, despite being completely flooded, the Hilux was eventually started and driven away.
That would have been enough to prove how tough and durable any vehicle was, surely? But that was just the start for the Hilux. After all that it was then driven through a wooden shed, had a trailer dropped onto it, was hit by a wrecking ball, and then set on fire. Although it was severely scorched by the fire, it still managed to drive away.
The final trial saw the Toyota pickup taken to the top of a tower block that was due to be demolished using explosives. The explosives were set off, the building collapsed into itself, and the Hilux disappeared in a cloud of dust and rubble. Amazingly, the technician who revived it after it was drowned in the sea returned and got it to start again. Not only that, but the mighty Hilux was also still drivable.
This stunt made the Toyota Hilux legendary, and it certainly didn't do future sales of the truck any harm at all. We know the Tacoma and Tundra are incredibly reliable and durable trucks that hold their value incredibly well, but the Hilux is regarded at an entirely different level after its Top Gear performance.
Why does the Chicken Tax affect the Toyota Hilux?
The Hilux is affected by the so-called Chicken Tax for one reason and one reason only, and that's because it is a light truck that's built outside America. The tax wasn't specifically created to stop the Hilux being sold in America in particular, but it's one of the more notable products to fall foul of this law.  
It was back in 1963 that the tax was introduced by President Lyndon Johnson, and it was introduced in response to a similar tariff imposed by France and West Germany on chicken meat imported from the USA. The tax was designed to protect American producers and manufacturers from what was seen as unfair foreign competition, and tensions of the Cold War-era thwarted diplomatic attempts to avoid the Chicken Tax being imposed.
Perhaps a little surprisingly, the tariffs applied under the Chicken Tax to brandy, dextrin and potato starched were lifted a long time ago, but the tariff on foreign trucks and cargo vans has remained in place to protect American automakers from foreign rivals.
However, big-business and capitalism often find a way around things when there's profit to be had, and a number of loopholes in the tariff regime have been exploited over the years. Even though Chevy and Ford were two of the American automakers the Chicken Tax was intended to help, they came up with what was called the "chassis cab" loophole.
The loophole allowed foreign-made trucks that had passenger compartments, but not a cargo bed or box, to be imported and sold in the US with just a 4% tariff. This allowed a cargo box or bed to be installed once the vehicle was in the USA so it could then be sold as a light truck.  This particular loophole was closed by Jimmy Carter in 1980.
Even today, Transit Connect vans that are built by Ford in Turkey are imported into the US fully configured with rear seats so they are classified as "passenger vehicles." This means they are not subject to the Chicken Tax 25% tariff, and once they have their rear seats and other parts stripped at Ford's plant in Baltimore they can be shipped out to Ford dealers around the country to be sold as cargo vans.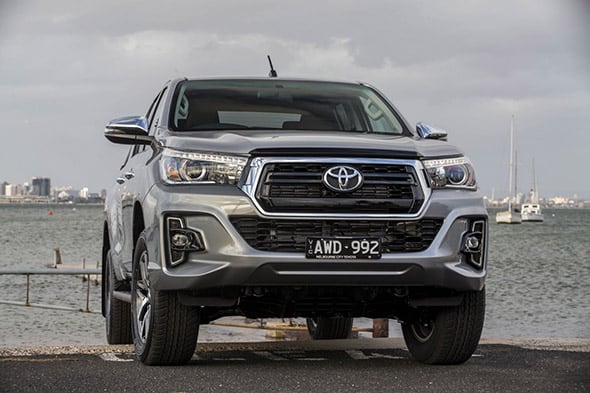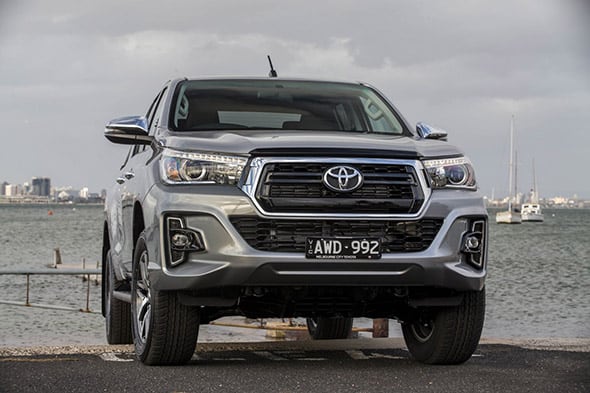 Isn't the Tacoma just a US Hilux?
At first glance, you could wonder if the current Toyota Tacoma is just a Toyota Hilux sold here in the US under a different name. After all, they are both trucks in the same class and they are built on similar platforms. However, there are a number of significant differences that make the Hilux right for international markets but not for here in America.
For a start, the Tacoma is wider than the Hilux, which is fine for the wide roads we tend to have here in America but not conducive to narrower, winding roads elsewhere in the world. The Tacoma also has a boxy, rugged exterior design that goes down well with American buyers, but the Hilux has a somewhat softer look to appeal to a different buyer.
Both trucks have nice interiors, but despite the fact the Hilux interior used to be pretty rugged in days gone by, the latest models are much nicer than they used to be inside and they're not as rugged as the Tacoma.
Around the world, the Toyota Hilux is seen as a commercial vehicle, while the Tacoma is more of a retail vehicle here in America. That's probably why the Hilux is still available with a single cab, even though it's only available in chassis cab format. And when it comes to chassis cabs, the Tacoma further emphasizes its retail credentials by not being offered as a chassis cab at all.
Finally, a lot of Hilux production is concentrated on diesel engine models, which are not particularly popular with American consumers unless we're talking about big heavy-duty pickup trucks.
While the Tacoma and the Hilux both still use a body-on-frame construction, earlier versions of the Hilux are probably closer to the Toyota 4Runner than they are to the Tacoma. The 4Runner is pretty much an early Hilux with a cab and seats in the back instead of a truck bed, and the latest Hilux trucks are a lot like pickup versions of the American Toyota Highlander.
How does the Hilux compare?
It would probably be useful to look at how the 2022 Toyota Hilux compares to similar trucks, including the Toyota Tacoma, to see if the high price it would cost to buy in the US would be worth it.
Here's a table comparing key attributes of the Hilux (diesel) with the Toyota Tacoma, Chevrolet Colorado, and the full-size Tundra. The prices, horsepower, and torque figures are for the most affordable base versions of each truck. Other figures are for the maximum available in each truck's 2022 lineup.
| | | | | |
| --- | --- | --- | --- | --- |
| | Toyota Hilux | Toyota Tacoma | Chevy Colorado | Toyota Tundra |
| Price (from) | $33,375 (est) | $26,700 | $27,335 | $35,950 |
| Horsepower | 148 hp | 159 hp | 200 hp | 348 hp |
| Torque | 295 lb-ft | 180 lb-ft | 191 lb-ft | 405 lb-ft |
| Max payload | 2,270 pounds | 1,685 pounds | 2,181 pounds | 1,940 pounds |
| Max towing | 7,716 pounds | 3500 pounds | 7,700 pounds | 8,300 pounds |
| Max seats | 5 | 5 | 5 | 6 |
Hilux price is an estimate based on Tacoma price + chicken tax
As you can see above, the kind of money it would cost to buy a Toyota Hilux in the US if it was still manufactured overseas would put it in a similar price bracket to the full-size Tundra. You could also have an entry-level Ford F-150 for less than $30,000, so it's easy to see why Toyota doesn't bother importing the Hilux into North America, isn't it?
Is the Hilux likely to come back?
There have been constant rumors, guesses, and misinformation about the prospect of the Toyota Hilux finally being assembled and sold here in the US, so where are we right now? The Hilux is one of the most popular trucks of its kind in the world and hundreds of thousands of them are sold every year; just not in America.
Now Ford has finally reintroduced something extremely close to the global Ranger pickup into the US market, it's hardly surprising the rumors about a US Toyota Hilux have started again.
It was said it would come as a 2017 model, and when it didn't arrive it was then supposed to arrive as a 2018 model. None of that happened, and now the rumors and whispers are about 2020 and 2021.
For what it's worth, I can't see Toyota bringing the Hilux to the US as things stand. Ford didn't have a midsize or compact pickup truck over here when it re-launched the Ranger, but Toyota already has the extremely successful Tacoma.
There are strong rumors of the Tacoma and the Hilux coming closer together and sharing more and more components and design elements in the future, but for now, they remain quite different from each other.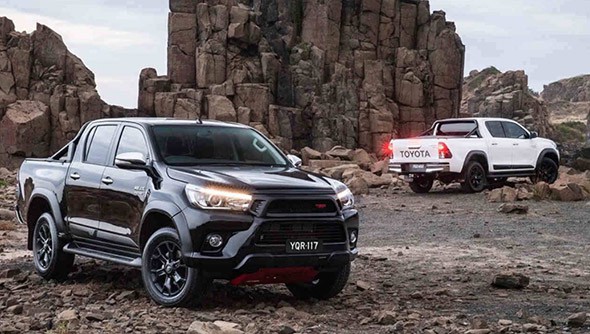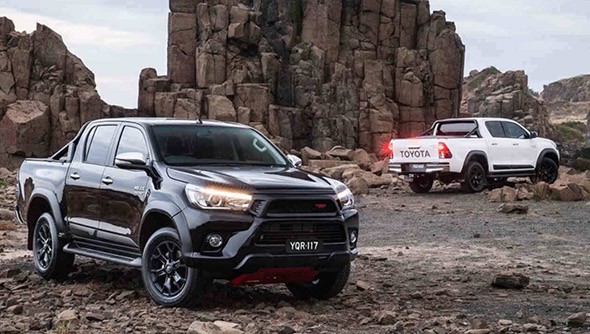 However, the current Tacoma was launched in 2015 and so was the current generation of the Hilux. I wouldn't rule out the possibility that instead of new generations of the Tacoma and the Hilux in a few years, Toyota decided to come up with a single global model that only needs minor differences to be sold in the US market.
In fact, the eighth-generation Toyota Hilux got its second facelift for the 2020 model year and it now already looks closer to the Tacoma than it's ever done in the past.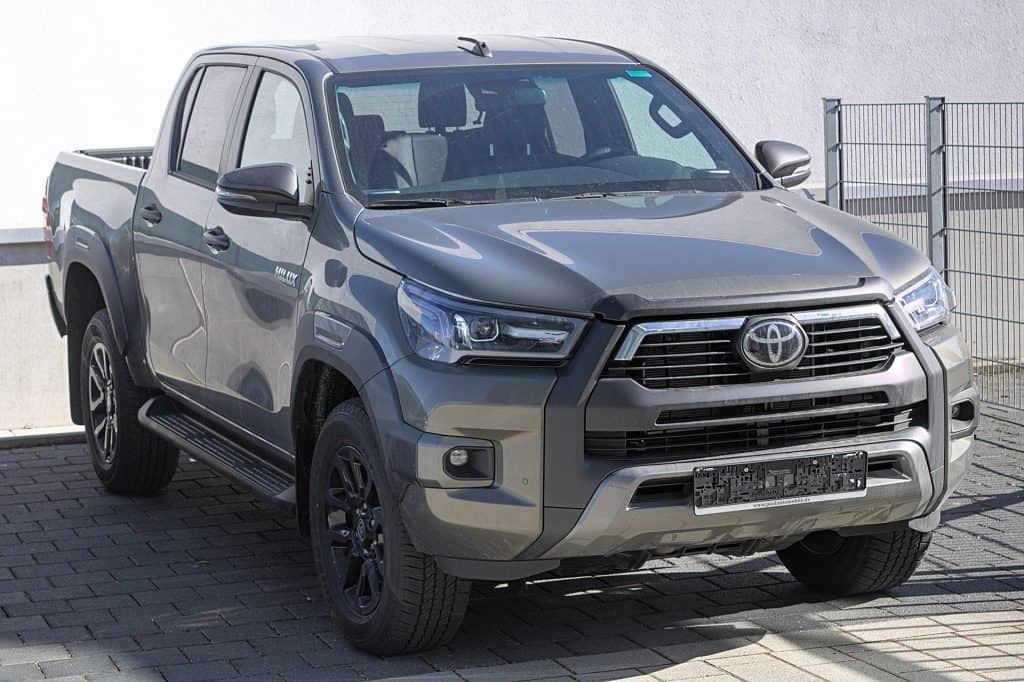 Importing: old vs new
Of course, like any vehicle not officially offered for sale through the dealer network in America, you can probably go online and buy an import if you're that way inclined. I'm not sure why anyone in a country where you have an almost unlimited quantity of new and used F-Series, Silverado, Sierra, and Ram trucks to choose from would want to buy an imported Hilux, but then again, I don't understand why people want a lot of things.
Let me be very clear here; the reverence and love people have for the Hilux in markets where it has been sold doesn't extend to every generation. You'll struggle to find a lot of love for the first four generations of the Toyota, and it's a similar story for the seventh generation onwards.
Don't get me wrong, the seventh and eighth-generation Hilux models are very good trucks but they're not that different anymore from Toyota's Ford, Isuzu, Mitsubishi, and Nissan rivals.
If you want to buy a good truck then you could buy an imported seventh or eighth-generation Hilux, but you'd probably be better off with a cheaper, more current Tacoma instead. However, if you want a truck that's a little different, a lot older, and you buy into the whole indestructible Toyota Hilux narrative, it has to be a fifth or sixth-generation model.
I once bought a pretty expensive boat and I needed a pickup truck for fetching and carrying boat and diving gear around. I had a new Audi A4 at the time and that just wasn't going to cut it. The Audi was on finance so there was no equity in it, so my budget would only run to a pretty cheap used truck. I found a fifth-generation Hilux in pretty good condition for about $1,900 and it was absolutely awesome.
Okay, the radio was pretty crappy and the steering was more than a little vague, but it looked as cool as hell and it never let me down. I wish I still had that truck today, and bet it's still on the road even though it was 20 years ago now.

But if you're in the US looking at importing a used Hilux from Japan, for example, even something like a 1994 Double Cab is going to cost you somewhere north of $10k, and that's BEFORE the additional costs of importing it.