Even if you've never been to North America in your entire life you'll recognize a Ford Crown Victoria when you see one. Ford built and sold more than 1.5 million units during a production run that kept going long after the design had already started to look extremely dated. The question is, therefore, why did Ford stop making the Crown Vic?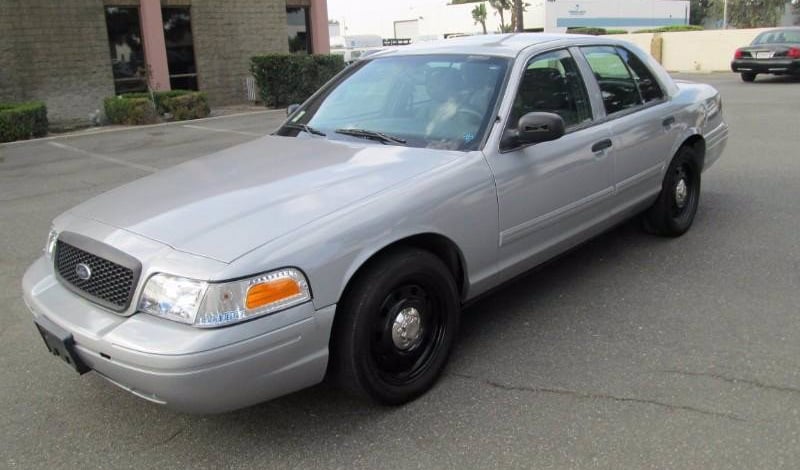 Ford stopped making the Crown Vic because the architecture of the Panther platform that was used for the Crown Vic was unable to support electronic stability control, which is a feature that was to become mandatory for vehicles to be sold in the United States from 2012
It would have been far too expensive to produce a new version to meet modern standards for what was already a small and declining market for large, heavyweight sedans.
What was the Ford Crown Vic?
It might not be the sexiest or most desirable American car you could think of, but the Ford Crown Victoria is definitely a car you'll have seen countless times on the big and small screen. Perhaps best known for being widely employed by law enforcement across North America as a police interceptor, the Crown Vic, as it's commonly referred to, was a full-size four-door sedan built on Ford's body-on-frame rear-wheel-drive Panther platform.
The Crown Vic shared its underpinnings with the Grand Marquis and the Lincoln Town Car, and it was produced as the successor to the Ford LTD Crown Victoria. Crown Vic production got underway at Ford Canada's St. Thomas Assembly facility in Southwold, Ontario, in 1991, and it continued there exclusively until the final model rolled off the line on September 15th, 2011.

Although it remained in production until 2012, the Crown Vic had looked like a car from an entirely different era for several years before Ford finally pulled the plug. It was the largest sedan Ford produced and it was even bigger than the Taurus, but if you compare a 2012 Ford Taurus with a 2012 Crown Victoria you'll see what I mean about being from a different era.

Few of us would have any reservations about being seen driving around in a 2012 Ford Taurus today, but a 2012 Crown Vic looks more like something from an episode of Starsky and Hutch. In fact, even a 1991 Ford Taurus from the first year the Crown Vic was produced could be said to look more contemporary than a Crown Vic from the last year of its production run in 2012.
It's fair to say that the Crown Vic was something of a dinosaur long before it was put out of its misery in 2012, but it was a living fossil that actually lived alongside much more contemporary cars for some time before it finally became extinct.
Before you even think about parting with your hard-earned money for any used car, please make sure you know what you're buying by getting a vehicle history report you can trust like one from EpicVIN. If you're buying from a dealer they should provide one, but if they don't, get your own and it could save you a fortune in the long run.
How many Crown Vic generations were there?
There were two generations of the Crown Vic, but anyone with fond memories of the big Ford sedan will probably have those memories about the second-generation version.
First-generation Ford Crown Victoria (1991-1997)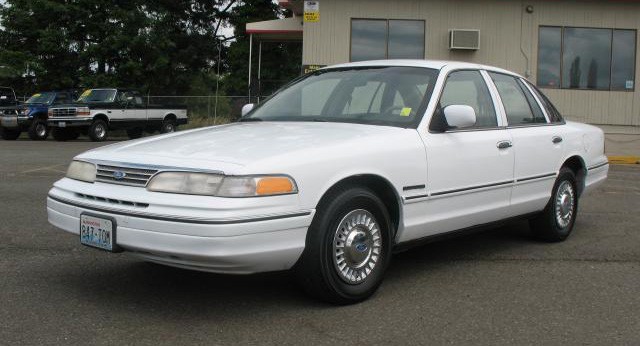 A change in the market for family vehicles saw the first Crown Vic only being produced as a four-door sedan. The reason Ford chose to build its new sedan exclusively in Canada was to exploit a loophole in the CAFE standards to avoid paying the gas guzzler taxes.
By modifying its supplier network so that the Crown Vic and Grand Marquis were produced in Canada, it then meant they could both be classed as imports to the US and therefore be exempt from the tax.
The Crown Vic was effectively already old before its time when it was launched as it was built on the Panther platform that Ford had been using since 1978. The platform had undergone numerous updates and upgrades over the years to make the cars built on it display better road manners and handling characteristics.
But the old-school nature of the platform actually helped make the Crown Vic a big hit in its most familiar and successful role, which was as a police interceptor.
The styling of the first-generation Crown Vic was polarizing, to say the least. People really did either love or hate Jack Telnack's "Aero" design, especially the very notable lack of a grille on the front fascia.
Under the hood of the car was a 4.6-liter V-8 that developed 190 horsepower and 260 lb.-ft. of torque, which got sent to the rear wheels through a four-speed automatic transmission.
Second-generation Ford Crown Victoria (1998-2007 retail / 1998-2012 fleet)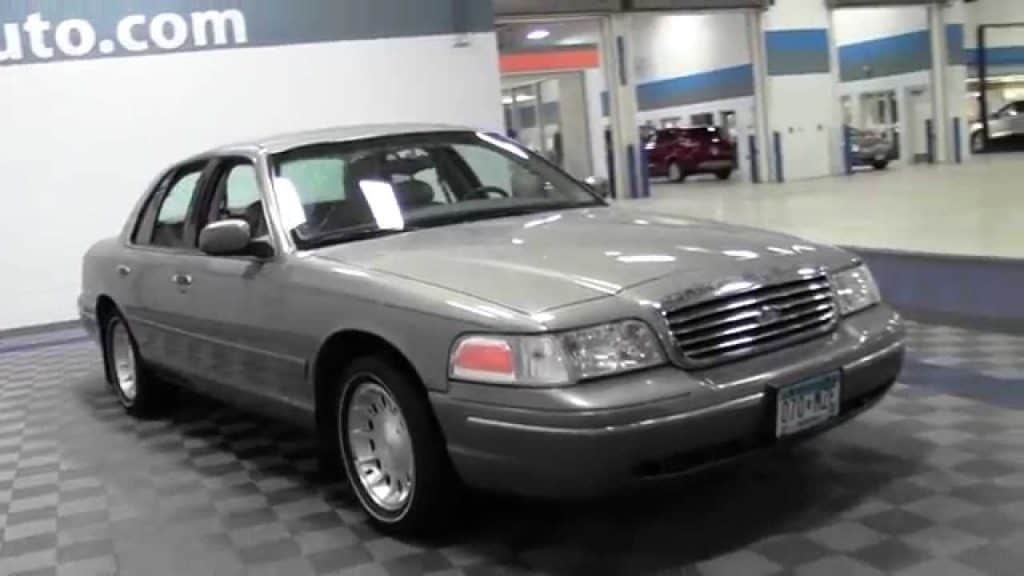 The second generation proved to be considerably more popular and successful than its predecessor, and it was met by much greater critical acclaim for its less controversial exterior styling when it went on sale in the last few days of 1997 as a 1998 model year.
Although the way the car looked barely changed throughout the second generation, the Crown Vic did benefit from some extensive mechanical upgrades for the 2003 model year to make the car drive and handle better.
Although production for the retail market ended in 2007, the Crown Vic's huge domination of the taxi and police interceptor markets saw it remain in production for fleets only until 2012.
Why did the police love the Crown Vic so much?
The ancient design and architecture of the Crown Vic that was so out of step with the retail market by the early 2000s was actually the reason it was so successful as a police car and also as a taxi. The body-on-frame construction and rear-wheel-drive format of the Crown Vic were seen as extremely advantageous and desirable for a car to be used as a police interceptor.
The body-on-frame construction meant that repairs after the inevitable and frequent collisions could be carried out inexpensively without a requirement to straighten the chassis. And for the hard-driving a police interceptor would do as part of its daily chores in urban environments, rear-wheel-drive was more suitable and robust than front-drive for mounting curbs and other obstacles.
It also helped that Chevrolet discontinued the Caprice in 1996 because that left the Ford Crown Vic as pretty much the only game in town for the Police Interceptor market. By 1996, 95% of the Ford Crown Vic's production accounted for fleet and Police Interceptor sales.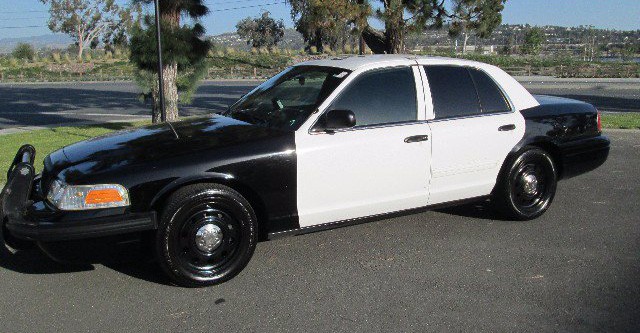 Can you still buy a Ford Crown Vic?
There are loads of Crown Vics for sale in the used market all across North America, many of which are decommissioned Police Interceptors that have been sold off to the public through government auctions. Most will have been stripped of their police decals, computer equipment, police radios, and police lights, but some were sold almost intact as collector's cars not intended for use on the road.
Remember, you are definitely committing an offense if you impersonate a police officer, which you would effectively be doing if you were to drive a Ford Crown Vic Police Interceptor on the road with its full police department livery and police lights uncovered.
If you like the idea of owning an ex-police car you can read all about the pros and cons and how you go about buying one in another article I've written on the subject. And if you are interested in buying an ex-cop car or any government surplus vehicle for a knockdown price, you'll find out when and where the sales are taking place with a government auctions subscription here.
Should you buy a used Crown Vic?
If you want a cheap, reliable, durable and spacious car and you don't care about things like style and handling, you could do a lot worse than a used Ford Crown Victoria. I'm not sure if it will ever become an appreciating asset as there were just so many of them produced, but they are cheap to buy and easy to fix if that's the kind of thing you're looking for.